Next week, on Monday, May 24, 2010, at 9:00 pm (doors: 8:45pm): an improvised music performance by Bruce Coates (saxophones), Marian Murray (violin) and Han-earl Park (guitar) at The Roundy (Castle Street, Cork, Ireland). Admission is €10 (€5) at the door.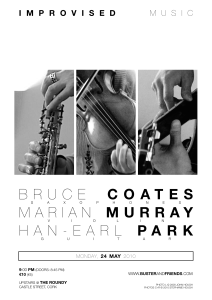 See the performance diary for up-to-date info.
the performers
Bruce Coates has been heavily involved with free jazz, free improvisation and experimental music for more than 15 years. He has collaborated and performed with a long list of some of the best-known names in these areas. He is cofounder of the Birmingham Improvisers' Orchestra, has a long standing working relationship in many different guises with guitarist Jamie Smith, a regular trio with David Ryan and bassist John Edwards and runs the monthly Birmingham FrImp night.
Recent collaborations have included regular performances with the saxophonist Paul Dunmall, appearing alongside Dunmall on his DUNS label (the only saxophonist to do so); the Paris-based Blackberry Orchestra led by Peter Corser and involving some of France's best known improvisers including Denis Charolles and Guillaume Roy; and a CD with the Amsterdam based Mount Fuji Doom Jazz Corporation released on the Ad Noiseam label in 2007. Current ensembles include SCHH with Chris Hobbs, Mike Hurley and Walt Shaw; Magtal with Mark Sanders and Jonny Marks; and the performance art oriented Mutt with Marks and Shaw. His ever-growing eclectic list of collaborators also includes Tony Oxley, Lol Coxhill, Christian Wolff (performing alongside the composer at the Institute of Contemporary Arts, London), Hilary Jeffrey, Phil Gibbs, Paul Rogers, Trevor Lines, John Coxon, Misterlee, Bong Ra, Simon Picard, Tony Bianco, Han-earl Park, Tony and Miles Levin and Tony Marsh.
Han-earl Park works from/within/around the traditions of idiom-agnostic, experimental improvised musics, sometimes engineering theater, sometimes inventing ritual. He feels the gravitational pull of collaborative, multi-authored contexts, and has worked with animators, filmmakers, poets, theater and mime performers, dancers and installation artists. As a musician (guitar, banjo, bass guitar, piano, electronics and software) he has performed in clubs, theaters, art galleries, concert halls, and (ad-hoc) alternative spaces in Denmark, England, Ireland, The Netherlands, Scotland and the USA.
He is involved in ongoing collaborations with Bruce Coates, and with Franziska Schroeder, fifteen year long associations with Alex Fiennes and Murray Campbell. Recent performances include a trio+1 with Charles Hayward and Ian Smith plus Lol Coxhill, a duo concert with Paul Dunmall, a trio with Kato Hideki and Katie O'Looney, and the performance of Pauline Oliveros' 'Droniphonia' alongside the composer. Park is a recipient of grants from the Arts Council of Ireland and Music Network. He has appeared at festivals including Sonic Acts (Amsterdam), the Center for Experiments in Art, Information and Technology Festival (California), dialogues festival (Edinburgh), Sonorities (Belfast) and VAIN Live Art (Oxford).
Currently based in Cork, Marian Murray is a fiddler, improviser and teacher. She is a founder member of the Jitney Trio.