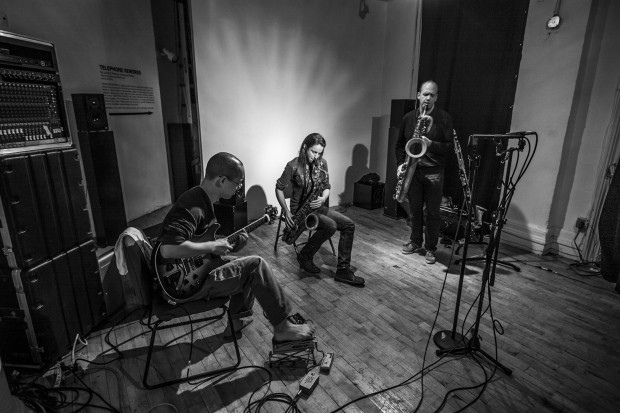 Acknowledgments re the, for the time being, final performances of two projects: Eris 136199 on October 27, and Metis 9 on October 29. My hat goes off to my comrades Nick Didkovsky and Catherine Sikora who make Eris 136199 the site of unexpected choices—of twists and turns. We'd thought our previous performance was weird, this one warranted a new term:
weirderation wir-də-ˈrā-shən noun. process that results in something just that little bit weirder with each iteration. [compare examples A and B]
I am greatly indebted to Catherine Sikora and Josh Sinton for doing the heavy lifting, and turning my barebone sketches and speculations into music; for engageing intelligently, adventurously and imaginatively with the context at hand. These past months have been a learning experience for me as tactician, and I couldn't have asked for better teachers.
Thanks to Bruce and Manny at the World's Best Record Store for hosting us, and for their unshakable advocacy of new music. Thanks to Carol Parkinson, Hans Tammen, Kevin Ramsay, Emilio Vavarella and everyone at Harvestworks for hosting our performance, their enthusiasm, and for their support. Thanks again to Kevin Reilly for his video documentation of the DMG performance [watch/listen…], and, as always, thanks to all who came to listen and witness the musicking—real-time and interactive.
Next up: performance in Pittsburgh (November 7) as part of Crucible Sound, then back to New York (November 17) for a duo performance with Viv Corringham . See the performance diary for up-to-date info.