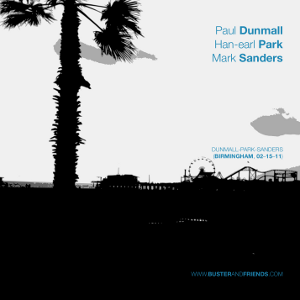 The complete recording of the February 15, 2011 performance by Paul Dunmall (saxophones and bagpipes), Han-earl Park (guitar) and Mark Sanders (drums) is now available for download via Bandcamp. [Bandcamp page…] [Download now…]
A very special recording—high energy, left-field improvisations beautifully captured by Chris Trent—that, had it not been sandwiched between two other CD releases, would likely have been issued on physical media. Originally released in December 2011, this recording was the last of a series of download releases hosted at busterandfriends.com before the move to bandcamp. This bandcamp-hosted edition offers the option to download the recording in multiple formats (mp3, Ogg and AAC) including lossless (FLAC and ALAC).
Recommended price: €8+
In line with the current series of download releases, this record is hosted at Bandcamp, and available as a 'name your price' album. Although you can download the recording for free (name €0 as your price) with certain restrictions, please consider paying at least the recommended price. Your generosity will help support the performers and their work.
Many thanks to Chris Trent for the recording, and Mike Hurley of Fizzle and Improvisation Birmingham for hosting the performance.
description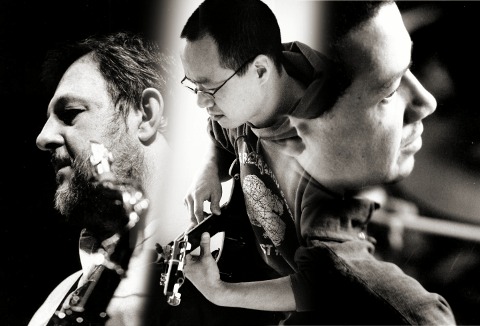 …Eschewing conventional groove but adhering to solos and telepathic communications, conjuring the jazz trio hierarchy as imagined by Albert Ayler. Dunmall even channels some Ayler, his tenor growling and moaning through key moments as Park handles guitar and bass duty simultaneously. Only Sanders' occasional chiming percussion bespeaks a more contemporary vibe. As always, Park fills out the texture as much or more than do most keyboard instruments, but his playing is never overwhelming and always tasteful.

— Marc Medwin (The New York City Jazz Record)
Free jazz, in no uncertain terms. I don't know what it is about Han-Earl's groups' sounds. Ten seconds in, I think to myself, "Man, this isn't my thing." But by the time the tune is over, I realize that I'm totally into it and enjoying it. If a musician can convert my ears within the span of one tune, in my eyes, that's a sign of talent.
On sait les liens qui unissent Dunmall et Sanders – ce qu'ils ont pu donner par le passé : de Shooters Hill enregistré en sextette en présence de Paul Rutherford à I Wish You Peace du Moksha Big Band –, c'est donc la présence de Park – que l'on a pu entendre récemment auprès d'un autre britannique de taille, Lol Coxhill, sur Mathilde [Mathilde 253], et se fit remarquer déjà auprès de Dunmall et Sanders sur un Live at the Glucksmann Gallery – qui intéresse ici. Aux salves imparables du ténor, il oppose des nappes et quelques arpèges accrochés quand Sanders compte les points avec aplomb.

Plus loin, c'est à la cornemuse puis au soprano qu'intervient Dunmall : pour déjouer ses tours (de force et d'adresse), Park choisit une nouvelle fois la subtilité : ses accords étouffés renversent les échanges du trio, transformés bientôt en horizontalité sur laquelle les trois hommes s'entendent alors en apaisés.

— Guillaume Belhomme (Le son du grisli)
Two non-stop sets of improvised music. This live recording juxtaposes the formidable creativity and muscular technique of veteran improviser-saxophonist Paul Dunmall, the imaginative cyborgian virtuosity of guitarist Han-earl Park, and the ever inventive playing of Mark Sanders, arguably the most sought-after improviser-drummer of his generation. The performance took place three months after Park and Sanders' improvisative meeting with another saxophonist, Matana Roberts, and a month prior to Dunmall and Sanders' performances with another guitarist, Hasse Poulsen.
Presented by Mike Hurley/Fizzle and Improvisation Birmingham, the performance is beautifully and expertly recorded by Chris Trent.
personnel
track listing
recording details
All music by Paul Dunmall, Han-earl Park and Mark Sanders.
Recorded live February 15, 2011 at the The Lamp Tavern, Birmingham.
Performance presented by Fizzle/Improvisation Birmingham.
Recorded and mastered by Chris Trent.
Artwork by Han-earl Park.
The recordings (shoapnxoe gutair dmurs a.i, shoapnxoe gutair dmurs a.ii, sohoaxpne giautr dmrus b.i, sohoaxpne giautr dmrus b.ii, sohoaxpne giautr dmrus b.iii) and artwork released under a Creative Commons Attribution-Noncommercial-No Derivative Works 3.0 Unported License. Please attribute the album to Paul Dunmall, Han-earl Park and Mark Sanders, recording engineering to Chris Trent, and the artwork to Han-earl Park.
note: above photomontage copyright respective photographers.
about the performers
For thirty years Paul Dunmall has carved out a reputation for himself and is now widely recognised as one of the most uncompromising and talented reed players on the international improvised music scene. Whether playing in small groups or big bands his musical sensitivity and imagination combined with a powerful sound make him one of the most distinctive improvisers playing today.
His octet and Moksha big band showcases his abilities both as a composer drenched in the Jazz and Folk traditions and as a sympathetic leader able to give maximum freedom to an elite group of fellow improvisers.
Founder member of groups Spirit Level, Tenor Tonic, Mujician, Paul Dunmall Quartet and Paul Dunmall Octet.
Has played in Nigel Morris' trio, the London Jazz Composers Orchestra, Danny Thompson's Whatever, several of Elton Dean's ensembles, Brian Irvine's 14 piece band amongst others.
Launched own improvised music record label with Philip Gibbs in 2000 called Duns Limited Edition, which has 52 releases to date.
"Whether in a trio with Mujician's rhythm section or with the larger band of sympathetic fellow improvisers, Dunmall consistently produces powerful and passionate music."
(BBC Music Magazine)
"…Robust and heavy-hitting performer who has gone on to concentrate largely on free improvisation without sacrificing a rigorous melodic logic, a sparing lyricism and the technique to drop in on bebop occasionally."
John Fordham (The Guardian)
Improviser, guitarist and constructor Han-earl Park has been crossing borders and performing fuzzily idiomatic, on occasion experimental, always traditional, open improvised musics for over fifteen years. He has performed in clubs, theaters, art galleries, concert halls, and (ad-hoc) alternative spaces in Austria, Denmark, Germany, England, Ireland, The Netherlands, Scotland and the USA.
Park is part of Mathilde 253 with Charles Hayward and Ian Smith, Eris 136199 with Nick Didkovsky and Catherine Sikora, and Numbers with Richard Barrett. He is the constructor of the machine improviser io 0.0.1 beta++, a project performed in coalition with Bruce Coates and Franziska Schroeder. He has recently performed with Ishmael Wadada Leo Smith, Paul Dunmall, Lol Coxhill, Mark Sanders, Gino Robair, Tim Perkis, Pat Thomas, Andrew Drury, Josh Sinton, Dominic Lash, and as part of ensembles led by Wadada Leo Smith, Evan Parker, and Pauline Oliveros. Festival appearances include Freedom of the City (London), Sonorities (Belfast), Sonic Acts (Amsterdam), dialogues festival (Edinburgh), and CEAIT (California). His recordings have been released by labels including Slam Productions and Creative Sources.
Park taught improvisation at the UCC Department of Music, and founded and curated Stet Lab, a space for improvised music in Cork.
"Guitarist Han-earl Park is a musical philosopher…. Expect unexpected things from Park, who is a delightful shape-shifter…."
Brian Morton (Point of Departure)
Mark Sanders has played with many renowned musicians from around the world including Evan Parker, Peter Brotzmann, Derek Bailey, Myra Melford, Paul Rogers, Henry Grimes, Roswell Rudd, Okkyung Lee, Barry Guy, Tim Berne, Otomo Yoshihide, Luc Ex, Ken Vandermark, Sidsel Endresen and Jean Francois Pauvrois, in duo and quartets with Wadada Leo Smith and trios with Charles Gayle with Sirone and William Parker.
New collaborative projects include 'Riverloam Trio' with Mikolaj Trzaska and Olie Brice, 'Asunder' with Hasse Poulsen and Paul Dunmall, duos with John Butcher and DJ Sniff, 'Statics' with Georg Graewe and John Butcher, and trio with Rachel Musson and Liam Noble
Mark and John Edwards play as a rhythm section with many groups including Trevor Watts Quartet, 'Foils' with Frank Paul Schubert and Matthius Muller, Mathew Shipp's 'London Quartet,' also playing with Fred Frith, Wadada Leo Smith and Shabaka Hutchins amongst many others.
Christian Marclay's 'Everyday' project includes Mark with Christian, Steve Beresford, John Butcher and Alan Tomlinson, he also works regularly in the projects of Mikolaj Trzaska, Gail Brand, Paul Dunmall, Peter Jaquemyn, and Simon H. Fell.
Mark has performed in the USA, Canada, Brazil, Japan, Morrocco, South Africa, Mozambique and Turkey, playing at many major festivals including, Nickelsdorf, Ulrichsburg, Glastonbury, Womad, Vancouver, Isle of Wight, Roskilde, Berlin Jazz days, Mulhouse, Luz, Minniapolis, Banlieue Bleues, Son D`hiver and Hurta Cordel.
He has released over 120 CDs.
"…A gifted player capable of seamless movement between free-rhythms and propulsive swing."
John Fordham (The Guardian)
Also by these artists


Also available for download [more…]



Park+Murray (Cork, 07-29-10) [details…]
Performers: Han-earl Park (guitar) plus Marian Murray (violin).
(cc) 2012 Han-earl Park/Marian Murray.



updates
05–20–13: updated the 'also available for download' list, updated reviews, and add audio format list.
11–01–15: add A Little Brittle Music to downloads list, and change currency from USD to EUR.