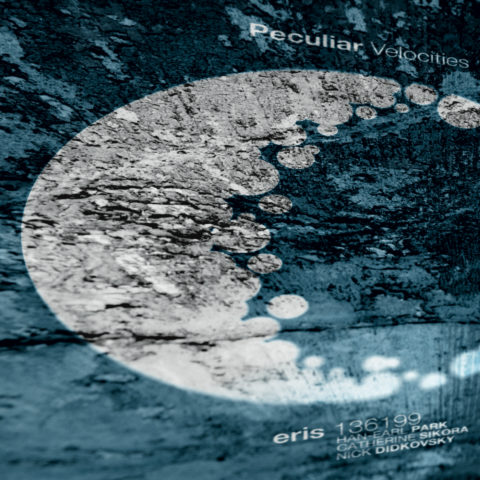 : Eris 136199's latest album is (compact disc and digital download)! Eris 136199 is the chaotic snap'n'pop of Han-earl Park's cyborg virtuosity, the symphonies of power and weight of Catherine Sikora's tenor madness, and the heavy rock-ASMR experimentalism of Nick Didkovsky glitchy guitar.
Peculiar Velocities is Eris 136199's first studio album, and captures the trio during their 2019 European tour; between the first date at The Vortex (London) and their performance at Jazz em Agosto (Lisbon).
[Get the CD/download (Bandcamp)…]
CD: €11 minimum ('name your price') plus shipping.*†
Download: €8 minimum ('name your price').†
* Limited edition glass-mastered CD. CD includes additional material (liner notes, artwork, etc.) not included in the download version of the album.
† Both digital and physical purchases give you streaming via the free Bandcamp app, and option to download the recording in multiple formats including lossless.
news and updates
https://www.youtube.com/watch?v=_5SKCf5QSLI Eris 136199: Peculiar Velocities Grunting tonal bursts? atmospherics? weaving sinuous melody? In his review of Eris 136199's Peculiar Velocities, Paul Acquaro at Free Jazz describes a "masterful slice of trifurcated dialog"…
In case you missed it, I wrote a short piece for the June edition of The Wire (issue 448) in which I muse about speaker cabinets, cyborgs, simulations, rooms-within-rooms, and…
[All articles on Peculiar Velocities (BAF002)…]
description
An uncomfortable joy, a can't-be-reproduced-in-the-laboratory combination of rare elements, a new musical alloy, an ongoing experiment, the perfect distillation of uneasy listening.

— Dave Foxall (a Jazz Noise, Best of 2020)
それはあたかも地球外の異境から到来した明滅する運動エネルギーによって脳外科手術を施されるような驚喜の頭脳改革体験である。

— Takeshi Goda (JazzTokyo)
Gorgeous glitchy stew….

— Corey Mwamba (Freeness, BBC Radio 3)
Formed in New York in 2012, Eris 136199 is the chaotic-slamming one-person rhythm section of Han-earl Park (Sirene 1009), the deep melodic intelligence and big-tenor sound of Catherine Sikora (Clockwork Mercury), and the anthems of glitch, experimentalism and riffage of Nick Didkovsky (Doctor Nerve). Recorded during the trio's 2019 European tour, Peculiar Velocities (BAF002) is Eris 136199's third CD, and first studio album. The album is the follow-up to the eponymous Eris 136199 (BAF001, 2018) described as "like letting an insane brain surgeon in through your ear" (aJazzNoise, Best of 2018), and Anomic Aphasia (SLAMCD 559, 2015) which was described as "a beautiful noise" (KFJC 89.7 FM).
Surprises abound on this disc from the collision of three seemingly incompatible notions of time and rhythm in [the title track] 'Peculiar Velocities'; to 'Sleeping Dragon' which insistently claims to be one thing but reveals itself to be something else; to the aural love letter to No Wave that is 'D-Loop'….

Moments of absolute clarity, where two of us may deliberately hit exactly the same notes, are juxtaposed by equally comfortable bursts of raging chaos and easy silences.

— From the liner notes‡
Recorded with a lean, efficient boldness by Sean Woodlock, and mastered by Richard Scott, the album captures music that leaps from wispy, delicate webs to massive weather-beaten mountains. Recorded over just three hours in a single live room, Peculiar Velocities catches Eris 136199 between the first date of the tour at The Vortex (London) and their performance at Jazz em Agosto (Lisbon).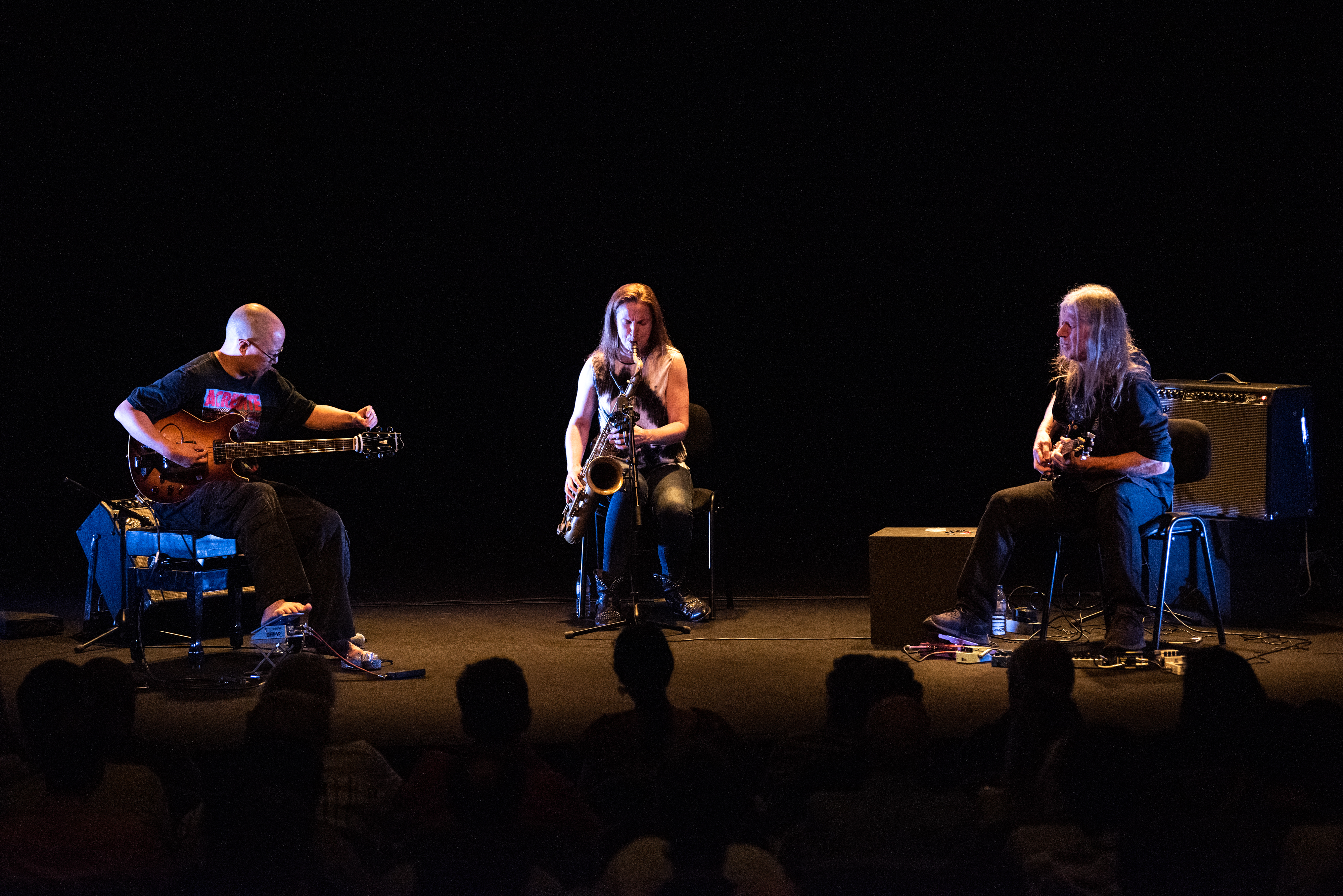 Insectoid ASMR glitches to powerful ballads of weight and light; gentle, languorous shimmers to startling No Wave noise; raspy double-guitar hockets to gutted, dismantled chorales.
Han-earl Park is the instigator and mastermind behind Eris 136199, as well as groups including Sirene 1009 with Dominic Lash, Mark Sanders and rit. (f.k.a. Caroline Pugh), and co-conspirator in projects with Richard Barrett and others. Park is the constructor of the machine improviser io 0.0.1 beta++, and of Metis 9, a playbook of improvisative tactics. He has performed with Wadada Leo Smith, Paul Dunmall, Evan Parker, Lol Coxhill, Josh Sinton, Louise Dam Eckardt Jensen, Ingrid Laubrock, Gino Robair, Tim Perkis, Andrew Drury, Pat Thomas and Franziska Schroeder. His ensembles have performed at festivals including Freedom of the City (London), Brilliant Corners (Belfast), ISIM (New York), CEAIT (Los Angeles) and Sonic Acts (Amsterdam).
Saxophonist, improviser and composer Catherine Sikora, known for her big sound and lyrical melodic work, works as a solo performer and with Eric Mingus, Enrique Haneine, Brian Chase, Han-earl Park, Ethan Winogrand, Christopher Culpo and Ross Hammond. In recent years Sikora has toured in Canada, the United States, Europe and Australia. She was a featured soloist in Eric Mingus' radical reimagining of Tommy by the Who (Adelaide Festival 2015), and was artist in residence at the Centre Culturel Irlandais in Paris in 2014 and in 2020.
Guitarist, composer, and computer music programmer Nick Didkovsky has composed music for Kathleen Supové, ETHEL, Bang on a Can All-Stars, Meridian Arts Ensemble, New Century Players, ARTE Quartett, as part of the Fred Frith Guitar Quartet, and his own bands Doctor Nerve, Vomit Fist, Häßliche Luftmasken, and others. His compositions and guitar performances appear on more than 50 records. For over 30 years, his avant-metal big band Doctor Nerve has fueled Didkovsky's intricate compositions with the energy of rock, punching holes through the walls between heavy metal, contemporary music, and improvisation, and performing at festivals including Moers, FIMAV, and the Whitney Museum's 'Whitney Live.' With computer music pioneer Phil Burk, Didkovsky developed the computer music language Java Music Specification Language (JMSL).
‡ Liner notes only available with the CD.
personnel
track listing
Ballad of Tensegrity I (≥ 5:12), Ballad of Tensegrity II (2:28), Peculiar Velocities I (3:46), Peculiar Velocities II (3:36), Sleeping Dragon (5:22), D-Loop I (≥ 6:16), D-Loop II (5:13), Polytely I (≥ 5:01), Polytely II: Breakdown (5:33), Anagnorisis I (2:09), Anagnorisis II (2:19). Total duration ≥ 46:54.
recording details
Music by Han-earl Park, Catherine Sikora and Nick Didkovsky.
Recorded August 9, 2019, Hackney Road Studios, London.
Recorded by Sean Woodlock. Mixed by Han-earl Park.
Mastered by Richard Scott.
Design and artwork by Han-earl Park.
Thanks to Sean and Richard; to Colin Webster, Ingrid Laubrock, Alex Hawkins, Charles Hayward and Melanie L Marshall; to Rui Neves, João Brilhante, Inês Nunes and everyone at Jazz em Agosto/Calouste Gulbenkian Foundation; Kathianne Hingwan, Kim Macari, Ali Ward and everyone at The Vortex; Matthew Nolan at Note Productions; Aoife Concannon, Adam Nolan, Kenneth Killeen and Caitríona O'Mahony at Improvised Music Company; to Lee Paterson; to Laurent Carrier and everyone at Colore; to Paul Acquaro of Free Jazz; Mike Borella of Avant Music News; Dave Foxall of aJazzNoise ; and Tim Owen of _____on Sound.

A big thanks to the backers of our Kickstarter project for their awe-inspiring generosity; helping bring this music to you! A massive thanks to Phillip A., Bruno Bissonnette, Mike Borella, Colin Cahill, Jeremy Clarke, Gary Couse, Nicholas Croft, Don Davis, Andrew Raffo Dewar, Tom Duff, Erik Ellestad, Lee Rice Epstein, Goldi, Owen Green, Rich Hollis, Martin Hoogeboom, Terry Kattleman, Gary W. Kennedy, Liam, Bartholomew R. Mallio, walt mattes, Andrew McKenzie, Rob Miller, Eric Mingus, John Minnock, david m morris, Neil, Matthew Nolan, Michael Rogers, Steffen Schindler, Ken Shimamoto, Craig Sines, j. sinton, Marte van der Loop, Tom Ward, Bernd Wimmer, aJazzNoise, and the Newcastle Festival of Jazz and Improvised Music, and to our anonymous backers.
© + ℗ 2020 Han-earl Park.
Also available with…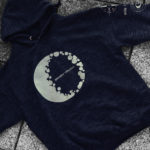 Eris 136199 (Peculiar Velocities) Hoodie (limited edition) [details…]
80% ringspun cotton, 20% polyester, 280gsm hoodie.
Unisex fit.
S, M, L, XL, XXL.
100% for the perfect noise-night-out.
Celebrate your love of skonkin' improvised goodness by wearing the noisily official Eris hoodie.
Also from Eris 136199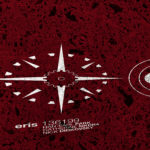 Eris 136199 (BAF001) [details…]
Personnel: Han-earl Park (guitar), Catherine Sikora (saxophone) and Nick Didkovsky (guitar).
Track listing: Therianthropy I (≥ 3:43), Therianthropy II (8:56), Therianthropy III (3:55), Therianthropy IV (6:30), Adaptive Radiation I (6:44), Adaptive Radiation II (8:48), Adaptive Radiation III (5:54), Universal Greebly (10:58), Hypnagogia I (8:03), Hypnagogia II (4:45). Total duration ≥ 68:25.
© + ℗ 2018 Han-earl Park.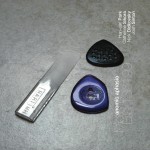 updates
11-17-20: released!
12-04-20: added the hoodie.
06-26-22: small updates including review quotes.