about Mathilde 253
Charles Hayward (drums, percussion and melodica)
Han-earl Park (guitar)
Ian Smith (trumpet and flugelhorn)
A lip-reed, six strings, numerous membranes and metal discs.
Three valves; one potentiometer plus twenty-two frets; chains, sticks and beaters.
Six arms, six legs; three bodies coupled to artifacts.
Many tactics; negotiated boundaries and shifting networks of relationships.
Real-time musical meetings between
drummer Charles Hayward,
guitarist Han-earl Park and
trumpeter Ian Smith.
Mathilde 253 (Charles Hayward, Han-earl Park and Ian Smith) was born out of an opportunity to explore the spontaneous mashup of avant-rock, African-American creative musics, European free improvisation and noise. Featuring special guest Lol Coxhill, the ensemble debuted at Cafe OTO (London) in April 2010. In March 2011, with support from Music Network, UCC School of Music, Note Productions, the National Concert Hall and the Cork Opera House, Mathilde 253 toured Ireland with the celebrated composer-improviser Ishmael Wadada Leo Smith.
The ensemble weaves a performance of physical virtuosity and humorous sound poetics; a patchwork of restraint, subtlety and recklessness. A playful collision of personal, social and musical histories, Mathilde 253 is a site where tradition and idiom are not straightjackets nor limitations, but playgrounds for real-time (re)inventions and (re)configurations.
Mathilde 253's eponymous debut CD (SLAMCD 528) was released by SLAM Productions in January 2011. [Details…] [Get the CD…]
news and performances
Update: last I checked, only two sets left. If you want to get one…. Get Han-earl Park's (near) complete discography! (And help fund Sirene 1009's debut album.) Limited in number, my (near)…
In addition to being an awesome record store, Downtown Music Gallery is an institution that supports left-field, creative music. Part archive of sound recordings and folk knowledge, part performance space,…
The current edition of jazzColo[u]rs (Sommario Ago./Set. 2015, Anno VIII, n. 8–9) has an interview with me by Andrew Rigmore. It covers a broad range of my work, from my…
Yet more reviews of 'Anomic Aphasia' (SLAMCD 559) with Han-earl Park, Catherine Sikora, Nick Didkovsky and Josh Sinton. Following up on Cisco Bradley's profile in JazzTokyo, Takeshi Goda locates my…
[All news articles on the Mathilde 253…]
video
discography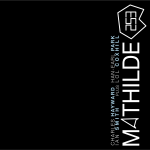 Released as part of SLAM Productions's January 2011 CD catalog: Mathilde 253's eponymous debut CD (SLAMCD 528). [Details…] [Get the CD…]
personnel: Mathilde 253: Charles Hayward (drums, percussion, melodica), Han-earl Park (guitar) and Ian Smith (trumpet, flugelhorn), plus Lol Coxhill (saxophone; tracks 6 and 7).
track listing: Kalimantan (18:29), Similkameen (8:22), Ishikari (10:09), Jixi (8:09), Matanuska (6:52), Aachen (11:42), Oaxaca (10:52). Total duration: 74:37.
© 2011 Han-earl Park.
℗ 2011 SLAM Productions.
press and quotes
"Smith favors long mongrelly growls and scales that ascend and descend in illogical ways, like the stairs in an M C Escher print. Hayward has a very distinct sense of time underneath the freedom…. This is an exciting new venture…. One can reasonably expect unexpected things from Park, who is a delightful shape-shifter and Smith always repays the closest attention, and claims it with sudden open-horn breakouts if the fabric of the music gets too smooth and uninflected. Great stuff…."
— Brian Morton (Point of Departure)
"Ordered and entwining… a tapestry of choice: that of another Mathilde, of a complete beauty."
— Guillaume Belhomme (Le son du grisli)
"This new improvising group… draws disparate personalities into one eccentric orbit…. A very satisfying debut."
— Daniel Spicer (Jazzwise)
"The playing here is very fine, a tightly woven mass of sounds with no one real dominating voice but each musician expressive and energetic."
— Richard Pinnell (The Watchful Ear)
about the performers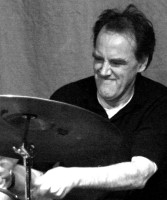 Charles Hayward is known as the pioneering drummer with This Heat and Camberwell Now, an ever growing list of solo concerts and CDs (most recent release Abracadabra Information on Locus Solus label), special collaborative performances, and is in Massacre with Bill Laswell and Fred Frith.
Throughout the 90's up to the present he has initiated a bewildering array of events and performances, including the widely acclaimed series Accidents + Emergencies at the Albany Theatre, Out of Body Orchestra (too much sound, not enough space, not enough time), music made from the sound of the new Laban dance centre being built which was choreographed for the official opening, music for a circus (part of the National Theatre's 'Art of Regeneration' initiative), the full-on installation/performance Anti-Clockwise (with Ashleigh Marsh and David Aylward) for multiple strobes, maze structure of diverse textures, 2 drummers, synthesizers and your nervous system. Recent developements include the Continuity evenings as part of Camberwell Arts.
Committed to song 'but the shapes have to change,' his current one-man show is an intoxicating mix of percussive attack, swirling electronics and lyrical fragment collage.
"An unwavering belief in the power of the groove and an uncanny facility for generating one riff after another."
— The Wire
"Telepathic magic…. Hayward is one of the most life-affirming people who stalks this dark globe.
— The Sound Projector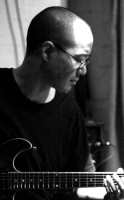 Improviser, guitarist and constructor Han-earl Park (박한얼) has been crossing borders and performing fuzzily idiomatic, on occasion experimental, always traditional, open improvised musics for twenty years. He has performed in clubs, theaters, art galleries, concert halls, and (ad-hoc) alternative spaces across Europe and the USA.
Park engages a radical, liminal, cyborg virtuosity in which mind, body and artifact collide. He is driven by the social and revolutionary potential of real-time interactive performance in which tradition and practice become creative problematics. As a constructor of musical automata, he is interested in partial, and partially frustrating, context-specific artifacts; artifacts that amplify social relations and corporeal identities and agencies.
Ensembles include Mathilde 253 with Charles Hayward and Ian Smith, Eris 136199 with Nick Didkovsky and Catherine Sikora, and Numbers with Richard Barrett. Park is the constructor of the machine improviser io 0.0.1 beta++, and instigator of Metis 9, a playbook of improvisative tactics. He has performed with Wadada Leo Smith, Paul Dunmall, Evan Parker, Lol Coxhill, Mark Sanders, Josh Sinton, Louise Dam Eckardt Jensen, Gino Robair, Tim Perkis, Andrew Drury, Pat Thomas and Franziska Schroeder, and as part of large ensembles led by Wadada Leo Smith, Evan Parker and Pauline Oliveros.
Festival appearances include Freedom of the City (London), Sonorities (Belfast), ISIM (New York), dialogues festival (Edinburgh), CEAIT (Los Angeles) and Sonic Acts (Amsterdam). His recordings have been released by labels including Slam Productions, Creative Sources and DUNS Limited Edition.
Park taught improvisation at University College Cork, and founded and curated Stet Lab, a space for improvised music in Cork.
"Park applies every technique to his detuned ax—tapping, sliding, muting, twisting the machine heads. It's simultaneously disciplined and barbaric."
— Greg Burk (MetalJazz)
"Han-earl Park's idiosyncratic guitar style was beguiling, his array of tiny, sharp sounds glinting like fragments of broken glass."
— Scott McMillan (The Liminal)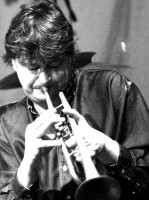 Ian Smith has been playing improvised music and has performed with Evan Parker, John Stevens, Maggie Nicols, Lol Coxhill, Steve Beresford and Eddie Prévost among others. His own trio, Trian, has played at the 1993 London Experimental Music Festival and the 1992 Soho Jazz Festival. He also participated in a reformation of Cornelius Cardew's Scratch Orchestra in the ICA in 1994. He has collaborated with composer Roger Doyle, winner of the Bourges International Elecro-Acoustic Music Competition 1997, and he has been featured on two instrumental tracks by the hip hop band Marxman. He toured the UK with Butch Morris' London Skyscraper conduction project in November 1997.
He helped to institute the London Improvisers orchestra in 1998 with Steve Beresford and Evan Parker, which continues to play monthly in London and has recently performed at the Bimhuis in Amsterdam. He also founded The Gathering with Maggie Nichols.
In 2000 he recorded his second CD as a leader, Daybreak, with Derek Bailey, Veryan Weston, Gail Brand and Oren Marshall. Into the twenty-first century, as well as regularly playing with London improvisers, he has also performed with Greg Tate's Burnt Sugar Arkestra, guitarists Han-earl Park, Reeves Gabrels, the Poet and Detriot legend John Sinclair, and New York based drummer Harris Eisenstadt.
"Smith's style has the free-form panache of a Wadada Leo Smith or Joe McPhee, but his experience of other musics is never too far from the surface. Some of his gestures seem to derive from earlier forms of jazz, and there are moments of harmonic directness that you could put chord symbols under. But it has all been thoughtfully moulded into a highly convincing and distinctive language."
— Philip Clark (JazzReview)
"Smith's trumpet playing is a particular revelation. His brassy blats and smears play off of the hyperactive spatters of Eisenstadt's drums. There is a clear jazz edge to his tone, which sounds almost radical these days when many trumpet players in the improv world seem inclined to turn their back on that vocabulary. But he can also dip down to breathy flutters and muted coloristic playing."
— Michael Rosenstein (Signal to Noise)
Copyright
Photos (portraits of the individual musicians) © 2010 Seán Kelly.