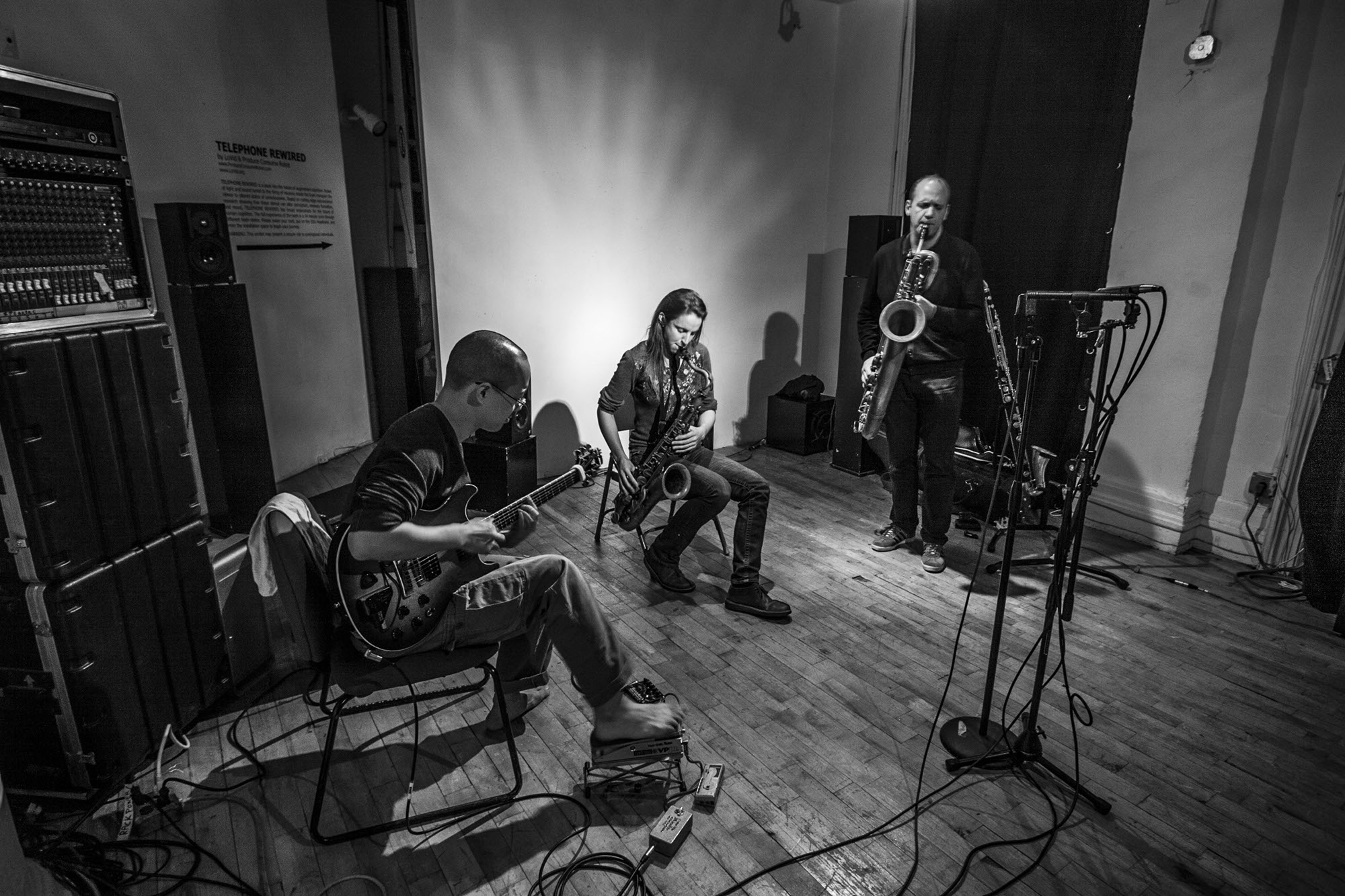 about Metis 9
Metis 9 is a collection of improvisative tactics, and higher-level interactive macros for ensemble performance designed, designated and specified by Han-earl Park.
Metis 9 has 'glorious noise' or 'frenzy' at its root, yet it is not so much structuring the noise as it is a meta-layer of complexity that performers can introduce at will. Metis 9 does not tell the performer what to play, or provide all the details of how to interact, but it is an additional network protocol for interactive possibilities. Group improvisation is always the primary protocol; Metis 9 provides secondary or tertiary tactics that create an additional focused complexity. The decision for each bloop and bleep is still retained by the ensemble. These macros enable specific interactionist schemes to be expressed in an open improvisative context; it is improvisative play channeled by group consent.
Metis 9 builds on my experience teaching improvisation at University College Cork, and performing as part of large ensembles led by Ishmael Wadada Leo Smith, Evan Parker and Pauline Oliveros. Metis 9 includes tactics developed from performances and practices of Cecil Taylor, Tony Oxley, John Zorn and Anthony Braxton, in particular, and the form of its practice (training and instruction) is inspired by the ensemble improvisation-composition works of George E. Lewis among others.
Metis 9 includes, among others, the following macros (all designations are provisional):
Stylobate Maneuver: synchronized real-time, interactive 'channel switching.' Initially reverse-engineered from Taylor and Oxley's 'Stylobate 1' from Leaf Palm Hand (FMP, 1989), and from my own performances with Mark Sanders and with Richard Barrett. In the simplest form of this macro, performers listen to the ensemble, and when they perceive a change according to some criteria, change their own playing. With its quick cutting feel, the improvisation takes on an emergent moment-to-moment logic, encouraging the listener to experience heightened apophenia and synchronicity.
Breaking Densities: irregular, interactive hockets. Initially reverse-engineered from the 'Pooling' sections of Cobra: John Zorn's Game Pieces Volume 2 (Tzadik, 2002), and the performances of FURT (Richard Barrett and Paul Obermayer). In its simplest form, performers play short sounds when they anticipate an open space in the ensemble, avoiding sounding at the same time as another performer. The effect can range from sparse, asymmetrical improvisations to efficient, if chaotic, packing of time. With the performers aiming to 'trip up' each other, the improvisation becomes a complex collective rhythmic structuring.
Interrupting Continua: fractured accelerandi and decelerandi. A significant reengineering of Braxton's 'accordion time,' in its simple form, performers alternately ramp up and ramp down the underlying pulse of their playing. When a performer perceives their pulse to lock with another performer's, the performer jumps to another tempo. A shifting, chaotic sound emerges, with unpredictable moments of relative stability alternating with rapid fluctuations in time.
In addition, multiple instances of each macro can operate in tandem, be combined, or many can act as a tertiary level tactic (for example, performers may enroll the Stylobate Maneuver to switch and cut between Breaking Densities and Interrupting Continua).
news and performances
Update: last I checked, only two sets left. If you want to get one…. Get Han-earl Park's (near) complete discography! (And help fund Sirene 1009's debut album.) Limited in number, my (near)…
"Impressive in scale"? "overwhelming in execution"? "listening to two separate pieces at the same time in serendipitous juxtaposition"? "genius charlatan"? listening that "can produce altered states"? Dave Foxall of a…
As previously teased, 'Anomic Aphasia' (SLAMCD 559) with Han-earl Park, Catherine Sikora, Nick Didkovsky and Josh Sinton makes Avant Music News Best of 2015. [Avant Music News review…] [All reviews…] Anomic Aphasia…
Original photographs/images © 2015 Han-earl Park; © 2015 Translating Improvisation; © 2015 Peter Fay; © 2015 Caroline Pugh; © 2015 65Fen Music Series; and © 2015 Michael Foster.…
[All news articles on the Metis 9…]
video
discography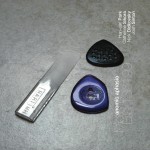 about the participants
Han-earl Park
Improviser, guitarist and constructor Han-earl Park (박한얼) has been crossing borders and performing fuzzily idiomatic, on occasion experimental, always traditional, open improvised musics for twenty years. He has performed in clubs, theaters, art galleries, concert halls, and (ad-hoc) alternative spaces across Europe and the USA.
Park engages a radical, liminal, cyborg virtuosity in which mind, body and artifact collide. He is driven by the social and revolutionary potential of real-time interactive performance in which tradition and practice become creative problematics. As a constructor of musical automata, he is interested in partial, and partially frustrating, context-specific artifacts; artifacts that amplify social relations and corporeal identities and agencies.
Ensembles include Mathilde 253 with Charles Hayward and Ian Smith, Eris 136199 with Nick Didkovsky and Catherine Sikora, and Numbers with Richard Barrett. Park is the constructor of the machine improviser io 0.0.1 beta++, and instigator of Metis 9, a playbook of improvisative tactics. He has performed with Wadada Leo Smith, Paul Dunmall, Evan Parker, Lol Coxhill, Mark Sanders, Josh Sinton, Louise Dam Eckardt Jensen, Gino Robair, Tim Perkis, Andrew Drury, Pat Thomas and Franziska Schroeder, and as part of large ensembles led by Wadada Leo Smith, Evan Parker and Pauline Oliveros.
Festival appearances include Freedom of the City (London), Sonorities (Belfast), ISIM (New York), dialogues festival (Edinburgh), CEAIT (Los Angeles) and Sonic Acts (Amsterdam). His recordings have been released by labels including Slam Productions, Creative Sources and DUNS Limited Edition.
Park taught improvisation at University College Cork, and founded and curated Stet Lab, a space for improvised music in Cork.
"Guitarist Han-earl Park is a musical philosopher…. Expect unexpected things from Park, who is a delightful shape-shifter…."
— Brian Morton (Point of Departure)
"Han-earl Park… is as at home in underground Noise as he is dueting with free jazz heroes like Paul Dunmall. Park uses pedals to smudge and smear chords or rolls out strange robotic grumblings, a technician playing electricity as much as the guitar."
— Daniel Spicer (Jazzwise)
Catherine Sikora
Since making her way to New York City from West Cork, Ireland to study abstract improvisation, Catherine Sikora has become a well-known face and sound in New York creative music circles. She has worked with Elliott Sharp, Eric Mingus, Michael Evans, Enrique Haneine, Karl Berger, Matt Lavelle, Jeremy Bacon, François Grillot and Burnt Sugar The Arkestra Chamber, among many others. Her undeniably unique approach sets her apart from everyone else, even when surrounded by the most original and creative voices in New York City. Sikora is a contributing writer to the book "Silent Solos-Improvisers Speak" (Buddy's Knife Publishing, Köln, DE).
Current working projects include Clockwork Mercury (duo with Eric Mingus) and an improvising duo with drummer Brian Chase; Sikora's first solo recording will be released in fall 2015.
"Sikora is a free-blowing player's player with a spectacular harmonic imagination and an evolved understanding of the tonal palette of the saxophone."
— Chris Elliot (Seacoast Online)
"There is almost always one enigmatic person at every gathering…. Inevitably, there is an expert storyteller there as well. With any luck, it happens to be the same person. These rare folk have the ability to spin a tale you have possibly heard before but can retell it with such clarity that you are captivated or better yet hypnotized. They can give you a new understanding of something you thought you already knew. This is a beautiful power and an ability that is rare to possess. Catherine Sikora is such a person/player."
— Philip Coombs (Free Jazz)
Josh Sinton
Brooklyn-based saxophonist/clarinetist/composer Josh Sinton is probably best known as the leader of Ideal Bread, the Steve Lacy repertory band. He also performs regularly with Andrew D'Angelo's DNA big band, Darcy James Argue's Secret Society, the Nate Wooley Quintet and Anthony Braxton's Tricentric Orchestra. He's played with avant-garde luminaries such as Roswell Rudd, Karl Berger and John Butcher, newer voices Ingrid Laubrock, Matana Roberts and Jeremiah Cymerman and pop singers Michael Buble and Norah Jones.
In 2012, Sinton released his autobiographical album Pine Barren (featuring Jon Irabagon, Jonathan Goldberger, Peter Bitenc and Mike Pride) with accompanying essays on the Prom Night Records label to critical acclaim ("deeply confessional and emotionally revealing" – Shaun Brady, Downbeat, Nov. 2012). This year he will release another record on Prom Night, anomonous on which he freely improvises on the amplified contrabass clarinet with Denman Maroney (hyperpiano) and Ben Miller (electronics). Currently he's in the midst of finishing arrangements for the next Ideal Bread record, an ambitious re-recording of all the material Steve Lacy put out on the Saravah label in the 1970's and was recently repackaged as Scratching the Seventies. The working title of this work-in-progress is Beating the Teens.
Sinton grew up in the Pine Barrens of southern New Jersey, came of musical age attending AACM classes in Chicago and completed his classroom education in Boston at the New England Conservatory of music. Along the way, he's toured and played in India, Israel, Japan, France, Germany, the Netherlands and Finland. Currently he happily resides in Brooklyn, NY with his wife Laura and daughter Zosia.