On Monday, September 7th 2009, at 9:00 pm (doors open at 8:45pm): an improvised music event with Kato Hideki (bass), Katie O'Looney (drums) and Han-earl Park (guitar) at The Roundy (Castle Street, Cork, Ireland). Admission is €12 (€6 concessions) at the door.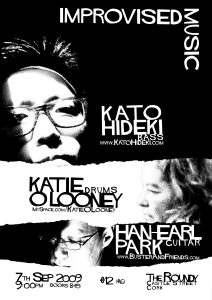 See the performance diary for up-to-date info.
about the performers
Kato Hideki (Kato: family name; Hideki: given) is a Japanese-born composer / bassist / multi-instrumentalist, who lives in NYC. He is the co-founder of Death Ambient with Ikue Mori & Fred Frith. His other groups as a leader are: Green Zone with Otomo Yoshihide and Uemura Masahiro; OMNI with Nakamura Toshimaru and Akiyama Tetsuji. His compositions include: solo piece 'Turbulent Zone' for electric bass with prime number tuning; 'Tremolo of Joy' for his band with Charles Burnham, Briggan Krauss, Ed Tomney and Calvin Weston. Besides his own projects, Kato collaborates with Nicolas Collins, James Fei, Akamatsu Masayuki and Ursula Scherrer. As a bassist, he has worked with Eyvind Kang, Zeena Parkins, Marc Ribot, Michael Schumacher, John Zorn and among many others. He is also a member of analog synthesizer collective, Analogos at Diapason Gallery.
Katie O'Looney was born in Killarney, County Kerry, and raised in NY State. She received a degree in art from Skidmore College, Saratoga Springs, New York. She first took up the drums in 1969, and performed, recorded and toured in the USA, Japan and throughout Europe with various groups, and as a soloist, since the early 1980's. She has played with Elliott Sharp's Carbon, Details at Eleven, Bite Like a Kitty, Better than Death, Steppin Razor, Zar, Raeo, No Safety and Dustbreeders. She has also improvised tours with Tenko, Zeena Parkins, Elliott Sharp, solos with triggered drums and electronics with a 16 mm film of Rose Lowder, and sound for Qui Pro Quo by Rose Lowder. Katie has worked with various dancers, performance artists and theatre projects with sound and lighting design. She is a painter, and a specialist decorative painter, and has worked on a number of restoration projects. In 2002 she released a solo CD, Roundtrip.
Based in Cork, the Korean-American guitarist Han-earl Park works from / within / around the traditions of idiom-agnostic, experimental improvised musics, sometimes engineering theater, sometimes inventing ritual. He is involved in ongoing collaborations with Bruce Coates, and with Franziska Schroeder, fifteen year long associations with Alex Fiennes and Murray Campbell, and has performed with Ishmael Wadada Leo Smith, George E. Lewis, J. D. Parran, Paul Dunmall, Pauline Oliveros, Mark Sanders, Chick Lyall, Jan Langedijk, Stu Ritchie, Koen Nutters, Pedro Rebelo, Elspeth Murray, Mark Trayle and Hannes Raffaseder. He is also the constructor of io 0.0.1 beta, an interactive musical artifact, and cofounder of the Church of Sonology.