On Sunday, April 18, 2010, at 8:00 pm: a real-time musical meetings between Charles Hayward (drums), Han-earl Park (guitar) and Ian Smith (trumpet and flugelhorn) at Cafe OTO (18–22 Ashwin Street, Dalston, London E8 3DL, England). Tickets: £5 advance / £6 on the door [Get tickets…].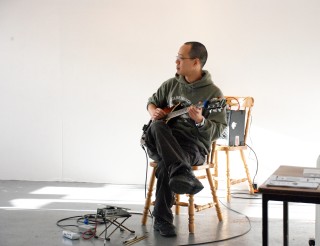 See the performance diary for up-to-date info.
[Cafe OTO page…]
[facebook event page…]
A lip-reed, six strings, numerous membranes and metal discs.
Three valves; one potentiometer plus twenty-two frets; chains, sticks and beaters.
Six arms, six legs; three bodies coupled to artifacts.
No scores, many tactics; negotiated boundaries and shifting networks of relationships.
A real-time musical meetings between drummer Charles Hayward, guitarist Han-earl Park and trumpeter Ian Smith .
further information
Cafe OTO: www.cafeoto.co.uk
Charles Hayward: www.charleshayward.org
Han-earl Park: www.busterandfriends.com
Ian Smith: www.efi.group.shef.ac.uk/musician/msmithi.html
event summary
Date: Sunday, April 18, 2010.
Time: 8:00 pm.
Venue: Cafe OTO, 18–22 Ashwin Street, Dalston, London E8 3DL, England.
Performers: Charles Hayward (drums), Han-earl Park (guitar) and Ian Smith (trumpet and flugelhorn) .
Tickets: £5 advance / £6 on the door.
the performers
Charles Hayward is known as the pioneering drummer with This Heat and Camberwell Now, an ever growing list of solo concerts and CDs (most recent release Abracadabra Information on Locus Solus label), special collaborative performances, and is in Massacre with Bill Laswell and Fred Frith.
Throughout the 90's up to the present he has initiated a bewildering array of events and performances, including the widely acclaimed series Accidents + Emergencies at the Albany Theatre, Out of Body Orchestra (too much sound, not enough space, not enough time), music made from the sound of the new Laban dance centre being built which was choreographed for the official opening, music for a circus (part of the National Theatre's 'Art of Regeneration' initiative), the full-on installation/performance Anti-Clockwise (with Ashleigh Marsh and David Aylward) for multiple strobes, maze structure of diverse textures, 2 drummers, synthesizers and your nervous system. Recent developements include the Continuity evenings as part of Camberwell Arts.
Committed to song 'but the shapes have to change', his current one-man show is an intoxicating mix of percussive attack, swirling electronics and lyrical fragment collage.
"An unwavering belief in the power of the groove and an uncanny facility for generating one riff after another." – The Wire
Improviser, guitarist, constructor and club-runner Han-earl Park (박한얼) works from / within / around the traditions of idiom-agnostic, experimental improvised musics, sometimes engineering theater, sometimes inventing ritual.
He is involved in ongoing collaborations with Bruce Coates, and with Franziska Schroeder, fifteen year long associations with Alex Fiennes and Murray Campbell, and has performed with Ishmael Wadada Leo Smith, George E. Lewis, J. D. Parran, Paul Dunmall, Pauline Oliveros, Thomas Buckner, Kato Hideki, Mark Sanders, Chick Lyall, Jan Langedijk, Stu Ritchie, Koen Nutters, Pedro Rebelo, Katie O'Looney, Elspeth Murray, Mark Trayle and Hannes Raffaseder. He is also the constructor of io 0.0.1 beta, an interactive musical artifact, and cofounder of the Church of Sonology.
Park is a recipient of grants from the Arts Council of Ireland and Music Network. He has appeared at festival including Sonic Acts (Amsterdam), the Center for Experiments in Art, Information and Technology Festival (California), dialogues festival (Edinburgh), Sonorities (Belfast) and VAIN Live Art (Oxford).
Park is founder and curator of Stet Lab, a monthly improvised music space in Cork, Ireland.
"Bandy-legged Han-earl Park (gitah)… drugged the ref and delivered a few kidney punches with a horseshoe in his boxing mitt." – Jamie Smith (Owlhouse Recordings)
Since 1992 Ian Smith has been playing improvised music and has performed with Evan Parker, John Stevens, Maggie Nicols, Lol Coxhill, Steve Beresford and Eddie Prévost among others. His own trio, Trian, has played at the 1993 London Experimental Music Festival and the 1992 Soho Jazz Festival. He also participated in a reformation of Cornelius Cardew's Scratch Orchestra in the ICA in 1994. He has collaborated with composer Roger Doyle, winner of the Bourges International Elecro-Acoustic Music Competition 1997, and he has been featured on two instrumental tracks by the hip hop band Marxman. He toured the UK with Butch Morris' London Skyscraper conduction project in November 1997.
Current projects include The Temporary Brass Trio with Gail Brand (trombone) and Oren Marshall (tuba); Fanatic Hearts, an electric band with Dave Tucker (guitar), Alex Ward (alto sax/guitar), Pat Thomas, Knut Auferman (live sampling and processing), Simon Fell (electric bass) and Tony Marsh (drums); the London Improvisers Orchestra; and The Big Top organised with Oren Marshall and Dean Speedwell to actively encourage ad-hoc groupings of musicians from a myriad of backgrounds to come together, play and listen. The first meeting was in November 2000 and involved improvisors Maggie Nichols, Lol Coxhill, Alan Tomlinson, Steve Beresford and Simon Fell among others.
"…Exploring all of his instrument's registers, producing dog growls, fanfares, miniscule mouthpiece squeaks and tones so muted they sound as if they come not from inside his horn, but from within his throat." – Ken Waxman
updates
04–11–10: special guest Lol Coxhill. [More info…]