Thursday, July 29, 2010: It's been a little while, but I'll be doing a solo (or guitar-guitarist duet) performance later this month at the Lewis Glucksman Gallery (Cork, Ireland). The event begins at 6:00pm and admission is free.
See the performance diary for up-to-date info.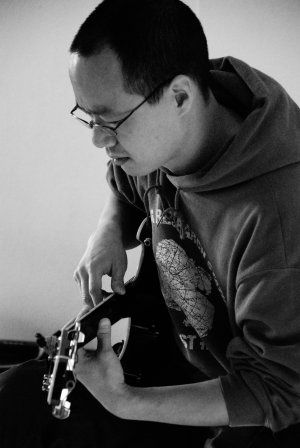 description
The Lewis Glucksman Gallery presents a performance of solo guitar improvisations by Han-earl Park. The event begins at 6:00pm and admission is free.
Improviser, guitarist and constructor Han-earl Park's playing has been described by Bruce Lee Gallanter (Downtown Music Gallery, New York) as "careful, crafty and well-played with that restrained yet fractured guitar that sounds so good," and as "beautiful music, incredibly focused" by Nick Didkovsky (Doctor Nerve / Punos Music). Park has performed in clubs, theaters, art galleries, concert halls, and (ad-hoc) alternative spaces in Denmark, England, Ireland, The Netherlands, Scotland and the USA.
He is involved in ongoing collaborations with Bruce Coates, and with Franziska Schroeder, fifteen year long associations with Alex Fiennes and Murray Campbell. Recent performances include ensemble Mathilde 253 (Park, Charles Hayward and Ian Smith) with Lol Coxhill, a concert with Paul Dunmall, with Kato Hideki and Katie O'Looney, an improvisative meeting with Thomas Buckner and Jesse Ronneau, and the performance of Pauline Oliveros' 'Droniphonia' alongside the composer. He has appeared at festivals including Sonic Acts (Amsterdam), the Center for Experiments in Art, Information and Technology Festival (California), dialogues festival (Edinburgh), Sonorities (Belfast) and VAIN Live Art (Oxford).
Park founded and curates Stet Lab, a monthly improvised music space in Cork, Ireland, and teaches improvisation at the UCC School of Music.