Friday, October 22, 2010, at 10:00pm (doors: 9:00pm): Performance by Richard Barrett (electronics) and Han-earl Park (guitar), plus Jaap Pieters (super 8 films) presented by AUXXX. The event takes place at Lichtblik Kino (Kastanienallee 77, 10435 Berlin, Germany). Donation: €5.
See the performance diary for up-to-date info.
[AUXXX page…]
[facebook event page…]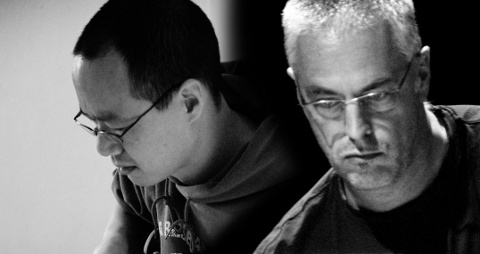 about the performers
Richard Barrett is equally active in electronic free improvisation and notated composition. Recent compositions have been premiered by the London Sinfonietta and the Symphonie-Orchester des Bayerischen Rundfunks, and in 2010 he has performed at the Venice Biennale, Inventionen (Berlin), Jazz em Agosto (Lisbon), Spark (Minneapolis), Muziekgebouw aan 't IJ (Amsterdam), MusikTriennale Köln and elsewhere. He is currently a guest professor at the Instituut voor Sonologie in Den Haag, where he leads a workshop in electroacoustic improvisation. Current work in progress includes CONSTRUCTION, a two-hour composition for voices, twenty instruments and electronics, which is the latest result of his twenty-year collaboration with the Elision Ensemble and whose premiere is planned for November 2011. He and Paul Obermayer have been working together as the electronic duo FURT since 1986 and formed the electroacoustic octet fORCH in 2005. He also performs regularly with vocalist Ute Wassermann, in the Evan Parker Electroacoustic Ensemble and in many other contexts, and has recorded for NMC, Matchless, Unsounds, ECM, Creative Sources, Psi and others.
Improviser, guitarist and constructor Han-earl Park (박한얼) works from/within/around traditions of fuzzily idiomatic, on occasion experimental, mostly open improvised musics, sometimes engineering theater, sometimes inventing ritual. He feels the gravitational pull of collaborative, multi-authored contexts, and has performed in clubs, theaters, art galleries, concert halls, and (ad-hoc) alternative spaces in Denmark, England, Ireland, The Netherlands, Scotland and the USA. He is involved in ongoing collaborations with Bruce Coates, and with Franziska Schroeder, fifteen year long associations with Alex Fiennes and Murray Campbell. Recent performances include ensemble Mathilde 253 (Park, Charles Hayward and Ian Smith) with Lol Coxhill, a duo concert with Paul Dunmall, a trio with Kato Hideki and Katie O'Looney, an improvisative meeting with Thomas Buckner and Jesse Ronneau, and the performance of Pauline Oliveros' 'Droniphonia' alongside the composer. He has appeared at festivals including Sonic Acts (Amsterdam), the Center for Experiments in Art, Information and Technology Festival (California), dialogues festival (Edinburgh), Sonorities (Belfast) and VAIN Live Art (Oxford). Park founded and curates Stet Lab, a monthly improvised music space in Cork, Ireland, and teaches improvisation at the UCC School of Music.