Monday, January 24, 2011, at 9:00pm (doors: 8:45pm): Jin Sangtae, Seoul-based experimental electronic musician, makes his Irish debut, upstairs at , Union Quay, Cork, Ireland The Roundy, Castle Street, Cork, Ireland. Admission is €10/€5.
The event is part of Jin's European tour (taking in London, Milan, Paris, Geneva, Vienna and Zurich). For the Cork performance, he will be joined by Cork-based musicians including guitarist-improviser Han-earl Park, and composer, drummer and intermedia artist Jeffrey Weeter.
See the performance diary for up-to-date info. [facebook event page…]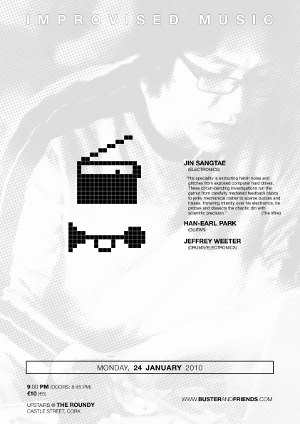 about the performers
Jin Sangtae was born in 1975 in Seoul. Korea. He started music with electronica project 'popmusic25' in 1999 and had several live concerts. When he came to know improvised music in 2004, he changed his musical direction. He developed his instrument with Radio, Laptop, Car horn and hard disk drive and concentrated upon improvised music, field recording and related sound works. Jin Sangtae has ragularly participated in concert series 'RELAY' and "Table Setting.' In 2008, he commenced 'Dotolim'—a name of small space, first venue in Korea specialized for electro-acoustic improvisation. He has organized 'Dotolim concert series' every second month.
Jin is a prominent member of Korea's growing electro-acoustic improvisation scene, and according to The Wire, Jin's "speciality is extracting harsh noise and glitches from exposed computer hard drives. These circuit-bending investigations run the gamut from carefully mediated feedback blasts to jerky mechanical clatter to sparse buzzes and hisses. Hovering intently over his electronics, he probes and dissects the chaotic din with scientific precision."
Improviser, guitarist and constructor Han-earl Park (박한얼) works from/within/around traditions of fuzzily idiomatic, on occasion experimental, mostly open improvised musics, sometimes engineering theater, sometimes inventing ritual. He is involved in ongoing collaborations with Bruce Coates, and with Franziska Schroeder, long-standing associations with Alex Fiennes and Murray Campbell. Recent performances include Mathilde 253 (Park, Charles Hayward and Ian Smith) with Lol Coxhill, a duo concert with Paul Dunmall, a trio with Kato Hideki and Katie O'Looney, and the performance of Pauline Oliveros' 'Droniphonia' alongside the composer.
Jeffrey Weeter is a intermedia artist and audio engineer. He has designed real-time video instruments and performed as the resident VJ for the Wake Up! series at Sonotheque. An audio engineer and theorist, he has presented at ATMI, ICMC and SEAMUS, and has published in Organised Sound. He has worked with the ensembles Powerpoint, Fire and Ice, Lucid Dream Ensemble and Cartwright/Moorefield/Weeter. Weeter's work explores the relationships between media via performance. Performances utilize electronic and acoustic instruments coupled with video projection, expanding the dynamics of performance and forging a hybrid palette. Video elements characterized by manipulated and found materials combine with the music to form a mesh of shifting relationships. His work negotiates a shared agency between live performer and random or deterministic processes.
updates
01–24–11: change venue.