Monday, April 4, 2011, at 9:00pm (doors: 8:45pm): a performance by Catherine Sikora (saxophones),
 Ian Smith (trumpet and flugelhorn),
 Han-earl Park (guitar)
 and Jeffrey Weeter (drums/electronics) takes place upstairs at The Roundy, Castle Street, Cork, Ireland. Admission is €10/€5.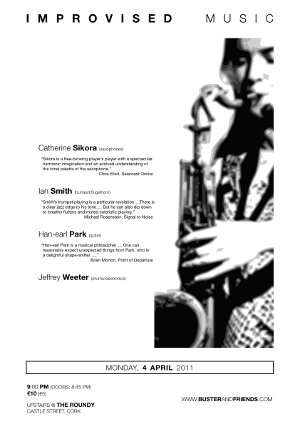 See the performance diary for up-to-date info. [facebook event page…]
description
A special one-of-a-kind improvised music performance by artists from Ireland now based overseas, and Ireland-based artists from abroad takes place on Monday, 4 April 2011, upstairs at The Roundy, Castle Street, Cork, Ireland. The event will begin at 9:00 pm (doors open at 8:45 pm) and admission is €10 (€5 concessions) at the door.
This is a rare performance in Ireland by Catherine Sikora (New York-based, originally from West Cork), a saxophonist with a striking, compelling sound. She has been described as "a free-blowing player's player with a spectacular harmonic imagination and an evolved understanding of the tonal palette of the saxophone" (Chris Elliot, Seacoast Online). Joining Sikora will be cofounder of the London Improvisers' Orchestra, trumpeter Ian Smith (London-based, from Dublin), and Cork-based guitarist Han-earl Park (originally from California). Smith and Park are members, with Charles Hayward, of the power-trio Mathilde 253, which will tour Ireland with the legendary composer-improviser Ishmael Wadada Leo Smith this month. The group will be complemented by composer, drummer, intermedia artist and lecturer at the UCC Department of Music, Jeffrey Weeter (who recently moved to Cork from Chicago) known for his innovative work in collaboration with Kate Simko.
about the performers
Since making her way to New York City from West Cork, Ireland to study abstract improvisation, Catherine Sikora has become a well-known face and sound in New York creative music circles. She has worked with Elliott Sharp, Eric Mingus, Michael Evans, Matt Lavelle, Jeremy Bacon, François Grillot and Burnt Sugar The Arkestra Chamber, among many others. Her undeniably unique approach sets her apart from everyone else, even when surrounded by the most original and creative voices in New York City. Sikora is a contributing writer to the book "Silent Solos-Improvisers Speak" (Buddy's Knife Publishing, Köln, DE) and is currently working on producing a solo recording.
Ian Smith has performed with Evan Parker, John Stevens, Maggie Nicols, Lol Coxhill, Steve Beresford, Eddie Prévost, Greg Tate's Burnt Sugar Arkestra, Reeves Gabrels, John Sinclair, Harris Eisenstadt and many others. In 2000 he recorded his second CD as a leader, Daybreak, with Derek Bailey, Veryan Weston, Gail Brand and Oren Marshall. His own trio, Trian, has played the London Experimental Music Festival and the Soho Jazz Festival. He also participated in a reformation of Cornelius Cardew's Scratch Orchestra in 1994. He has collaborated with composer Roger Doyle, winner of the Bourges International Elecro-Acoustic Music Competition, and he has been featured on two instrumental tracks by the hip hop band Marxman. He toured the UK with Butch Morris' London Skyscraper conduction project. He cofounded the London Improvisers' Orchestra and The Gathering.
Han-earl Park works from/within/around traditions of fuzzily idiomatic, on occasion experimental, mostly open improvised musics, sometimes engineering theater, sometimes inventing ritual. He feels the gravitational pull of collaborative, multi-authored contexts, and has performed in clubs, theaters, art galleries and concert halls in Europe and America. He is part of Mathilde 253 with Charles Hayward and Ian Smith, and has recently performed with Wadada Leo Smith, Pat Thomas, Lol Coxhill, Paul Dunmall, Mark Sanders, Matana Roberts and Richard Barrett. His recordings have been released by labels including Slam Productions, and DUNS Limited Edition. Festival appearances include Sonic Acts (Amsterdam), the Center for Experiments in Art, Information and Technology Festival (California), dialogues festival (Edinburgh), Sonorities (Belfast) and VAIN Live Art (Oxford).
Jeffrey Weeter is an intermedia artist and audio engineer. He has designed real-time video instruments and performed as the resident VJ for the Wake Up! series at Sonotheque. An audio engineer and theorist, he has presented at ATMI, ICMC and SEAMUS, and has published in Organised Sound. He has worked with the ensembles Powerpoint, Fire and Ice, Lucid Dream Ensemble and Cartwright/Moorefield/Weeter. Weeter's work explores the relationships between media via performance. Performances utilize electronic and acoustic instruments coupled with video projection, expanding the dynamics of performance and forging a hybrid palette. Video elements characterized by manipulated and found materials combine with the music to form a mesh of shifting relationships. His work negotiates a shared agency between live performer and random or deterministic processes.