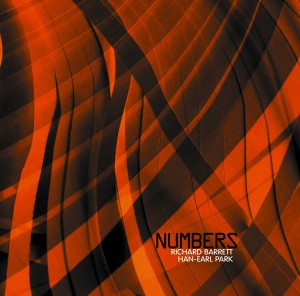 Sporty and dynamic! The September 2012 issue of Revue & Corrigée prints a review of Richard Barrett and Han-earl Park's 'Numbers' (CS 201 cd):
Je connais de nombreuses pièces de Richard Barrett enregistrées, écrites ou improvisées. C'est une figure importante de la musique contemporaine, malheureusement sous-estimée en France. Je vous invite vivement à écouter ce répertoire et vous plonger dans cette solide radicalité: l'écoute de la pièce symphonique Vanity (1996) devrait remettre de nombreuses pendules à l'heure. Lorsqu'il improvise (compose en temps réel), m'avec un dispositif électronique lui autorisant avec souplesse les parcours les plus inattendus.

Nous connaissons déjà plusieurs disques avec Furt, où il intervient avec Paul Obermayer, se jouant lui aussi d'un système électronique.

Je découvre ici sa collaboration avec le guitariste Han-Earl Pak [sic] (un autre créateur plutôt discret sur les scènes hexagonales), qui s'inscrit dans la tradition "post Derek Bailey" avec une saine volonté d'en découdre (cet artiste est aussi concepteur de systèmes interactifi originaux).

Sportif et dynamique.
Thanks to Lê Quan Ninh for helping source the text of the review.
'Numbers' (CS 201 cd) is available from Creative Sources Recordings. [More info…] [All reviews…] [Get the CD…]