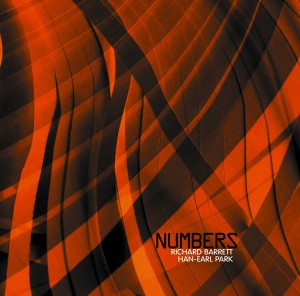 François Couture (Monsieur Délire) has selected 'Numbers' (CS 201 cd) with Richard Barrett for Délire actuel's 2012 Demanding Music Top 30:
The demanding music radio show Délire Actuel (CFLX-FM 95.5, Sherbrooke, Quebec) unveiled today its top 30 experimental music albums you shouldn't have missed in 2012. This list culls 30 titles, the 2012 crème de la crème in demanding music, i.e. the avant-gardist or experimental fringe in every music genre (contemporary, avant-garde jazz, free improvisation, avant-rock, electronica, etc.)….

Two special editions of Délire Actuel will be broadcasted tonight (December 11) and next Tuesday (December 18), from 8 pm to 10 pm (EST), on CFLX 95.5 FM in the Sherbrooke area and live on the web at www.cflx.qc.ca/en-direct/. The show is broadcasted in French, but the music is universal. A track from each selected CD will be featured. The Top 30 was posted this morning on Mr. Couture's blog Monsieur Délire…. Shows are available to stream or download from CFLX's website for a week after their broadcast date. [Read the rest…]
I'm honored to find our record in such distinguished company.
Westerhus, Stian: 'The Matriarch and the Wrong Kind of Flowers' (Rune Grammofon)
Drake, Bob: 'Bob's Drive-In' (ReR Megacorp)
Bishop, Jeb/Blonk, Jaap/Mallozzi, Lou/Rosaly, Frank: 'At the Hideout' (Kontrans)
Perkin, Miles Quartet: 'Objects in Mirror are Closer Than They Appear' (ind.)
Adkins, Monty: 'Four Shibusa' (Audiobulb)
Zorn, John: 'Mount Analogue' (Tzadik)
Carvalhais, Hugo: 'Particula' (Clean Feed)
Berne, Alexander: 'Self Referentials Vols. 1 & 2' (Innova)
New Songs, The: 'A Nest at the Junction of Paths' (Umlaut Records)
Smith, Wadada Leo: 'Ten Freedom Summers' (Cuneiform)
Homler, Anna/Hallett, Sylvia: 'The Many Moods of Bread and Shed' (The Orchestra Pit)
Ratchet Orchestra: 'Hemlock' (Drip Audio)
Endresen, Sidsel/Westerhus, Stian: 'Didymoi Dreams' (Rune Grammofon)
Barrett, Richard/Park, Han-earl: 'Numbers' (Creative Sources)
Bernier, Nicolas: 'Travaux mécaniques' (empreintes DIGITALes)
Cactus Truck: 'Brand New for China!' (Public Eyesore)
Bruckmann, Kyle: 'On Procedural Grounds' (New World Records)
Capece, Lucio: 'Zero by Zero' (Potlatch)
Petit, Philippe: 'Hitch-Hiking Thru Bronze Mirrors (Extraordinary Tales of a Lemon Girl, Chapter 3)' (Aagoo)
Nicols, Maggie/Hargreaves, Phil: 'Human' (whi music)
Huijbregts, Nico: 'Dialogue Dreams' (Vindu Music)
Esseiva, Kiko C.: 'Drôles d'oiseaux' (Hinterzimmer)
Plaistow: 'Lacrimosa' (Insubordinations)
Grimal, Alexandra: 'Andromeda' (Ayler)
Normand, Éric 5: 'Sur un fil' (Setola di Maiale)
Zorn, John: 'Templars: In Sacred Blood' (Tzadik)
Dilloway, Aaron/Lescalleet, Jason: 'Grapes and Snakes' (Pan)
eriKm/Rivière, Arnaud/DJ Sniff/Tétreault, Martin: 'Drift 01' (Art Kill Art)
Perelman, Ivo/Shipp, Matthew/Dickey, Whit: 'The Clairvoyant' (Leo Records)
Trapist: 'The Golden Years' (Staubgold)
'Numbers' (CS 201 cd) is available from Creative Sources Recordings. [More info…] [All reviews…] [Get the CD…]