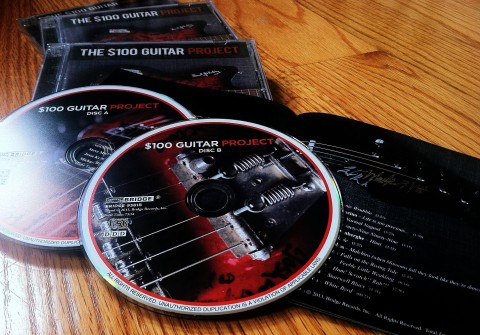 Bridge Records has released 'The $100 Guitar Project' (BRIDGE 9381A/B). This is what it says on the back of the CD case:
In October of 2010, guitarists Nick Didkovsky and Chuck O'Meara bought a used $100 electric guitar online. They didn't know what it sounded like or if it even worked, but were charmed by its no-name vibe as were 63 of their guitar-playing friends, each of whom wrote and recorded a piece on it, before passing it on to the next player….

Royalties on every sale of the $100 Guitar Project will be paid directly to CARE, a leading organization fighting global poverty.
The double CD is currently available from Bridge Records, and from one of my favorite stores, Wayside Music. You can also download the digital edition of this recording from iTunes and eMusic.
[$100 Guitar Project website…] [Bridge Records catalog page…] [Discography entry…] [About my track…]