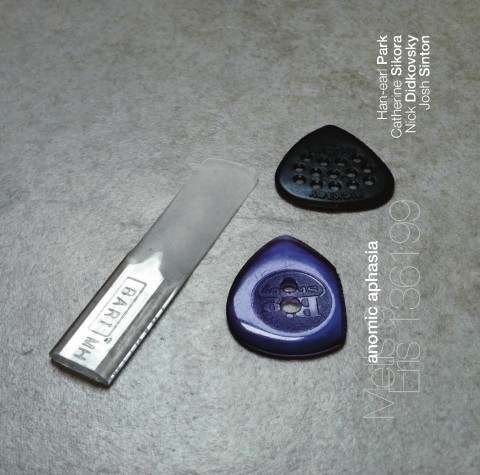 "Plucky heroine faced with rebellious robots"? "ingot-like density"? "human triumph"? "electronically plugged in as well as pointedly blended"? Ken Waxman, writing in The New York City Jazz Record, reviews 'Anomic Aphasia' (SLAMCD 559) by Han-earl Park, Catherine Sikora, Nick Didkovsky and Josh Sinton:
Guitarist Han-earl Park joins those improvisers who conceive of a playbook for interactive tactics….

As the guitarists clip staccato whines with ingot-like density from below the bridges and along the necks, her [Sikora's] wistful soprano saxophone variations preserve the linear form, eventually making common cause with offbeat folksy strums from one string player. Hear Sikora's final unaccompanied cadenza as potential human triumph over, or coexistence with, the widening machine-produced tremolo pumps. A folk-like overlay also makes its appearance on the concluding "Stopcock", although the tenor saxophonist's concentrated upwards snarls and magnetic near-string-tearing pops from guitar strings make the track so atmospheric as to become almost frightening.

The wailing vigor of Sinton's bottom-pitched horns adds to the reeds' aleatoric strategies on the other three
tracks. Nearly verbalized reed tones are so euphonious on "Flying Rods" that the subsequent layered lines nearly move into songbook territory. But Park's parallel flanges and hard thumping keeps the results electronically plugged in as well as pointedly blended.

Sardonically printing a faux questionnaire about Metis 9 application in the CD booklet shows that Park champions music over theory. With associates like Sikora, Didkovsky and Sinton, it appears he can have it both ways. [Read the rest…]

— Ken Waxman (The New York City Jazz Record)
In a few weeks, I'll be performing in New York with Josh and Nick on December 14, and with Ingrid Laubrock on December 12. See the performance diary for up-to-date info.
[About this recording…] [All reviews…]
Also from SLAM Productions…