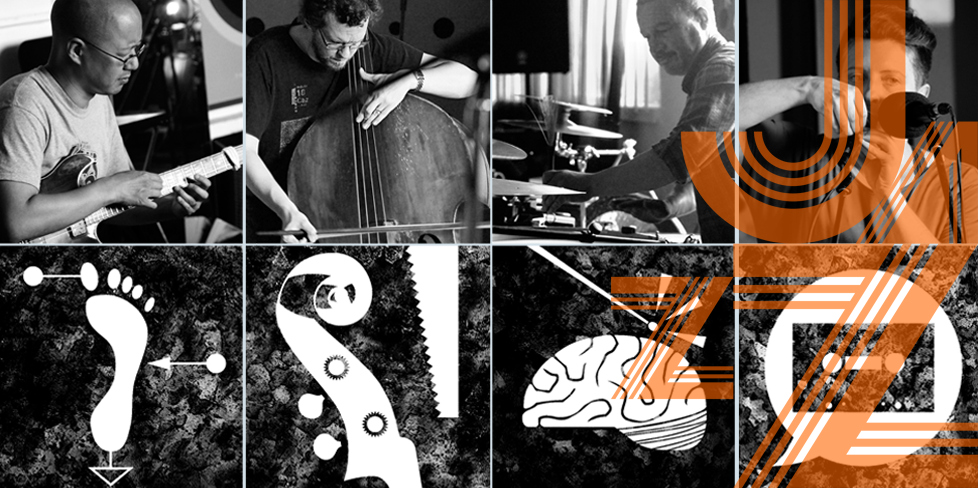 Tuesday, March 7, 2017, at 8:00pm: Sirene 1009 (Han-earl Park: guitar; Dominic Lash: double bass; Mark Sanders: drums; and Caroline Pugh: voice and electronics) perform as part of Brilliant Corners, a festival of jazz presented by Moving on Music. With support from FAINT+ (Franziska Schroeder: saxophones; Pedro Rebelo: piano and 'instrumental parasites'; and Steve Davis: drums; with Ricardo Jacinto: cello and electronics), the event takes place at the Sonic Arts Research Centre (Cloreen Park, Belfast BT9 5HN, N. Ireland). Tickets: £10 [get tickets…].
See the performance diary for up-to-date info. [Brilliant Corners page…] [Facebook event…]
details
Support: FAINT+
Faint has been playing free improvised music since 2007, recording their first album on the Creative Source label. For this performance the trio will be joined by Lisbon-based improviser Ricardo Jacinto, to make Faint+.
Sirene 1009
Sirene 1009 features improviser, guitarist and constructor Han-earl Park. The molten, musical core of the ensemble comprises of virtuosic bassist, composer and sound artist Dominic Lash, with arguably the most sought-after avant-jazz and free improvisation drummer of his generation, Mark Sanders. The experimental folk singer and electronics performer Caroline Pugh brings an additional layer of levity and exuberance to the already playful trio.
With such a diverse collection of performers, it is only wise to prepare for a performance that fragments and recombines musical lines, leaping unexpectedly between noise, melody, dissonance, harmony and rhythm.
Performed at the Sonic Arts Research Centre, Sirene 1009 will make full use of the cutting-edge audio space, for an experience that simply couldn't be replicated in any other Belfast venue.
By Han-earl Park, Dominic Lash, Mark Sanders and Caroline Pugh

Sirene 1009 is also performing…
March 1, 2017: Monmouth, Wales; March 2, London, England; and March 7 and May 19, 2017: Cork, Ireland. [Details…]