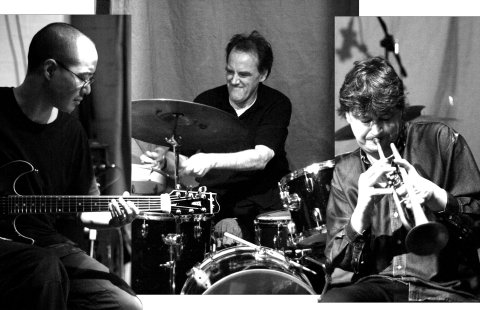 The (provisional) page for Mathilde 253 is now live. More to come including audio recordings and news about future performances. Here's an excerpt:
Charles Hayward (drums, percussion and melodica)
Han-earl Park (guitar)
Ian Smith (trumpet and flugelhorn)

A lip-reed, six strings, numerous membranes and metal discs.

Three valves; one potentiometer plus twenty-two frets; chains, sticks and beaters.

Six arms, six legs; three bodies coupled to artifacts.

Many tactics; negotiated boundaries and shifting networks of relationships.

Real-time musical meetings between

drummer Charles Hayward,
guitarist Han-earl Park and
trumpeter Ian Smith.

Born out of an opportunity to explore the spontaneous mashup of avant-rock, African-American creative musics, European free improvisation and noise, Mathilde 253 (Charles Hayward, Han-earl Park and Ian Smith) debuted at Cafe OTO (London) in April 2010. Featuring special guest Lol Coxhill, the ensemble weaved a performance of physical virtuosity and humorous sound poetics; a patchwork of restraint, subtlety and recklessness.

A playful collision of personal, social and musical histories, Mathilde 253 is a site where tradition and idiom are not straightjackets nor limitations, but playgrounds for real-time (re)inventions and (re)configurations.
[More…]