First official word on the performance by Mathilde 253 (Charles Hayward, Han-earl Park and Ian Smith) with Ishmael Wadada Leo Smith, Cork, Ireland, March 30, 2011. See the performance diary for up-to-date info. Details to follow….
[FUAIM program download page…]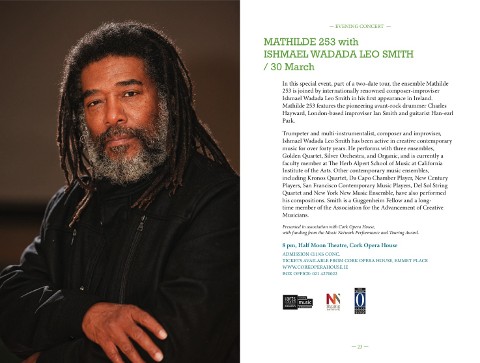 full text
In this special event, part of a two-date tour, the ensemble Mathilde 253 is joined by internationally renowned composer-improviser Ishmael Wadada Leo Smith in his first appearance in Ireland. Mathilde 253 features the pioneering avant-rock drummer Charles Hayward, London-based improviser Ian Smith and guitarist Han-earl Park.
Trumpeter and multi-instrumentalist, composer and improviser, Ishmael Wadada Leo Smith has been active in creative contemporary music for over forty years. He performs with three ensembles, Golden Quartet, Silver Orchestra, and Organic, and is currently a faculty member at The Herb Alpert School of Music at California Institute of the Arts. Other contemporary music ensembles, including Kronos Quartet, Da Capo Chamber Player, New Century Players, San Francisco Contemporary Music Players, Del Sol String Quartet and New York New Music Ensemble, have also performed his compositions. Smith is a Guggenheim Fellow and a long-time member of the Association for the Advancement of Creative Musicians.
Presented with funding from the Music Network Performance and Touring Award, and support from the UCC School of Music and the Cork Opera House.