Saturday, February 19, 2011, at 8:00pm: Mathilde 253 (Charles Hayward (drums, percussion and melodica), Han-earl Park (guitar) and Ian Smith (trumpet and flugelhorn)) perform with Pat Thomas (synthesizer) plus Zolan Quobble (spoken word) at the Lewisham Arthouse (140 Lewisham Way, London SE14, England). Admission is £5.
See the performance diary for up-to-date info. [facebook event page…]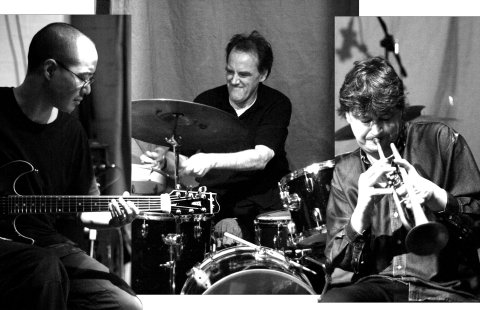 about the performers
Mathilde 253 is the real-time musical meeting between drummer Charles Hayward, guitarist Han-earl Park and trumpeter Ian Smith. Born out of an opportunity to explore the spontaneous mashup of avant-rock, African-American creative musics, European free improvisation and noise, Mathilde 253 debuted at Cafe OTO (London) in April 2010. Featuring special guest Lol Coxhill, the ensemble weaved a performance of physical virtuosity and humorous sound poetics; a patchwork of restraint, subtlety and recklessness.
A playful collision of personal, social and musical histories, Mathilde 253 is a site where tradition and idiom are not straightjackets nor limitations, but playgrounds for real-time (re)inventions and (re)configurations.
Mathilde 253's eponymous debut CD (SLAMCD 528) is available on SLAM Productions.
Charles Hayward is known as the pioneering drummer with This Heat and Camberwell Now, an ever growing list of solo concerts and CDs (most recent release Abracadabra Information on Locus Solus label), special collaborative performances, and is in Massacre with Bill Laswell and Fred Frith.
Throughout the 90's up to the present he has initiated a bewildering array of events and performances, including the widely acclaimed series Accidents + Emergencies at the Albany Theatre, Out of Body Orchestra (too much sound, not enough space, not enough time), music made from the sound of the new Laban dance centre being built which was choreographed for the official opening, music for a circus (part of the National Theatre's 'Art of Regeneration' initiative), the full-on installation/performance Anti-Clockwise (with Ashleigh Marsh and David Aylward) for multiple strobes, maze structure of diverse textures, 2 drummers, synthesizers and your nervous system. Recent developements include the Continuity evenings as part of Camberwell Arts.
Committed to song 'but the shapes have to change,' his current one-man show is an intoxicating mix of percussive attack, swirling electronics and lyrical fragment collage.
Improviser, guitarist and constructor Han-earl Park (박한얼) works from/within/around traditions of fuzzily idiomatic, on occasion experimental, mostly open improvised musics, sometimes engineering theater, sometimes inventing ritual. He feels the gravitational pull of collaborative, multi-authored contexts, and has performed in clubs, theaters, art galleries and concert halls in Europe and America.
As a constructor of low- and mid-tech electronic and software devices, and as an occasional score-maker, he is interested in partial, and partially frustrating, context-specific artifacts; artifacts that amplify social relationships and, in some instances, objects that obscure the location of the author.
He is involved in collaborations with Bruce Coates, Franziska Schroeder, Alex Fiennes and Murray Campbell, and is part of Mathilde 253 with Charles Hayward and Ian Smith. Recent performances include Mathilde 253 with Lol Coxhill; duo concerts with Paul Dunmall, and with Richard Barrett; trios with Matana Roberts and Mark Sanders, with Kato Hideki and Katie O'Looney, and with Thomas Buckner and Jesse Ronneau; as part of the Evan Parker led 20-piece improvising ensemble; and the performance of Pauline Oliveros' 'Droniphonia' alongside the composer. His recordings have been released by labels including Slam Productions, and DUNS Limited Edition. He has appeared at festivals including Sonic Acts (Amsterdam), the Center for Experiments in Art, Information and Technology Festival (California), dialogues festival (Edinburgh), Sonorities (Belfast) and VAIN Live Art (Oxford).
Park founded and curates Stet Lab, and teaches improvisation at the UCC School of Music.
Ian Smith has been playing improvised music and has performed with Evan Parker, John Stevens, Maggie Nicols, Lol Coxhill, Steve Beresford and Eddie Prévost among others. His own trio, Trian, has played at the 1993 London Experimental Music Festival and the 1992 Soho Jazz Festival. He also participated in a reformation of Cornelius Cardew's Scratch Orchestra in the ICA in 1994. He has collaborated with composer Roger Doyle, winner of the Bourges International Elecro-Acoustic Music Competition 1997, and he has been featured on two instrumental tracks by the hip hop band Marxman. He toured the UK with Butch Morris' London Skyscraper conduction project in November 1997.
He helped to institute the London Improvisers orchestra in 1998 with Steve Beresford and Evan Parker, which continues to play monthly in London and has recently performed at the Bimhuis in Amsterdam. He also founded The Gathering with Maggie Nichols.
In 2000 he recorded his second CD as a leader, Daybreak, with Derek Bailey, Veryan Weston, Gail Brand and Oren Marshall. Into the twenty-first century, as well as regularly playing with London improvisers, he has also performed with Greg Tate's Burnt Sugar Arkestra, guitarists Han-earl Park, Reeves Gabrels, the Poet and Detriot legend John Sinclair, and New York based drummer Harris Eisenstadt.