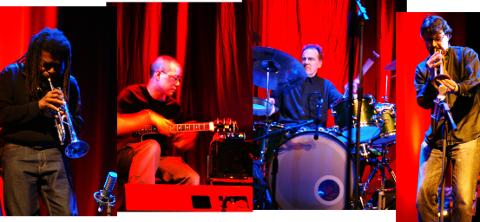 Thanks to Catherine Kirby and everyone at the National Concert Hall for able and professional assistance, to John Godfrey, Juniper Hill and Melanie L. Marshall, the then coordinators of the UCC Music Research Seminar Series, who strongly supported Wadada's visit, and to Mary Hickson, Chris Gaughan, Peter Crudge, Eoin Winning and everyone at the Cork Opera House. Kudos to Tony O'Connor and Athos Tsiopani for the behind-the-scenes help, and to John Hough for the videography and the technical support. Thanks also to Carmel Daly and Mel Mercier of UCC School of Music; Gary Sheehan of Note Productions; Jeffrey Weeter, Paul O'Donnell and, formerly, Jesse Ronneau of the UCC Concerts Committee; and Andreas W. Ziemons, Niamh Ryan and Louise Walsh at Music Network. Thanks to David Leikam of the Arts Noticed, Linda Plover of Blue Monkey PR, Eoin Brady and Bernard Clarke of Nova, and Sandra Quinn at the Evening Echo for their support.
A big thank to the best sound engineer in the world, Alex Fiennes, for amplifying the Cork event, and making the performance sound its best! and to Melanie for the conversations and unofficial roadie duties. Kudos to Marian Murray for jumping into the deep end, a special note of thanks Paul G. Smyth for stepping-up to support this project, and to Dennis Cassidy, Fergus Cullen and Benedict Schlepper-Connolly who came to the rescue when our drum-hire situation briefly went into tail-spin.
And of course a big, big, big thanks to Charles Hayward, Ian Smith and Ishmael Wadada Leo Smith for letting me share in their skill, craft, intelligence, musicality, generosity and sense of play (and their patience with this first-time tour manager): I'll treasure Charles' rhythmic travels to the outer reaches of an alternative-universe Caribbean; Ian's brave counterpoint; and the spiraling, expert stacatto precision of Wadada's trumpet.
Last but not least, thanks to all who came to listen and witness creative music in real-time!
Presented with funding from the Music Network Performance and Touring Award, and support from UCC School of Music, Note Productions, the National Concert Hall and the Cork Opera House.