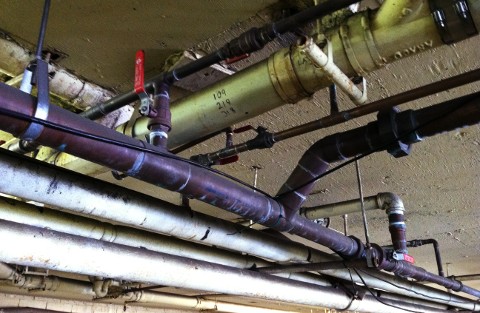 Sunday, January 8, 2012, at 6:00pm: performances by, starting at 7:00pm, Tracy McMullen (saxophone) and Han-earl Park (guitar), plus, at 6:00pm, G. L. Diana (electronics) and Kyoko Kitamura (voice) takes place at the Downtown Music Gallery (13 Monroe Street, New York, NY 10002-7351) [map…]. Free admission.
See the performance diary for up-to-date info. [DMG page…]
about the performers
Beginning in Fall 2011, Tracy McMullen has been a Provost's Postdoctoral Scholar in the Humanities at the University of Southern California. In 2007–2008 she was a Postdoctoral Fellow with the seven-year "Improvisation, Community, and Social Practice" (ICASP) research initiative at the University of Guelph in Ontario, Canada. She received her Ph.D. in Music from UC San Diego in 2007 and was a faculty member in the Music and the Gender & Women's Studies departments at UC Berkeley from 2009 to 2011. Her articles have appeared or are forthcoming in Current Musicology; Critical Studies in Improvisation; Big Ears: Listening for Gender in Jazz Studies; People Get Ready: The Future of Jazz is Now; Sounding the Body: Improvisation, Representation and Subjectivity; The Oxford Handbook of Critical Improvisation Studies; The Dictionary of African American Music; and The Grove Dictionary of American Music. As a saxophonist in the jazz and improvised music traditions she has recorded on Cadence Jazz and numerous other independent labels and maintains an active performance schedule.
McMullen received an M.A. in Music Composition and an M.M. in Jazz Studies (with an emphasis on saxophone performance) from the University of North Texas. As a jazz/experimentalist saxophonist, she has performed or recorded with George Lewis, Anthony Davis, Dana Reason, Mark Dresser, Pauline Oliveros, and many others.
Improviser, guitarist and constructor Han-earl Park has been working within/from/around traditions of fuzzily idiomatic, on occasion experimental, mostly open improvised musics for over fifteen years, sometimes engineering theater, sometimes inventing ritual. He feels the gravitational pull of collaborative, multi-authored contexts, and has performed in clubs, theaters, art galleries, concert halls, and (ad-hoc) alternative spaces in Austria, Denmark, Germany, England, Ireland, The Netherlands, Scotland and the USA.
He is part of Mathilde 253 with Charles Hayward and Ian Smith, is involved in collaborations with Bruce Coates, Franziska Schroeder, Alex Fiennes and Murray Campbell. Recent performances include Mathilde 253 with Ishmael Wadada Leo Smith; duo concerts with Paul Dunmall, and with Richard Barrett; trios with Matana Roberts and Mark Sanders, with Catherine Sikora and Ian Smith, and with Jin Sangtae and Jeffrey Weeter; as part of the Evan Parker-led 20-piece improvising ensemble; and the performance of Pauline Oliveros' 'Droniphonia' alongside the composer. Park has also recently performed with Lol Coxhill, Pat Thomas, Corey Mwamba, Mark Trayle, Pedro Rebelo, Alexander Hawkins, Mike Hurley, Chick Lyall, Thomas Buckner and Kato Hideki. Festival appearances include Sonorities (Belfast), Sonic Acts (Amsterdam), dialogues festival (Edinburgh), VAIN Live Art (Oxford), and the Center for Experiments in Art, Information and Technology Festival (California). His recordings have been released by labels including Slam Productions and DUNS Limited Edition.
Park founded Stet Lab, a monthly improvised music space in Cork, Ireland, and taught improvisation at the UCC Department of Music.