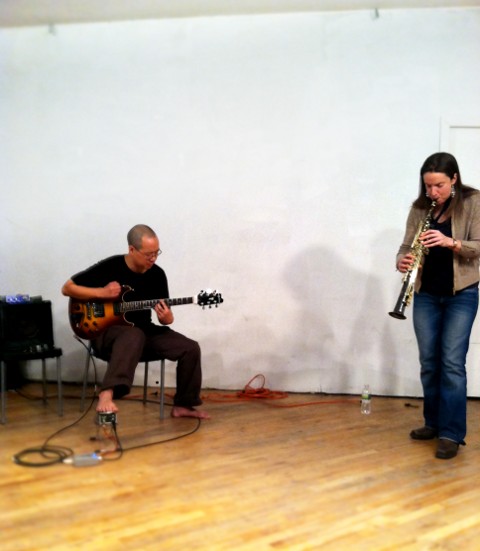 A quick note of thanks to all involved in the first two performances of 2012. Thanks to Bruce Lee Gallanter and Manny 'Lunch' Maris at the Downtown Music Gallery for the open invite, for hosting the performance, and for their support over the years. Seriously, go to the DMG and get yourself a record (maybe one of mine 😉 Thanks to Ras Moshe for organizing the performance at The Brecht Forum and for welcoming this newcomer to NYC. Thanks also to the other performers of the evening including G. L. Diana and Kyoko Kitamura [Kyoko's take on the gig…] who brought Cardew to life in a way different from all the Cardews I've heard in the past—I'm very interested to hear how this project might continue to evolve—and Ras' powerful and playful quartet (sorry, don't have the full lineup details of the quartet—contact me, and I will update).
A big, big, big thanks to the two saxophonists who generously shared the stage with me: Tracy McMullen for her wit and imagination, pushing the music to unexpected places, and to Catherine Sikora for her big, beautiful sound and sense of space and drama.
And, as always, thanks to all who came to listen and watch.