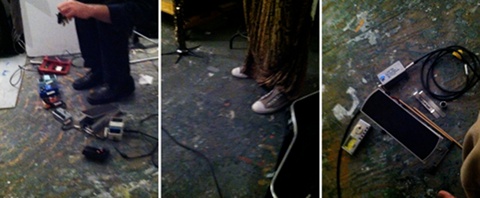 Tuesday, July 24, 2012, 8:30pm (set: 10:00pm): a performance by Nick Didkovsky (guitar), Han-earl Park (guitar) and Catherine Sikora (saxophones) presented by On The Way Out takes place at The Backroom @ Freddy's Bar (627 5th Avenue, Brooklyn, NY 11215) [map/directions…]. Also performing: at 8:30pm, Christine Bard (drums, percussion and electronics), Bill McCrossen (bass) and Mercedes Figueras (saxophones). $10 suggested donation.
Super excited about playing with the Ultimate Didkovsky and the Astonishing Sikora again. Come down to the gig; if it's anything like the last time we played, it'll be very, very special.
See the performance diary for up-to-date info. [Freddy's page…] [facebook event…]
details
The trio of noisy, unruly complexity of composer, computer artist and guitarist Nick Didkovsky, the coporeal, cyborg virtuosity of constructor and guitarist Han-earl Park, and the no-nonsense melodic logic of composer and saxophonist Catherine Sikora plays on the crossroads of noise, melody, rhythm, space, density, contrast, synchronicity, asymmetry, serendipity and contradiction. The group forges an improvisative space where melody can be melody, noise can be noise, meter can be meter, metal becomes metal, bluegrass turns to bluegrass, jazz transforms into jazz, all there, all necessary without imploding under idiomatic pressures.
Annihilator of the boundaries between heavy metal and the avant garde, Nick Didkovsky founded the avant-rock big band Doctor Nerve, and is a member of Swim This with Gerry Hemingway and Michael Lytle. He is a pioneer of small-systems computer music, and he has composed music for ensemble including Bang On A Can All-Stars and the California EAR Unit.
Described by Brian Morton as "a musical philosopher… a delightful shape-shifter", Han-earl Park is drawn to real-time cyborg configurations in which artifacts and bodies collide. He has performed with some of the finest practitioners of improvised music, is part of Mathilde 253 with Charles Hayward and Ian Smith, and Numbers with Richard Barrett.
Catherine Sikora is a "a free-blowing player's player with a spectacular harmonic imagination and an evolved understanding of the tonal palette of the saxophone" (Chris Elliot, Seacoast Online). She has long-standing duo projects with Eric Mingus and with Ziv Ravitz, and performs as part of ensembles led by Elliott Sharp, François Grillot and Matt Lavelle.