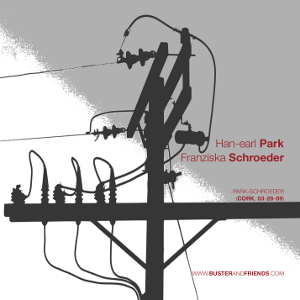 The complete recording of the March 26, 2009 performance by saxophonist, performer and theorist Franziska Schroeder and guitarist, improviser and constructor Han-earl Park, now with liner notes by Áine Sheil, is now available for download via Bandcamp. [Bandcamp page…] [Download now…]
Originally released in September 2010, the recording was the first in a series of download releases hosted at busterandfriends.com. This bandcamp-hosted edition adds liner notes by Áine Sheil, and the option to download the recording in multiple formats including lossless.
Recommended price: €5+
Unlike some of the past download releases from busterandfriends.com, this one, like Sikora-Smith-Park (Cork, 04–04–11), is hosted at Bandcamp, and available as a 'name your price' album. Although you can download the recording for free (name €0 as your price) with certain restrictions, please consider paying at least the recommended price. Your generosity will help support the performers and their work.
description
Though short, percussive, hard-to-notate sounds dominate Han-earl Park's sound, he does utilize the totality of the guitar's sonorities—just not in the proportions demanded by the nostalgic (retrospective, reactionary, etc.) owners of major media…. Franziska Schroeder's… saxophone is an excellent counterpoint to Park's electric guitar, mostly because her post-tonal sensibilities are conceived and executed so well. Very simply, contemporary improvisation has grown beyond the 12-note chromatic division of the octave. Buh bye! It is this extended tonal consciousness by which Schroeder achieves the elusive by keeping the narrative aspects to a minimum without regressing to that childish, abnegating HVAC morality holding hostage the imagination of so many wind and reed players in our improvising community.
"I'm very happy to finally make these available. In many respects, all my playing subsequent to this duet has been in response to, and a follow-up on, the implications of this performance. Big thanks to Franziska for sharing the journey on this one."
Han-earl Park (statement on first release).
"The Glucksman Gallery is one of the finest buildings to have been built in Ireland in recent times, but it is a tricky space for any musician to negotiate. Sounds reverberate and carry in unexpected ways, and music improvised here runs the risk of losing all definition. That [Han-earl] Park and his co-improviser Franziska Schroeder gracefully avoided this testifies to their alertness, sensitivity and experience working together in other spaces…. Indeed the evening had the feeling of conversation, with the instrumentalists demonstrating the improvisatory give-and-take of a convivial exchange of ideas."
Áine Sheil (from the liner notes).
"Park and Schroeder are involved in ongoing collaborations enrolling human and machine musicians, public and laboratory situations, formal and ad-hoc environments, material and social technologies, in real-time, interactive play. Seeking to (re)engineer notions of virtuosity in the context of latter-day, trans-national experimentalism and improvised musics, their performances embrace the contingent and contradictory."
personnel
track listing
recording details
about the performers
Improviser, guitarist and constructor Han-earl Park has been working within/from/around traditions of fuzzily idiomatic, on occasion experimental, mostly open improvised musics for over fifteen years, sometimes engineering theater, sometimes inventing ritual. He feels the gravitational pull of collaborative, multi-authored contexts, and has performed in clubs, theaters, art galleries, concert halls, and (ad-hoc) alternative spaces in Austria, Denmark, Germany, England, Ireland, The Netherlands, Scotland and the USA.
He is part of Mathilde 253 with Charles Hayward and Ian Smith, and is involved in collaborations with Bruce Coates, Franziska Schroeder, Alex Fiennes and Murray Campbell. He has recently performed with Ishmael Wadada Leo Smith, Lol Coxhill, Pat Thomas, Paul Dunmall, Mark Sanders, Matana Roberts, Richard Barrett, Pauline Oliveros, Thomas Buckner and Kato Hideki. Festival appearances include Sonorities (Belfast), Sonic Acts (Amsterdam), dialogues festival (Edinburgh), VAIN Live Art (Oxford), and the Center for Experiments in Art, Information and Technology Festival (California). His recordings have been released by labels including Slam Productions and DUNS Limited Edition.
Park founded Stet Lab, a monthly improvised music space in Cork, Ireland, and taught improvisation at the UCC Department of Music.
"Guitarist Han-earl Park is a musical philosopher…. Expect unexpected things from Park, who is a delightful shape-shifter…."
Brian Morton (Point of Departure)
Franziska Schroeder is a saxophonist and theorist. She received her saxophone training in Berlin and Australia and later from Marie-Bernadette Charrier / Conservatoire Supérieure in Bordeaux.
With her trio FAINT Schroeder released a CD of improvised and electroacoustic music in 2007 with Pedro Rebelo (piano and instrumental parasites) and Steven Davis (drums), and a second CD, both on the creative source label. Schroeder has performed with many international musicians including Pauline Oliveros, Stelarc, the Avatar Orchestra, Chris Brown, John Kenny, Tom Arthurs, Nuno Rebelo and Evan Parker.
She holds a PhD from the University of Edinburgh and has written for many international journals, including Leonardo, Organised Sound, Performance Research, Cambridge Publishing and Routledge. Her book "Re-situating Performance Within The Threshold: Performance practice understood through theories of embodiment" appeared in 2009. Schroeder also published a book on user-generated content for Cambridge Publishing Scholars in 2009.
Schroeder is on the development committee of NMSAT (Networked Music & SoundArt Timeline), and has been on the programming committee for the DRHA (Digital Resources in the Humanities and Arts) conference since 2009. She was the Program Chair for the DRHA 2010. Schroeder has been an AHRC Research Fellow and is now a Lecturer/RCUK Fellow at the School of Music and Sonic Arts in Belfast, where she coaches 3rd year recitalists and MA performance students.
"Schroeder… constitutes a great addition in my book of favorite saxophonists, her attitude basically lyrical, sensitive competences just pouring out from whatever she chooses to release from a couple of soulful yet scientifically-oriented lungs. I'm not surprised to discover that she's been active on the instrument since the age of nine—the perceived skill is indisputable."
Massimo Ricci (Touching Extremes)
Also by Han-earl Park and Franziska Schroeder

Also available for download [more…]




Park+Murray (Cork, 07-29-10) [details…]
Performers: Han-earl Park (guitar) plus Marian Murray (violin).
(cc) 2012 Han-earl Park/Marian Murray.


updates
09-24-12: correct error in dates in artwork and Bandcamp album data.
10-24-12: add recommended price.
05-20-13: updated the 'also available for download' list.
07-02-13: updated review.
11-01-15: add A Little Brittle Music to downloads list, and change currency from USD to EUR.