This Thursday (August 8, 2019), at 8:00pm: get an earful of improvised goodness as Eris 136199 (Han-earl Park: guitar; Catherine Sikora: saxophones; and Nick Didkovsky: guitar) launch their second European mini-tour with a performance at the Vortex Jazz Club (11 Gillett Square, London N16 8AZ). It's the first time we get to present our real-time collisions of awesome melodic logic, glitch'n'riff anthems, and systems music to London, Lisbon and Dublin. As Nick wrote before our previous tour:
I have never been able to detect any implicit rules, favorite things to do, implied directions, or aesthetic goals in this band. People start playing, they stop, start again, stop again… insofar as music is a temporal art, that's pretty elemental behavior, and is about the only binding agreement in Eris 136199 that I have detected. Which I recognize is barely a statement, as the passage of time is inviolable in all contexts, be they free or restrictive. Physics doesn't care. But Eris cares a lot. Time is a precious thing to Han and Catherine, and the action of scattering sound onto it is a sacred and mysterious ritual. [Read the rest…]
Am I excited? That'd be an understatement. Come and catch Eris in play, and, to quote a Jazz Noise, let the "insane brain surgeon in through your ear." [Get tickets…]
Eris 136199 is also performing…
August 11: Lisbon, Portugal; and August 12: Dublin, Ireland. [Details…]
By Eris 136199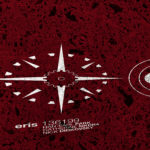 Eris 136199 (BAF001) [details…]
Personnel: Han-earl Park (guitar), Catherine Sikora (saxophone) and Nick Didkovsky (guitar).
Track listing: Therianthropy I (≥ 3:43), Therianthropy II (8:56), Therianthropy III (3:55), Therianthropy IV (6:30), Adaptive Radiation I (6:44), Adaptive Radiation II (8:48), Adaptive Radiation III (5:54), Universal Greebly (10:58), Hypnagogia I (8:03), Hypnagogia II (4:45). Total duration ≥ 68:25.
© + ℗ 2018 Han-earl Park.