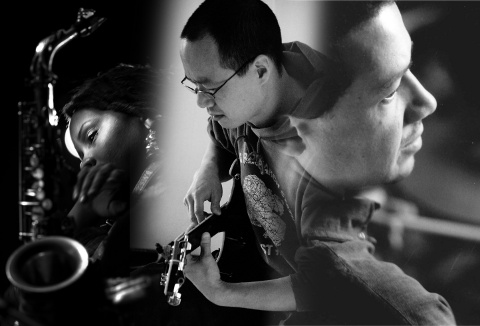 Thanks to Paul O'Donnell and Jeffrey Weeter of the University College Cork Concert Series; to Kevin Terry and Athoulis Tsiopani for helping out on the evening; to the Music Research Seminar Series (run by John Godfrey, Juniper Hill and Melanie L Marshall) for hosting the talk by Matana; to the Head of Music, Mel Mercier; to Carmel Daly for administrative support; and to John Hough for the technical and photographic work. I'd like to thank Jesse Ronneau who worked to host many improvised music events at the School over the years. This was the last concert, before he moved on to greener pastures, with his involvement, and his support of, and belief in, this and other projects has been invaluable.
And a very, very big thanks to Matana and Mark for their incredible musicianship and generosity. I find Matana's work daring, original and provocative—her sound is by turns humorous and beautiful, and always compelling—and Mark is about the finest drummer I have had the pleasure of working with. I hope I managed to keep up with them on the evening, and hope to play again.
Finally, thanks to all who came to support this event!