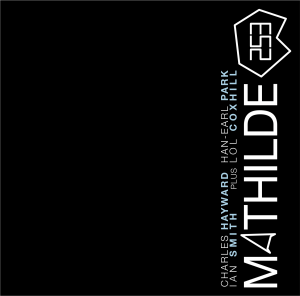 First set of reviews of Mathilde 253 (SLAMCD 528) including a very nice piece from Guillaume Belhomme:
La mise en place inquiète (Hayward au mélodica) donnait quelques indices sur la teneur de l'entière improvisation : réfléchie, et dans laquelle les intervenants rivalisent de subtilités (Park érodant les reliefs de plaintes aux volumes variés, Smith au bugle saisissant). Passée la période de flottement ravissant—de vacance, presque, pour Hayward—,il faudra bien revenir aux turbulences afin de s'y montrer autrement convaincant. Alors, Coxhill peut apparaître : le soprano élabore des parallèles aux phrases du cuivre dublinois ; ourdit et trame, enfin tisse, sur le métier remonté crescendo par Hayward, une tapisserie de choix : celle d'une autre Mathilde, à la beauté tout roturière. [Read the rest…]

— Guillaume Belhomme (Le son du grisli)
Translation by Justin Yang:
The tentative opening (Hayward on melodica) gives some indication of the tenor of the entire improvisation: reflective, in which the stakeholders compete in subtilities (Park eroding reliefs of wailing in varied volumes, Smith with a seizing bugle). Passing through a section of ravishing suspension—of near absence for Hayward—,it becomes necessary to return to turbulence to remain convincing. Alas, Coxhill can appear: the soprano elaborates parallell reflections in phrases of Dublin brass; ordered and entwining, weaves on the crescendo where Hayward restablishes his presence, a tapestry of choice: that of another Mathilde, of a complete beauty.
More reviews…
Une session très sympa d'un trio relevé: Charles Hayward, Han-Earl Park et Ian Smith, plus Lol Coxhill comme invité sur deux des sept pièces. De l'improvisation libre soutenue, vive comme c'est souvent le cas avec Hayward à la batterie. [Read the rest…]

— François Couture (Monsieur Délire)
La genialità non è qualcosa che si trova per strada, ma a quanto pare in qualche studio di registrazione qualcosa di positivo si riesce a raggiungere. Il batterista avant rock Charles Hayward (fondatore del gruppoThis Heatha deciso di confrontarsi con musicisti provenienti da tutt´altre aree musicali, Han-earl Park, anche lui abituato al geneere noise e il trombettista Ian Smith, una delle icone dell´improvvisazione radicale inglese e parte della London Improvisers´ Orchestra. Insieme a loro sugli ultimi due brani si aggiunge un´altro famoso personaggio dell´avanguardia, il sassofonista soprano Lol Coxhill.

L´interazione fra i tre (e poi in quartetto) procede perfettamente buttando nel calderone un pò di tutto, in situazioni che avevamo ascoltate da unFred Frith, ma qui procede tutto in modo più logico, forse per la forza propulsiva del trombettista che si ritaglia degli spazi precisi, evitando che si scivoli troppo verso il genere noise.

Lol Coxhillnei brani finali (più di venti minuti di improvvisazione a tutto spiano) contribuisce ad animare la compagnia, evitando che scenda la tensione. Sono nell´insieme quasi settantacinque minuti di musica che scorrono veloci, in cui le idee arrivano subito ed di musicisti si divertono a metterle in pratica.

Album così non si producono certo in serie, per cui ben venga l´intuizione diGeorge Haslamdi pubblicarli: un altra cosa notevole nel suo catalogo.

— Cosimo Parisi (MusicBoom.it)
Как можно догадаться, музыка Mathilde 253 — свободная импровизация, в которой джазовая идиома превалирует, но которая до собственно джаза, даже в самом свободном его понимании, не доходит. …Хейуорд же своими барабанами, тяжелыми, находящимися будто в стороне от самой музыки, не пытающимися ни поспеть за ней, ни задать ей ход, дает импровизациям Mathilde 253 третье измерение. Он поразительно точно для человека, который большую часть жизни играл музыку неимпровизированную, слышит своих коллег, дает им пространство для жизни и никогда не перетягивает одеяло на себя — но именно его-то слушать отдельное удовольствие. [Read the rest…]

As one might guess, Mathilde 253's music is free improvisation, in which the jazz idiom predominates, but which does not attain to jazz proper even in the freest understanding of the term. …It is Hayward with his drums, heavy and as it were standing aside from the music itself, not attempting either to keep up with it or to set its pace, who gives Mathilde 253's improvisations a third dimension. With an accuracy remarkable in one who for much of his life played non-improvised music, he listens to his colleagues, gives them space to live and never steals the limelight—but he it is whom it is a particular pleasure to hear.

— Opium Mass, translation by Leofranc Holford-Strevens.
Mathilde 253's eponymous debut CD (SLAMCD 528) available on SLAM Productions. [More info…] [All reviews…] [Get the CD…]