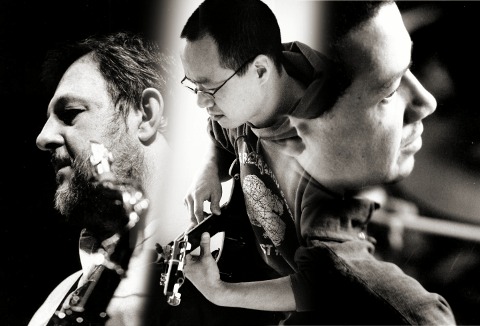 Guillaume Belhomme (Le son du grisli) reviews the download release by Paul Dunmall, Han-earl Park and Mark Sanders. In it, Belhomme describes a conversation of strength, skill and subtlety:
On sait les liens qui unissent Dunmall et Sanders – ce qu'ils ont pu donner par le passé : de Shooters Hill enregistré en sextette en présence de Paul Rutherford à I Wish You Peace du Moksha Big Band –, c'est donc la présence de Park – que l'on a pu entendre récemment auprès d'un autre britannique de taille, Lol Coxhill, sur Mathilde, et se fit remarquer déjà auprès de Dunmall et Sanders sur un Live at the Glucksmann Gallery – qui intéresse ici. Aux salves imparables du ténor, il oppose des nappes et quelques arpèges accrochés quand Sanders compte les points avec aplomb.

Plus loin, c'est à la cornemuse puis au soprano qu'intervient Dunmall : pour déjouer ses tours (de force et d'adresse), Park choisit une nouvelle fois la subtilité : ses accords étouffés renversent les échanges du trio, transformés bientôt en horizontalité sur laquelle les trois hommes s'entendent alors en apaisés.
[Read the rest…] [Download the recording…]
Thanks to Melanie L. Marshall for help with the French.
Also available for download…
audio recordings: Catherine Sikora, Ian Smith and Han-earl Park (Cork, 04–04–11)
audio recordings: Han-earl Park and Richard Scott (Berlin, 10–23–10)
audio recordings: Han-earl Park plus Marian Murray (Cork, 07–29–10)
audio recordings: Han-earl Park and Franziska Schroeder (Cork, 03–26–09)