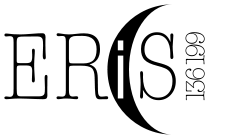 about Eris 136199
Nick Didkovsky (guitar)
Han-earl Park (guitar)
Catherine Sikora (saxophones)
Eris 136199 plays on the crossroads of noise, melody, rhythm, space, density, contrast, synchronicity, asymmetry, serendipity and contradiction. Eris 136199 is the noisy, unruly complexity of composer, computer artist and guitarist Nick Didkovsky, the corporeal, cyborg virtuosity of constructor and guitarist Han-earl Park, and the no-nonsense melodic logic of composer and saxophonist Catherine Sikora.
A composer who enjoys blurry boundaries, Nick Didkovsky founded the avant-rock big band Doctor Nerve, and is a member of Swim This with Gerry Hemingway and Michael Lytle. He is a pioneer of small-systems computer music, and has composed music for ensemble including Bang On A Can All-Stars and the California EAR Unit.
Described by Brian Morton as "a musical philosopher… a delightful shape-shifter", Han-earl Park is drawn to real-time cyborg configurations in which artifacts and bodies collide. He has performed with some of the finest practitioners of improvised music, is part of Mathilde 253 with Charles Hayward and Ian Smith, and Numbers with Richard Barrett.
Catherine Sikora is "a free-blowing player's player with a spectacular harmonic imagination and an evolved understanding of the tonal palette of the saxophone" (Chris Elliot, Seacoast Online). She has a long-standing duo project with Eric Mingus, and performs as part of ensembles led by Elliott Sharp, François Grillot and Matt Lavelle.
Together, Didkovsky, Park and Sikora forges an improvisative space where melody can be melody, noise can be noise, meter can be meter, metal becomes metal, bluegrass turns to bluegrass, jazz transforms into jazz, all there, all necessary without imploding under idiomatic pressures.
Side effects of Eris 136199 may include temporary deafness, involuntary teleportation, spontaneous combustion, and molecular implosion. In addition, lab animals have been shown to dance without skill to the sound of double guitars and saxophone. …But you'll love what it does to your mind-body! 😉
news and performances
As previously teased, 'Anomic Aphasia' (SLAMCD 559) with Han-earl Park, Catherine Sikora, Nick Didkovsky and Josh Sinton makes Avant Music News Best of 2015. [Avant Music News review…] [All reviews…] Anomic Aphasia…
Original photographs/images © 2015 Han-earl Park; © 2015 Translating Improvisation; © 2015 Peter Fay; © 2015 Caroline Pugh; © 2015 65Fen Music Series; and © 2015 Michael Foster.…
"Plucky heroine faced with rebellious robots"? "ingot-like density"? "human triumph"? "electronically plugged in as well as pointedly blended"? Ken Waxman, writing in The New York City Jazz Record, reviews 'Anomic…
Han-earl Park (guitar), Dominic Lash (double bass) and Mark Sanders (drums) plus Caroline Pugh (voice and electronics) will be doing a short tour of England in December 2015 (see the…
[All news articles on the Eris 136199…]
video
discography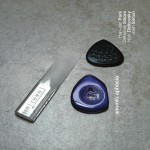 Coming soon from SLAM Productions: 'Anomic Aphasia' (SLAMCD 559). [Details…]
Personnel: Han-earl Park (guitar), Catherine Sikora (tenor and soprano saxophones), Nick Didkovsky (guitar; tracks 1 and 5), and Josh Sinton (baritone saxophone and bass clarinet; tracks 2–4).
Track listing: Monopod (27:19), Pleonasm (Metis 9) (17:08), Flying Rods (Metis 9) (7:41), Hydraphon (7:34), StopCock (10:54). Total duration: 70:33.
© 2015 Han-earl Park.
℗ 2015 SLAM Productions.
about the performers
With a musical career spanning 30 years, Nick Didkovsky is a guitarist, composer, and music software programmer. He founded the rock band Doctor Nerve in 1983 and is a member of the Fred Frith Guitar Quartet. He has composed for Bang On A Can All-Stars, Meridian Arts Ensemble, ETHEL, and others. His compositions and guitar work appear on over 50 records.
His Black Sabbath Guitar Lessons on YouTube have been received with great enthusiasm by metal fans all over the world. His metal band Häßliche Luftmasken premiered in June 2011.
With computer music pioneer Phil Burk, Didkovsky created Java Music Specification Language which is used by composers all over the world. He has taught JMSL at Dartmouth College, CalArts, Columbia University, and NYU. With composer Georg Hajdu, he has created MaxScore, an object that uses JMSL to bring music notation to Max/MSP.
His Punos Music record label serves up his more extreme musical projects.
Improviser, guitarist and constructor Han-earl Park has been crossing borders and performing fuzzily idiomatic, on occasion experimental, always traditional, open improvised musics for twenty years. He has performed in clubs, theaters, art galleries, concert halls, and (ad-hoc) alternative spaces across Europe and the USA.
Ensembles include Mathilde 253 with Charles Hayward and Ian Smith, Eris 136199 with Nick Didkovsky and Catherine Sikora, and Numbers with Richard Barrett. Park is the constructor of the machine improviser io 0.0.1 beta++, and instigator of Metis 9, a playbook of improvisative tactics. He has performed with Wadada Leo Smith, Paul Dunmall, Evan Parker, Lol Coxhill, Mark Sanders, Josh Sinton, Louise Dam Eckardt Jensen, Gino Robair, Tim Perkis, Andrew Drury, Pat Thomas and Franziska Schroeder. His recordings have been released by labels including Slam Productions, Creative Sources and DUNS Limited Edition.
"Guitarist Han-earl Park is a musical philosopher…. Expect unexpected things from Park, who is a delightful shape-shifter…."
— Brian Morton (Point of Departure)
"Han-earl Park… is as at home in underground Noise as he is dueting with free jazz heroes like Paul Dunmall. Park uses pedals to smudge and smear chords or rolls out strange robotic grumblings, a technician playing electricity as much as the guitar."
— Daniel Spicer (Jazzwise)
Since making her way to New York City from West Cork, Ireland to study abstract improvisation, Catherine Sikora has become a well-known face and sound in New York creative music circles. She has worked with Elliott Sharp, Eric Mingus, Michael Evans, Enrique Haneine, Karl Berger, Matt Lavelle, Jeremy Bacon, François Grillot and Burnt Sugar The Arkestra Chamber, among many others. Her undeniably unique approach sets her apart from everyone else, even when surrounded by the most original and creative voices in New York City. Sikora is a contributing writer to the book "Silent Solos-Improvisers Speak" (Buddy's Knife Publishing, Köln, DE).
Current working projects include Clockwork Mercury (duo with Eric Mingus) and an improvising duo with drummer Brian Chase; Sikora's first solo recording will be released in fall 2015.
"There is almost always one enigmatic person at every gathering…. Inevitably, there is an expert storyteller there as well. With any luck, it happens to be the same person. These rare folk have the ability to spin a tale you have possibly heard before but can retell it with such clarity that you are captivated or better yet hypnotized. They can give you a new understanding of something you thought you already knew. This is a beautiful power and an ability that is rare to possess. Catherine Sikora is such a person/player."
— Philip Coombs (Free Jazz)