A 'first-take' made on a rainy day. First in a new series of studies ('#onetakestudy') that folows on from the #lockdownminiature series, and on parallel tracks to #spliceimprov.
I'm not 100% sure this improvisation holds focus entirely for its duration, and it could do, for my taste as a listener, with more contrast, but it meanders in a pleasing way. A kind of reverie on an overcast day. Enjoy.
See the pinned comment to read my thoughts about this piece, and what I think doesn't work about it.
Out on NEWJAiM Recordings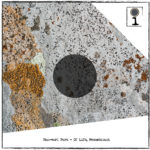 updates
10-29-23: added quote, and link to the pinned comment.