Featuring Alexander Hawkins, the final Stet Lab before the summer break will take place at (doors: 7:00pm) on , June 15, 2010, , UCC Music Building, Sundays Well, Cork, Ireland [map…]. Please note the earlier start time and change of venue. Up-to-date details…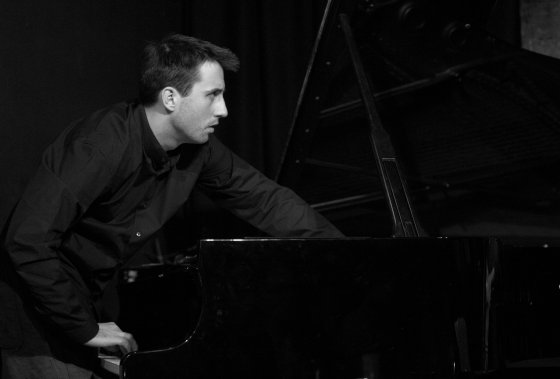 Stet Lab featuring virtuoso pianist-improviser Alexander Hawkins
, 15 June 2010
(doors: 7:00 pm)
[map…]
UCC Music Building
Sundays Well
Cork, Ireland
€10 (€5)
Featuring the leading English pianist and improviser Alexander Hawkins, the final Stet Lab event of the 2009-2010 season will take place at 7:15 pm on Tuesday 15 June 2010 at the Ó Riada Hall, UCC Music Building, Sundays Well, Cork, Ireland.
Recently heard performing with the legendary Sonny Simmons, and with the pioneering Joe McPhee, Alexander Hawkins has been dubbed "one of the brightest rising young stars of British jazz and improvisation" by John Eyles (All About Jazz). This appearance at Stet Lab marks his Irish debut.
Hawkins is a powerful and inventive performer best know as a member of the transatlantic Convergence Quartet (with Dominic Lash, Taylor Ho Bynum and Harris Eisenstadt), and his own 6-piece Ensemble (featuring Orphy Robinson, Otto Fischer, Hannah Marshall, Lash and Javier Carmona). In the British improvised music scene Hawkins is the most sought after pianist of his generation, as sideman he has worked in Evan Parker's trio and quartet, and he has performed with jazz and improvised music luminaries including Louis Moholo-Moholo, Lol Coxhill, John Butcher, Mark Sanders, Steve Williamson, Tom Arthurs, John Russell, Pat Thomas and Eddie Prévost.
Also performing at the event will be Stet Lab regulars including Kevin Terry, Susan Geaney, Marian Murray and Han-earl Park.
Opening the event will be Stet Lab's resident ensemble The Real-Time Company (for the Ad-Hoc Association) of… led by Cork-based improviser and bass player Tony O'Connor.
The event will begin at 7:15 pm (doors open at 7:00 pm) and entry is €10 (€5).
Stet Lab gratefully acknowledges the support of the UCC School of Music and the Basement Project Space for this month's event.
the performers
Born in Oxford in 1981, Alexander Hawkins is a pianist described as having a "wizards' touch" and a "fierce technique." Indeed, a recent interview commented that he is "just emerging as one of the most striking voices of his generation, both with unique things to say and unique ways of expressing them" (David Grundy, Eartrip).
He leads his own 6-piece Ensemble, featuring Orphy Robinson, Otto Fischer, Hannah Marshall, Dominic Lash, and Javier Carmona. One review of this group's debut record, No Now Is So (FMR Records), wrote that "barbed dissonance and wrenching romanticism [are the] clear poles by which he operates…such absolute joy and strength…an incredible record" (Clifford Allen, Bagatellen).
He co-leads the transatlantic Convergence Quartet, featuring Dominic Lash, Hawkins, American Taylor Ho Bynum and Canadian Harris Eisenstadt; a band which has toured the United Kingdom twice (2006 and 2009). Their first album placed in two critics' Top Ten Releases of 2007 lists. Stuart Broomer in Point of Departure wrote of "a fundamental reassertion of composition within improvised music," and Jay Collins (Cadence) of "highly unpredictable and thought-provoking music to savor with endless room for future consideration."
Hawkins also plays in the cooperative group Barkingside, whose eponymous debut album (Emanem) placed in the Top Ten lists in 2008. According to John Eyles in All About Jazz "the level of group empathy displayed here is scary."
As a sideman, he has worked in Evan Parker's trio and quartet. He also features in Ntshuks Bonga's Qwati, alongside Claude Deppa, Gail Brand, Greg Bonnie, Oren Marshall, and Mark Sanders.
Other collaborations have included with Louis Moholo-Moholo, Lol Coxhill, John Butcher, Steve Williamson, Jason Yarde, Ray Warleigh, Alan Wilkinson, Tom Arthurs, Tony Marsh, Will Gaines, John Russell, Steve Waterman, Pete McPhail, Pat Thomas, Eddie Prevost, Francine Luce, and many others. He has worked in the London Improvisers' Orchestra, the Oxford Improvisers Orchestra, and the Pendulum Big Band; and also plays organ in the funk band Big Train's Haymaker.
He has played at venues including Symphony Hall, Birmingham; London's Ronnie Scott's, Vortex Jazz Club, 606, Koko, Spitz, 93 Feet East, Scala, and Cargo; West Road, Cambridge; the Jacqueline Du Pre Music Building, Oxford; St Sulpice, Paris; the Clothworkers' Centenary Hall, Leeds; and many others. He has been broadcast in various places, including on BBC Radio 3 and BBC 6 Music. Festival appearances have included the Huddersfield Contemporary Music Festival, Cheltenham Jazz Festival, and Freedom of the City.
Forthcoming projects include a collaboration with North Americans Rob Brown, Mark Helias and Harris Eisenstadt; the recording of Ntshuks Bonga's Qwati; the Somedectet large group; and an organ trio with Steve Noble and John Edwards (recording due for release later in the year on Bo'weavil Recordings).
Hawkins seems to get better every time I see him live; every solo he took tonight was a journey, or, if you prefer, a well-told short story. They would begin as jazz explorations, or even boogie-woogie-flavoured romps, before whipping themselves up to a frenzy of clanging clusters, rolling glissandi, and fast-paced, dissonant runs, like a dancer tripping over their feet as the speed of their performance spins out of control. This was both tremendously exciting and the consequence of a logical development—jazz taken to the edge and then pushed over, because there really was no where else to go—and it was always—somehow—contained within the framework of a two or three minute showcase.

(David Grundy, Streams of Expression)
Improviser, guitarist and constructor Han-earl Park works from/within/around traditions of fuzzily idiomatic, on occasion experimental, mostly open improvised musics, sometimes engineering theater, sometimes inventing ritual. He feels the gravitational pull of collaborative, multi-authored contexts, and has worked with animators, film makers, poets, theater and mime performers, dancers and installation artists. He has performed in clubs, theaters, art galleries, concert halls, and (ad-hoc) alternative spaces in Denmark, England, Ireland, The Netherlands, Scotland and the USA.
He is involved in ongoing collaborations with Bruce Coates, and with Franziska Schroeder, fifteen year long associations with Alex Fiennes and Murray Campbell. Recent performances include ensemble Mathilde 253 (Park, Charles Hayward and Ian Smith) with Lol Coxhill, a concert with Paul Dunmall, with Kato Hideki and Katie O'Looney, and the performance of Pauline Oliveros' 'Droniphonia' alongside the composer. He has appeared at festivals including Sonic Acts (Amsterdam), the Center for Experiments in Art, Information and Technology Festival (California), dialogues festival (Edinburgh), Sonorities (Belfast) and VAIN Live Art (Oxford).
Park founded and curates Stet Lab, a monthly improvised music space in Cork, Ireland, and teaches improvisation at the UCC School of Music.