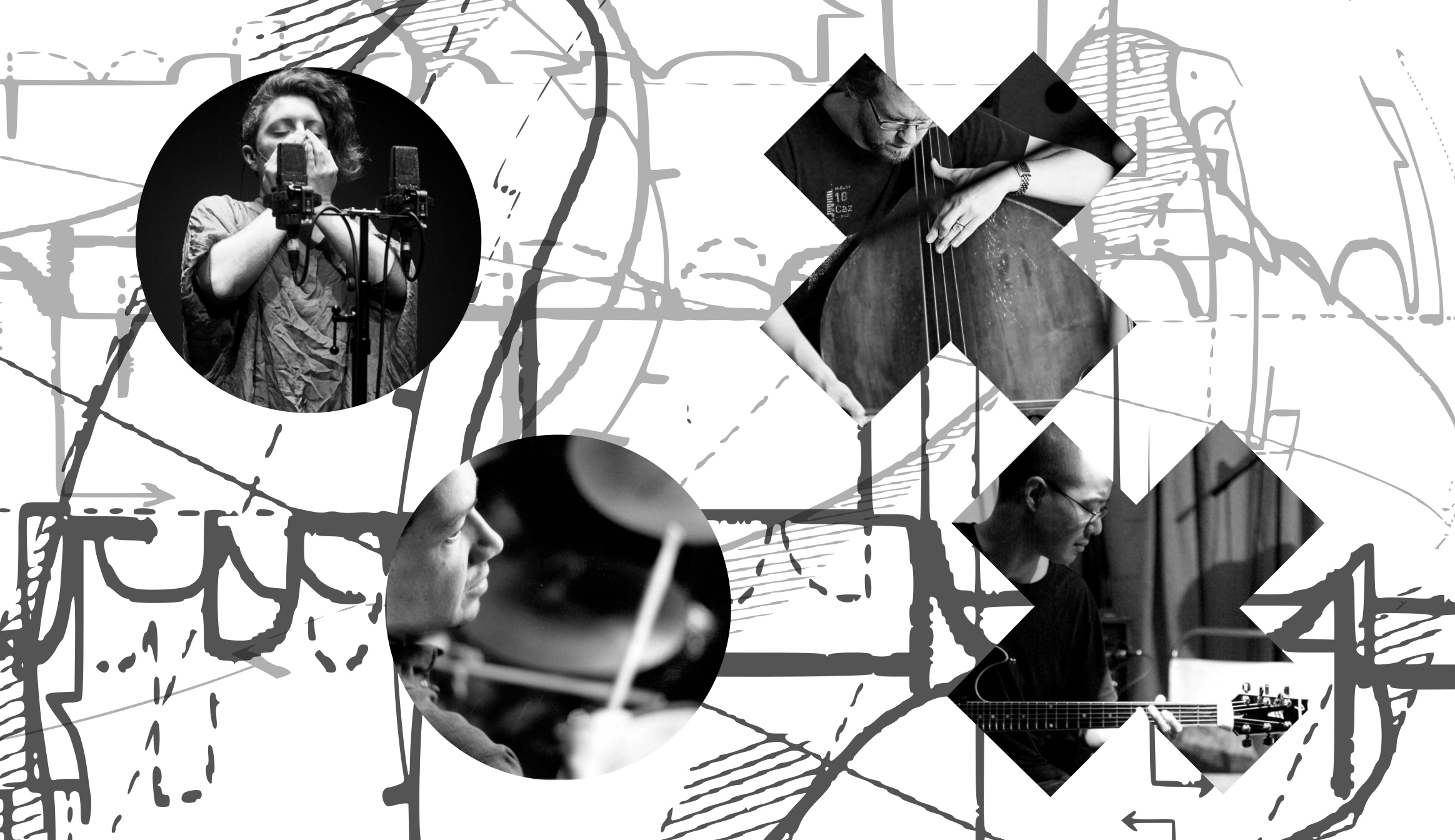 Friday, April 7, 2017, at 2:30pm (setup: 2:10pm): you are invited to a group improvisation workshop with drummer Mark Sanders, double bassist Dominic Lash, guitarist Han-earl Park, and vocalist and electronics performer Caroline Pugh. The workshop takes place at the Aula Maxima (University College Cork, Cork).
[Register for the workshop (€20)…]*
*Registration included free download/unlimited streaming of a track, Cliodynamics III, from the album Sirene 1009 (BAF000).
There are a small number of discount places for students at CIT Cork School of Music and UCC Department of Music. To claim your place, UCC Music students, please contact John Godfrey; CIT Music students, please contact Han-earl Park.
Places are strictly limited. It is the workshop attendees' responsibility bring their own instruments, and any necessary amplification, etc. We ask that all attendees be on time as there is only a 20 minute setup time (2:10pm to 2:30pm).

Calling all ambitious, aspiring improvisers!
Are you a musician, artist, sound-maker or composer wanting to make music collectively? Are you an improviser in jazz, rock, folk or other tradition wishing to engage across traditions? Are you a performer finding it difficult to bridge the frameworks of idiom and the promise of open, free-play of improvisation? Are you an aspiring free improviser?
A practical, playful, hands-on masterclass, this workshop will offer a unique opportunity for performers to participate in musical interactions, and create spontaneous musical expressions. In addition to learning to realize the possibilities of improvisative play, the workshop will be an opportunity to meet and interact with local, national, and international practitioners of improvised musics.
The workshop is for:
Aspiring improvisers wanting to engage with a broader canvas of interactive strategies.
Performers and composers interested in alternative, collaborative music-making.
Performers seeking meaningful ways to deploy unorthodox or nonstandard sounds and gestures.
Those who want to meet, play and talk.
Who: workshop instructors

The quartet of improvisers who make up the ensemble Sirene 1009, represent many decades of professional experience in complementary fields. The artists have extensive experience as teachers and educators.
Mark Sanders has run music workshops in music schools from Cambridgeshire, England to Szeny, Poland, and at festivals such as the Poschiavo Jazz Festival in Switzerland. He has given masterclasses at Cheltenham Jazz Festival, Trinity School of Music, Middlesex Polytechnic Music Department, and the Guildhall School of Music and the Music Therapy Department. He has been a tutor in Free Improvisation at The Royal Academy of Music, London for thirteen years.
Dominic Lash has been involved in leading improvisation workshops at Newcastle University (2006 and 2008), Oxford University (2008 and 2009), Falmouth University (2012 and 2013) and Trondheim Music Academy (2013).
He has given private bass lessons since 2001.
Han-earl Park taught improvisation at University College Cork (2006–2011). He founded and curated (2007–2011) Stet Lab, an alternatively pedagogical space in Cork.
He has lead, or co-lead, workshops at University of Hull: Scarborough Campus (2012), and the Sonic Arts Research Centre, Belfast (2015). Park privately taught guitar and improvisation since 2004.
Caroline Pugh has 10 years of experience giving vocal workshops to children, students, mixed ability groups and adults in schools, universities (Queen's University Belfast, Northumbria University, Saint Louis University, University of California at San Diego, Royal Scottish Conservatoire Scottish Music Youth Singing Project) and community centres.
She has 10 years of experience one-to-one vocals lessons; and 10 years of experience in working with people with learning difficulties and a variety of different assistive technologies, plus related training (University of Central Lancashire, Napier University, and Edinburgh College of Art).
She emphasizes collaborative workshops alongside other artforms, including dance, psychology, visual art and drama.
By Han-earl Park, Dominic Lash, Mark Sanders and Caroline Pugh

updates
03-16-17: registration info for UCC/CIT music students.