Repurposing melodic atoms? Dueling amplifiers? By turns riding and submerging into reverberant spaces?
A friendly reminder that you have about 48 hours (until October 9, 2018) to get Cryptogenic Animals. Limited availability, you can get the album free only with pre-orders of Eris 136199's new album.
You can also hear saxophonist Catherine Sikora revisit and rework some of the melodic atoms played in Copenhagen; trying them against the contrasting acoustic environments. And, adapting to the disparate amplification available in Cheltenham (a diminutive solid-state amp against a 112 Fender), Nick Didkovsky and Han-earl Park reexamine the freedoms and restraints of the two-guitar context; an experience that would inform into their approach in Newcastle in significant ways. [Read the rest…]
Unique? Well, how often do I describe one of my recordings as unhurried and lush? This may be the closest I get to playing ambient.
Only available with pre-orders of Eris 136199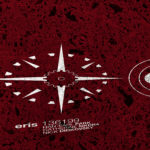 Eris 136199 (BAF001) [details…]
Personnel: Han-earl Park (guitar), Catherine Sikora (saxophone) and Nick Didkovsky (guitar).
Track listing: Therianthropy I (≥ 3:43), Therianthropy II (8:56), Therianthropy III (3:55), Therianthropy IV (6:30), Adaptive Radiation I (6:44), Adaptive Radiation II (8:48), Adaptive Radiation III (5:54), Universal Greebly (10:58), Hypnagogia I (8:03), Hypnagogia II (4:45). Total duration ≥ 68:25.
© + ℗ 2018 Han-earl Park.
updates
10-09-18: no longer available for download.