Back a few months ago, while reflecting on the mix, I wrote:
Listening to a static mix of #eris136199's August recording. I love the final track: it's, by turns dreamy and queasy, polytonal music that slides in-out of tune….

But I wonder if this track will make sense outside the context of the tour in which the trio played some of its most harmonious music (hitting _real_ chords, and sounding _real_ harmony). I feel like this track was almost a respite of sorts….

There are moments when #eris136199 stubbornly refuses to play in the same key/tuning. Almost unbearable—maybe even bad taste—listening you wish the trio would surrender to harmonic gravity. And when one player does resolve the disharmony, it's plays like gleeful mischief. [Source…]
If you're wondering, yes, this track made the cut. It'll be the second piece on the album, and, for its stubborn weirdness while refusing the easy trapping of being #seriouslyexperimental or #cuteandquirky, it might be my favorite on the album.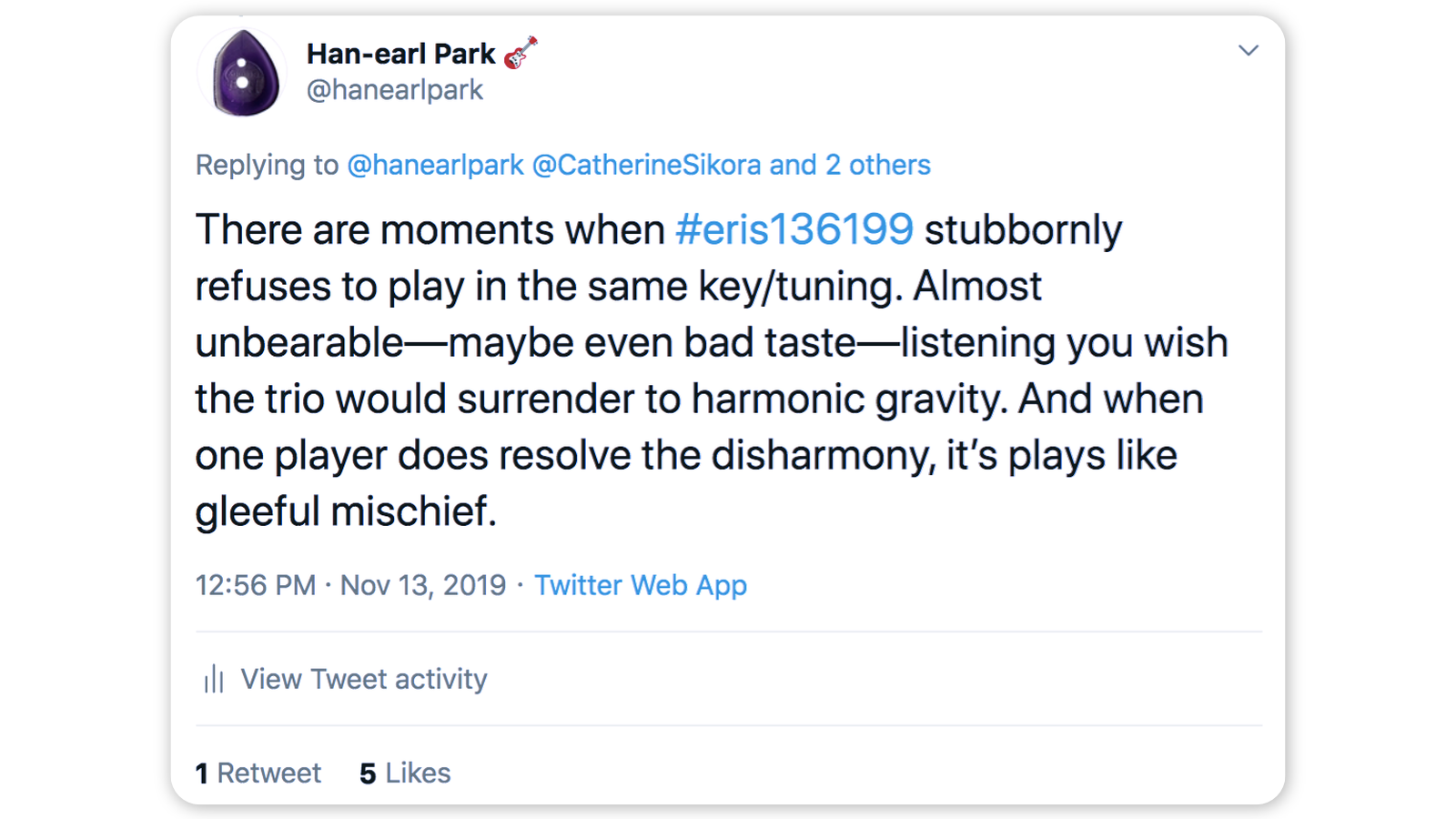 Find us on Kickstarter! Joining this project means that you will be the first to hear this vividly strange and beautiful music. Your support will also mean that we are able to make the best album we can. Plus, as we have surpassed our target thanks to our awe-inspiring fans, you will now also have an opportunity to unlock upgrades, and some very, very special bonus rewards.
I honestly think this album has the best music I've put on record, and I am very grateful to be able to share this strangely beautiful music with you. [Kickstarter page…]
Formed in New York in 2012, Eris 136199 is the quick-reacting cyborg virtuosity of Han-earl Park, the mighty melodic imagination and big tenor sound of Catherine Sikora, and the diamond-cut precision and grind-meets-experimentalism of Nick Didkovsky.