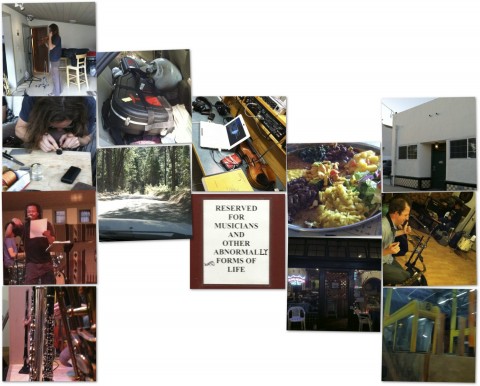 First and foremost, big, big thanks to Murray Campbell and Randy McKean, for organizing the gigs, and for their open-handed generosity and creative intelligence on- and off-stage—the Gargantius Effect! I hope to respond in kind, and to play again soon. (As I said after the first gig, "you guys are good—I just need to accent what's already happening!")
Thanks also to the crafty and powerful improvisers Gino Robair and Scott R. Looney for joining the Gargantius Effect, and to Electropoetic Coffee (NSAA, Ross Hammond and Tom Monson) and Aram Shelton / Larry Ochs Quartet for sharing the stage with us. Special thanks to Ross for running/hosting the very special Nebraska Mondays at Luna's Cafe, to A Word in Edgewise / The Outpost at KVMR 89.5 FM, and to everyone at The Tin House.
Major sonological kudos to Peter Elsdon (a.k.a. sibling vespucci) and Elspeth Murray (a.k.a. sibling boundless) for telematically contributing to the boadcast.
And thanks to Amber for feeding and housing this itinerant musician, Luke for the use of his Blues Junior, Sam for the fried chicken, and the McKean family for the food and conversation.
Last but not least, thanks to all who listened, watched and tuned-in!