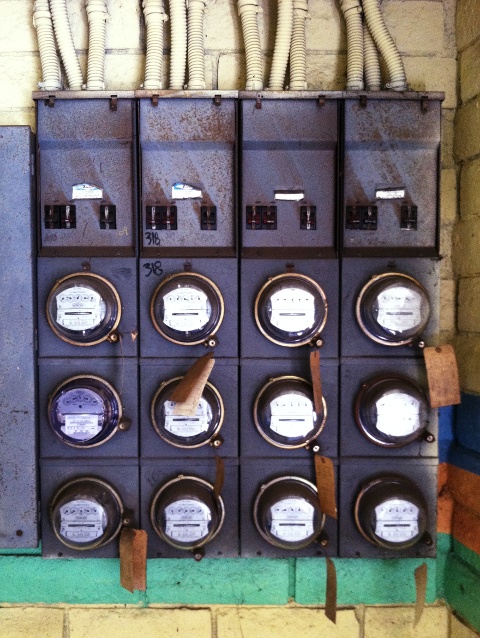 August 2011: Performances in Grass Valley, Nevada City and Sacramento, California by Gargantius Effect +1 (Murray Campbell: violin, double reeds; Randy McKean: saxophone, clarinet; and Han-earl Park: guitar), and in Oakland, California by Gargantius Effect +2 (Campbell; McKean; Park; and Gino Robair: energized surfaces, voltage made audible).
See the performance diary for up-to-date info.
Gargantius Effect +1
The Gargantius Effect is the brainchild of Murray Campbell (violin, oboe and electronics) and Randy McKean (reeds). Like the Stanislaw Lem story of the same name, in which armies of warring soldiers are linked together to form a peaceful, blissfully-aware omni-mind, so, too, these longtime collaborators and Nevada County natives transform the connections and crossfires of the various genres in which they usually find themselves—the Euro-café of Beacoup Chapeaux, Balkan swing of Chickenbonz, chamber jazz of Bristle—into scintillating bits of free improvisation, compositional constructs and mechanized mayhem. They will be joined for these performances by special guest and fellow Sonologist Han-earl Park on guitar. Han has just returned to the States after years of playing and teaching in Europe with the likes of Wadada Leo Smith, Matana Roberts, and Kato Hideki.
about the performers
Murray Campbell has described himself as a Sonologist ever since it was recommended to him as a more respectable occupation than "musician" for the purposes of immigration control. In this capacity he is working with Alex Fiennes on an octaphonic spatialisation system to be un-muted at Dialogues 2007.
He currently resides in the foothills of the Sierra Nevada mountains in California where he is designing an off-grid solar-powered geodesic wavefront recreation system with the aim of upsetting the bears.
He finds writing about himself in the third person slightly disturbing.
Saxophonist/clarinetist/composer Randy McKean leads or co-leads several bands, including the chamber jazz quartet Bristle, the improv trio Pluck Vim Vigour, the avant-folk duo Sawbones, and the acoustic-electronics duo Zap! He appears regularly with Beacoup Chapeaux, Ludi Hinrichs' Chickenbonz, Dan Plonsey's Daniel Popsicle, and Tony Passarell's Thin Air Orchestra. His string quartet Passages was premiered by the Del Sol String Quartet at the Nevada County Composers Cooperative's Wet Ink concert in 2009. His CDs include So Dig This Big Crux (Rastascan) and, with the Great Circle Saxophone Quartet, Child King Dictator Fool (New World). McKean studied with trumpeter Paul Smoker and composers Anthony Braxton, David Rosenboom, and Maggi Payne. He has lived and worked in the San Francisco Bay Area and New York City, and he and his family have called Grass Valley home since 2002.
Improviser, guitarist and constructor Han-earl Park (박한얼) works within/from/around traditions of fuzzily idiomatic, on occasion experimental, mostly open improvised musics, sometimes engineering theater, sometimes inventing ritual. He feels the gravitational pull of collaborative, multi-authored contexts, and has performed in clubs, theaters, art galleries and concert halls in Austria, Denmark, Germany, England, Ireland, The Netherlands, Scotland and the USA.
He is part of Mathilde 253 with Charles Hayward and Ian Smith, and is involved in ongoing collaborations with Bruce Coates, Franziska Schroeder, Alex Fiennes and Murray Campbell. He has recently performed with Ishmael Wadada Leo Smith, Lol Coxhill, Pat Thomas, Paul Dunmall, Mark Sanders, Matana Roberts, Richard Barrett, Pauline Oliveros, Thomas Buckner and Kato Hideki. Festival appearances include Sonorities (Belfast), Sonic Acts (Amsterdam), dialogues festival (Edinburgh), and CEAIT Festival (California). His recordings have been released by labels including Slam Productions and DUNS Limited Edition.
Gino Robair has created music for dance, theater, radio, television, silent film, and gamelan orchestra, and his works have been performed throughout North America, Europe, and Japan. He was composer in residence with the California Shakespeare Festival for five seasons and served as music director for the CBS animated series The Twisted Tales of Felix the Cat. His commercial work includes themes for the MTV and Comedy Central cable networks.
Robair is also one of the "25 innovative percussionists" included in the book Percussion Profiles (SoundWorld, 2001). He has recorded with Tom Waits, Anthony Braxton, Terry Riley, Lou Harrison, John Butcher, Derek Bailey, Peter Kowald, Otomo Yoshihide, the ROVA Saxophone Quartet, and Eugene Chadbourne, among many others. In addition, Robair has performed with John Zorn, Nina Hagen, Fred Frith, Eddie Prevost, Thinking Fellers Union Local 282, Myra Melford, Wadada Leo Smith, and the Club Foot Orchestra.
Robair is a founding member of the Splatter Trio and the heavy-metal band, Pink Mountain. In addition, he runs Rastascan Records, a label devoted to creative music.
As a writer about music technology, Robair has contributed to Mix, Remix, Guitar Player, and Electronic Musician (EM) magazine, where he was an editor for 10 years. He is the author of two books, including The Ultimate Personal Recording Studio (Thompson; 2006).
updates
08–15–11: add updates from Randy (Gargantius Effect blurb, new bio for Randy, and lineup details).
08–19–11: update details on the Oakland gig including the addition of Matt Ingalls.