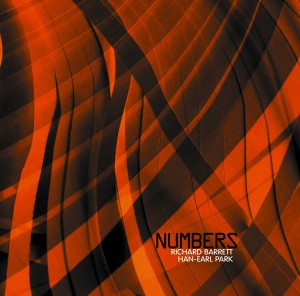 Do you feel the need for some gargling? convincing? crawling? craziness? dizziness? …or telegraphs? Luc Bouquet's take, at Le son du grisli, on 'Numbers' (CS 201 cd) by Richard Barrett and Han-earl Park:
Le gargarisme est convaincant. D'un côté les electronics de Richard Barrett, de l'autre la guitare d'Han-Earl Park. Tous deux grouillent et cisaillent les volumes, réactivent la matière folle, rendent la télégraphie à sa fonction première : transmettre (Tolur). Leur improvisation en miroir engorge leur transe succube, fait déborder le vase, bouche la robinetterie (Tricav).

Parfois, au milieu des monstres soniques qu'ils viennent de créer, émerge une guitare façon Bailey (Ankpla). Mais rarement rassasiés (Uettet pour me faire mentir), les voici rassurant leur nervosité naturelle en un final aux brûlures fatales (II……). Le gargarisme est convaincant. Le vertige, tout autant.
And, by the way, on Tuesday (December 18, 2012) François Couture (Monsieur Délire) will be playing selections from his 2012 Demanding Music Top 30 at Délire Actuel (CFLX 95.5 FM, Sherbrooke, Quebec). Along with some other great music from this year, it might be an opportunity to hear a little of 'Numbers'. [More info…]
'Numbers' (CS 201 cd) is available from Creative Sources Recordings. [More info…] [All reviews…] [Get the CD…]