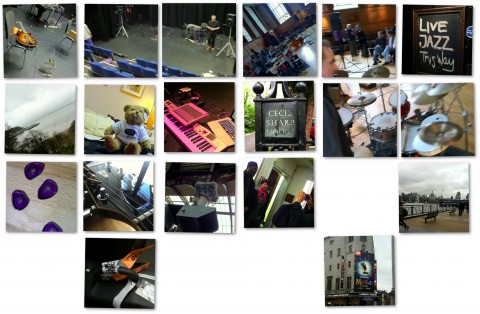 Thanks to Trevor Brent and everyone at Freedom of the City for a fantastic and welcoming festival; to Rob Mackay of the University of Hull-Scarborough Campus for being a wonderful, generous host—organizing the performance, housing and feeding the musicians; and to Jazz @ The Oxford for their open mindedness and enthusiasm. Special thanks to John Chantler and Hamish Dunbar at Cafe OTO for helping this itinerant musician step across the border, to John Coxon for the use of his lovely amplifier at FOTC, and to Seán Kelly for evolving into Mathilde 253's official photographer!
Kudos to all the musicians involved: to Richard Barrett for pushing and pulling the music into new spaces, and for illuminating and exploring the possibilities of real-time interactive music; to Charles Hayward and Ian Smith—two musicians who never miss a beat—for the real rock-out (despite 1/3 of Mathilde 253 begin zombified by a cold); to Dom Lash, Phillip Marks and, in particular, to Mark Hanslip for inviting me to join in their spontaneous inventions and discoveries.
And finally, as always, thanks to all who came to watch/listen!