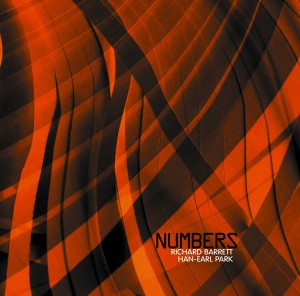 Density and expressive urgency. Romualdo Del Noce at Jazz Convention reviews 'Numbers' (CS 201 cd) by Richard Barrett and Han-earl Park:
Assai suggestivo l'interattivo duo protagonista: Barrett… sospinge oltre l'ostacolo dei vincoli della forma le pulsioni delle elettroniche di cui dispensa e vaporizza esponenzialmente le valenze e i caratteri timbrici, laddove Park, forte della sperimentazione viva e costante sullo strumento a sei corde, assai esagitato nel potenziale armonico-melodico, dilata le ispirazioni a nervi scoperti e le destrutturazioni alla Derek Bailey, e il tutto scattando un'immagine in movimento ed (es)agitata di una avant-garde – già, di suo, indocile soggetto – e che qui trova convinti e motivati praticanti – esegeti.

Cinque tracks-passaggi per un'ora esatta di forte urgenza espressiva che si staglia dimensionalmente per impeto psico-attivo, densità partecipativa ed acidità di smalti e pigmenti – reinterpretata e rivissuta dal concentratissimo duo Barrett-Park, Numbers si fa "danza interattiva ad alta energia e a passo veloce, scriteriata, looping a due mani, danza contorta, interattiva e resa udibile, unità di estemporizzazione intensa e da brivido" secondo la concitata definizione autoriale e che, così enunciata, lascerebbe assai poco di accattivante al pubblico generale – ma poco importa, data la vocazione settoriale e la dedizione (peraltro con coscienza perseguita e coronata) all'acting gravido di rischio e all'esplorazione avventurosa.
'Numbers' (CS 201 cd) is available from Creative Sources Recordings. [More info…] [All reviews…] [Get the CD…]