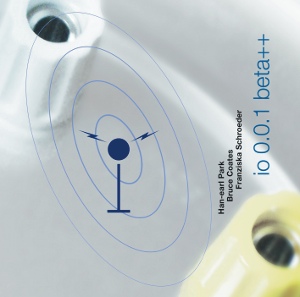 SLAM Productions releases 'io 0.0.1 beta++' (SLAMCD 531), an audio CD documenting the real-time interactions between human and machine musicians, featuring the musical automaton io 0.0.1 beta++ with the human performers Han-earl Park, Bruce Coates and Franziska Schroeder. [Details of the recording…]
[Get it from Slam Productions…]
[Get it from distributors/shops…] [Downtown Music Gallery…] [Jazzcds…] [Souffle Continu…] [Squidco…] [Wayside Music…]
In addition to the physical CD, if you prefer your music compressed…
Note: I still recommend the physical CD, however, as it comes with Sara Roberts' smart, witty and illuminating liner notes.
personnel
io 0.0.1 beta++ (itself), Han-earl Park (guitar), Bruce Coates (alto and sopranino saxophones) and Franziska Schroeder (soprano saxophone).
track listing
Pioneer: Variance (11:52); Pioneer: Dance (13:13); Ground-Based Telemetry (1:42); Discovery: Intermodulation (9:08); Discovery: Decay (5:08); 4G (0:59); Laplace: Perturbation (10:21); Laplace: Instability (3:08); Return Trajectory (8:24). Total duration: 63:57.


updates
08–18–11: add Jazzcds to list of shops.
02–15–12: add Souffle Continu to list of shops.
03–28–12: add Squidco to list of shops.