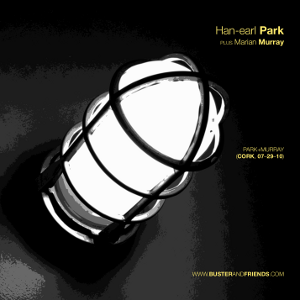 The complete recording of the July 29, 2010 performance by guitarist, improviser and constructor Han-earl Park plus violinist and improviser Marian Murray, is now available for download via Bandcamp. [Bandcamp page…] [Download now…]
Originally released in December 2010, it was the second of a series of download releases hosted at busterandfriends.com. This bandcamp-hosted edition offers the option to download the recording in multiple formats including lossless.
Recommended price: €5+
Unlike some of the past download releases from busterandfriends.com, this one, like the newer series of downloads (Jin-Park-Weeter (Cork, 01-24-11), Park-Schroeder (Cork, 03-26-09) and Sikora-Smith-Park (Cork, 04–04–11)), is hosted at Bandcamp, and available as a 'name your price' album. Although you can download the recording for free (name €0 as your price) with certain restrictions, please consider paying at least the recommended price. Your generosity will help support the performers and their work.
description
Cork 7-29-10, much of it solo, might be the best way into Park's protean guitar syntax. The space is huge, which allows for exploration of resonance, but the recording is also fairly close, facilitating clarity of detail. The latter proves especially important as Park slams through blocks of sound and these deteriorate into shreds and scraps, punctuated with what can only be described as ululations, which become more prominent as things proceed. Park's often-distorted fingerwork, much of it conjuring shades of the human voice, also references Derek Bailey's rapid-fire volume shifts and Joe Morris' fleet runs while sounding like neither. While violinist Marian Murray does not exactly speak Park's language, there is certainly a shared interest in brief but pithy phrases and space that keeps communication at a high level.

— Marc Medwin (The New York City Jazz Record)
A solo performance by guitarist-constructor Han-earl Park exploring, with feedback and resonant buzzes, the complex, cavernous acoustics of the Lewis Glucksman Gallery, and the interactions between artifact (guitar) and the body (guitarist). For 'Strokes and Screwballs,' Park is joined by violinist-improviser Marian Murray for a conversational improvisation.
personnel
track listing
recording details
All music by Han-earl Park, except 'Strokes and Screwballs' by Marian Murray and Han-earl Park.
Recorded live July 29, 2010 at the Lewis Glucksman Gallery, Cork.
Performance presented by the Lewis Glucksman Gallery.
Recorded and mixed by Han-earl Park.
Artwork by Han-earl Park.
The recordings (Snares, Sympathetic; Strokes and Screwballs; and Recursion, Closure) and artwork released under a Creative Commons Attribution-Noncommercial-No Derivative Works 3.0 Unported License. Please attribute the album to Han-earl Park plus Marian Murray, 'Strokes and Screwballs' to Marian Murray and Han-earl Park, 'Snares, Sympathetic' and 'Recursion, Closure' to Han-earl Park, and the artwork to Han-earl Park.
about the performers
Improviser, guitarist and constructor Han-earl Park has been working within/from/around traditions of fuzzily idiomatic, on occasion experimental, mostly open improvised musics for over fifteen years, sometimes engineering theater, sometimes inventing ritual. He feels the gravitational pull of collaborative, multi-authored contexts, and has performed in clubs, theaters, art galleries, concert halls, and (ad-hoc) alternative spaces in Austria, Denmark, Germany, England, Ireland, The Netherlands, Scotland and the USA.
He is part of Mathilde 253 with Charles Hayward and Ian Smith, and is involved in collaborations with Bruce Coates, Franziska Schroeder, Alex Fiennes and Murray Campbell. He has recently performed with Ishmael Wadada Leo Smith, Lol Coxhill, Pat Thomas, Paul Dunmall, Mark Sanders, Matana Roberts, Richard Barrett, Pauline Oliveros, Thomas Buckner and Kato Hideki. Festival appearances include Sonorities (Belfast), Sonic Acts (Amsterdam), dialogues festival (Edinburgh), VAIN Live Art (Oxford), and the Center for Experiments in Art, Information and Technology Festival (California). His recordings have been released by labels including Slam Productions and DUNS Limited Edition.
Park founded Stet Lab, a monthly improvised music space in Cork, Ireland, and taught improvisation at the UCC Department of Music.
"Guitarist Han-earl Park is a musical philosopher…. Expect unexpected things from Park, who is a delightful shape-shifter…."
Brian Morton (Point of Departure)
Marian Murray completed a degree in music at University College Cork. While there she became heavily involved in improvised music within the college and without. Mainly focusing on small group improvisations she has also collaborated with contemporary composers and multimedia artists. She has performed in a variety of settings from the Irish National Concert Hall, to the Cork Opera House, to art galleries, and with musicians such as Han-earl Park, Alexander Hawkins, Bruce Coates, Ian Smith, Murray Campbell and Charles Hayward.
Also available for download [more…]






updates
10–24–12: add recommended price.
05–20–13: updated the 'also available for download' list, and updated reviews.
11–01–15: add A Little Brittle Music to downloads list, and change currency from USD to EUR.