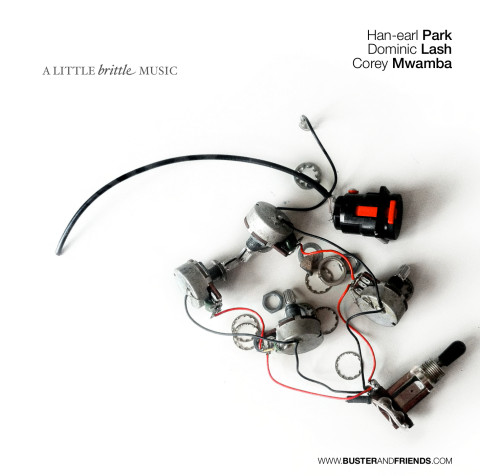 The complete recording of the May 2, 2015 performance by Han-earl Park (guitar), Dominic Lash (double bass) and Corey Mwamba (vibraphone and flute) is available (for a limited time), complete with a couple of hidden 'bonus' tracks (recorded May 4), for download via Bandcamp. [Bandcamp page…] [Download now…]
This bandcamp-hosted album offers the option to download the recording in multiple formats (mp3, Ogg and AAC) including lossless (FLAC and ALAC), and includes print-ready CD case cover and inlay artwork.
Price: €5 minimum ('name your price').
All proceeds go towards the maintenance of musical instruments (e.g. mallets, bow rehairing, etc.). Your generosity will help support the performers and their work. For reference:
€10 = set of guitar strings = keeps guitar(ist) happy for 3 weeks
€200 = double bass strings = happy bassist, 6–8 months
Incidentally, replacement of the components depicted in the cover art (potentiometers, capacitors, etc.) would be about €70.
Many thanks to David Birchall of Tubers Music, and Sibyl Madrigal and Alex Ward of Boat-ting for hosting the performance.
description
PLM? Uh, no… Pashwamba? Er, no, no, no…
Wait!
The Racially Diverse Trio of Nerdy Guys: or We Were Paid in Comics!
The Ultimate Han-earl Park, The Uncanny Dom Lash and The Astonishing Corey Mwamba demonstrate their formidable and generous musicality (a diabolical combination), making music, sometimes brittle, always unexpected, with no gesture lost in play. (Album includes two bonus tracks that demonstrate the effects of entropy, as the bridge pickup of the guitar cr*ps-out, and the bass develops a new buzz.)
Released: November 1, 2015. Limited availability (until March 31, 2016).
Price: €5 minimum ('name your price').
All proceeds go towards the maintenance of musical instruments (e.g. mallets, bow rehairing, etc.). Your generosity will help support the performers and their work. For reference:
€10 = set of guitar strings = keeps guitar(ist) happy for 3 weeks
€200 = double bass strings = happy bassist, 6–8 months
Incidentally, replacement of the components depicted in the cover art (potentiometers, capacitors, etc.) would be about €70.
personnel
track listing
Manchester Breakdown (24:29); Decomposition (Detemporization) (3:56); Bridge: Pickup and Collapse (15:31); Buzzing Decay (4:59). Total duration: 48:54. (Note: tracks 3–4 are hidden 'bonus' tracks.)
recording details
about the performers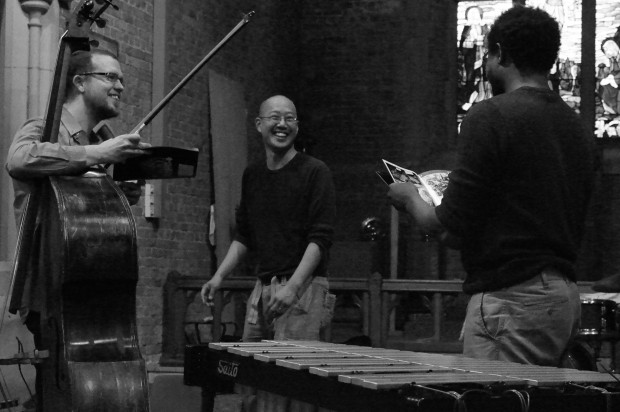 Improviser, guitarist and constructor Han-earl Park has been crossing borders and performing fuzzily idiomatic, on occasion experimental, always traditional, open improvised musics for twenty years. He has performed in clubs, theaters, art galleries, concert halls, and (ad-hoc) alternative spaces across Europe and the USA.
Park engages a radical, liminal, cyborg virtuosity in which mind, body and artifact collide. He is driven by the social and revolutionary potential of real-time interactive performance in which tradition and practice become creative problematics. As a constructor of musical automata, he is interested in partial, and partially frustrating, context-specific artifacts; artifacts that amplify social relations and corporeal identities and agencies.
Ensembles include Mathilde 253 with Charles Hayward and Ian Smith, Eris 136199 with Nick Didkovsky and Catherine Sikora, and Numbers with Richard Barrett. Park is the constructor of the machine improviser io 0.0.1 beta++, and instigator of Metis 9, a playbook of improvisative tactics. He has performed with Wadada Leo Smith, Paul Dunmall, Evan Parker, Lol Coxhill, Mark Sanders, Josh Sinton, Louise Dam Eckardt Jensen, Gino Robair, Tim Perkis, Andrew Drury, Pat Thomas and Franziska Schroeder, and as part of large ensembles led by Wadada Leo Smith, Evan Parker and Pauline Oliveros.
Festival appearances include Freedom of the City (London), Sonorities (Belfast), ISIM (New York), dialogues festival (Edinburgh), CEAIT (Los Angeles) and Sonic Acts (Amsterdam). His recordings have been released by labels including Slam Productions, Creative Sources and DUNS Limited Edition.
Park taught improvisation at University College Cork, and founded and curated Stet Lab, a space for improvised music in Cork.
"Guitarist Han-earl Park is a musical philosopher…. Expect unexpected things from Park, who is a delightful shape-shifter…."
Brian Morton (Point of Departure)
Dominic Lash is a freely improvising double bassist, although his activities also range much more widely and include playing bass guitar and other instruments; both writing and performing composed music; and writing about music and various other subjects.
He has performed with musicians such as Tony Conrad (in duo and quartet formations), Joe Morris (trio and quartet), Evan Parker (duo, quartet and large ensemble) and the late Steve Reid. His main projects include The Dominic Lash Quartet, The Set Ensemble (an experimental music group focused on the work of the Wandelweiser collective) and The Convergence Quartet.
Based in Bristol, Lash has performed in the UK, Austria, Finland, France, Germany, the Netherlands, Norway, Spain, Switzerland, Turkey and USA. For nearly a decade he was based in Oxford and played a central role in the activities of Oxford Improvisers; much of 2011 was spent living in Manhattan. In 2013 and 2014 he is taking part in Take Five, the professional development programme administered by Serious.
Festival appearances include Akbank Jazz Festival (Istanbul), Audiograft (Oxford), Freedom of the City (London), Huddersfield Contemporary Music Festival, Hurta Cordel (Madrid), Konfrontationen (Nickelsdorf), LMC Festival (London), Manchester Jazz Festival and Tampere Jazz Happening.
His work has been broadcast on a number of radio stations, including BBC Radios 1 and 3 and Germany's SWR2, and released on labels including Another Timbre, b-boim, Bead, Cathnor, Clean Feed, Compost and Height, Emanem, Erstwhile, FMR, Foghorn, Leo and NoBusiness.
Since moving to Bristol he has been involved in organising concerts under the banners of Bang the Bore and Insignificant Variation. A new venture is the monthly series happening every second Wednesday at the Arnolfini entitled Several 2nds. Events include performances, workshops, film screenings and discussions.
"Following in an illustrious lineage from Barry Guy through Simon Fell… breathtaking."
John Sharpe (All About Jazz)
Born and based in Derby, Corey Mwamba's commitment to jazz and improvised music in Britain and Ireland drives all aspects of his work, whether through composition, playing, or promoting new music.
Corey predominantly plays vibraphone; he also plays dulcimer and uses audio processing software. He is recognised as a highly creative improviser and composer working across a wide range of jazz and contemporary music, called to work with musicians such as Tony Kofi, Pat Thomas, Alexander Hawkins, Glasgow Improvisers Orchestra, Arun Ghosh, Quantic, Cerys Matthews, Mat Maneri, Lucian Ban and Ty.
Mwamba's distinctive approach and tone can be heard in the critically acclaimed Yana with Dave Kane (bass) and Joshua Blackmore (drums). This group exemplifies a core ideal of creating an "open, living music"; listening and responding spontaneously as a unit to make music that has love, language and a groove. Their first studio release don't overthink it was hailed as "engaging and evocative" (All About Jazz) and described as "the sound of three minds working together in a utopian zone, way beyond the individual ego – and producing something quite beautiful in the process" (Jazzwise). He is a member of the Anglo-French quartet Sonsale with bassist Andy Champion, drummer Sylvain Darrifourcq and cellist Valentin Ceccaldi. Corey also works with Andy in an improvising trio with saxophonist Ntshuks Bonga. He also plays in duos with saxophonist Rachel Musson; pianist Robert Mitchell; percussionists Martin Pyne and Walt Shaw; and the multi-instrumentalist Orphy Robinson.
Corey contributes to saxophonist Nat Birchall's quintet, saxophonist and composer Martin Archer's large ensemble Engine Room Favourites, and trumpeter Nick Malcolm's quartet. He plays with Nick and drummer Simon Roth in Our Own Decay.
An active advocate of the arts, Corey Mwamba strives to argue the case for the arts. He petitioned for fair pay to artists during the London Olympics, and helped engineer a moratorium and review of arts funding cuts in Derby through debate with the city council; he has also worked with many regional arts organisations. He has held board positions for Derby Jazz, World Song Derby, Derby Cultural Diversity Arts Network, and Arts Council England (East Midlands). He is also an adventurous programmer of new music in Derby, setting up One Note Sunday and The Family Album as well as programming Derby Jazz's improvised music stream called 2ndline.
Corey was granted a PRSF/Jerwood Foundation Take Five artist development award in 2007; was short-listed for the Innovation category in the BBC Jazz Awards in 2008; and was awarded an AHRC studentship for a Master of Research degree in Music at Keele University; he graduated with a distinction in 2014.
Also available for download [more…]



Park+Murray (Cork, 07-29-10) [details…]
Performers: Han-earl Park (guitar) plus Marian Murray (violin).
(cc) 2012 Han-earl Park/Marian Murray.



updates
11-03-15: add video trailer.
04-01-16: no longer available for download.