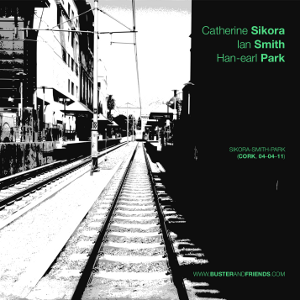 The complete recording of the April 4, 2011 performance by Catherine Sikora (saxophone), Ian Smith (trumpet) and Han-earl Park (guitar) is now available for download. (Special mention to drummer, composer and electronic artist Jeffrey Weeter who couldn't make the gig, but who, perhaps, is there in the recordings in spirit.) [Bandcamp page…] [Download now…]
Recommended price: €8+
Unlike previous download releases from busterandfriends.com, this one is hosted at Bandcamp, and available as a 'name your price' album. Although you can download the recording for free (name €0 as your price) with certain restrictions, please consider paying at least the recommended price. Your generosity will help support the performers and their work. (Many thanks to Alex Fiennes, Corey Mwamba and Anton Hunter for Bandcamp specific advice and support.)
description
A wonderful gem of a recording.

— Philip Coombs (Free Jazz)
There is a new surprise around nearly every corner throughout this often fascinating performance.

— Tom Burris (Free Jazz)
This album rocks.

— Dave Sumner (Bird is the Worm)
A one-of-a-kind improvised musical meeting between artists from Ireland based overseas, and a then Ireland-based artist from abroad which took place on April 4, 2011 at The Roundy, Cork, Ireland.
This was a rare performance in Ireland by Catherine Sikora (New York-based, originally from West Cork), a saxophonist with a striking, compelling sound. She has been described as "a free-blowing player's player with a spectacular harmonic imagination and an evolved understanding of the tonal palette of the saxophone" (Chris Elliot, Seacoast Online). Sikora was joined by cofounder of the London Improvisers' Orchestra, trumpeter Ian Smith (London-based, from Dublin), and guitarist Han-earl Park (then Cork-based, currently Brooklyn-based, from California). Smith and Park had just come off the tour as part of the power-trio Mathilde 253 (with Charles Hayward) with the legendary composer-improviser Ishmael Wadada Leo Smith.
personnel
track listing
recording details
about the performers
Since making her way to New York City from West Cork, Ireland to study abstract improvisation, Catherine Sikora has become a well-known face and sound in New York creative music circles. She has worked with Elliott Sharp, Eric Mingus, Michael Evans, Matt Lavelle, Jeremy Bacon, François Grillot and Burnt Sugar The Arkestra Chamber, among many others. Her undeniably unique approach sets her apart from everyone else, even when surrounded by the most original and creative voices in New York City. Sikora is a contributing writer to the book "Silent Solos-Improvisers Speak" (Buddy's Knife Publishing, Köln, DE) and is currently working on producing a solo recording.
Ian Smith has performed with Evan Parker, John Stevens, Maggie Nicols, Lol Coxhill, Steve Beresford, Eddie Prévost, Greg Tate's Burnt Sugar Arkestra, Reeves Gabrels, John Sinclair, Harris Eisenstadt and many others. In 2000 he recorded his second CD as a leader, Daybreak, with Derek Bailey, Veryan Weston, Gail Brand and Oren Marshall. His own trio, Trian, has played the London Experimental Music Festival and the Soho Jazz Festival. He also participated in a reformation of Cornelius Cardew's Scratch Orchestra in 1994. He has collaborated with composer Roger Doyle, winner of the Bourges International Elecro-Acoustic Music Competition, and he has been featured on two instrumental tracks by the hip hop band Marxman. He toured the UK with Butch Morris' London Skyscraper conduction project. He cofounded the London Improvisers' Orchestra and The Gathering.
Improviser, guitarist and constructor Han-earl Park works within/from/around traditions of fuzzily idiomatic, on occasion experimental, mostly open improvised musics, sometimes engineering theater, sometimes inventing ritual. He feels the gravitational pull of collaborative, multi-authored contexts, and has performed in clubs, theaters, art galleries and concert halls in Austria, Denmark, Germany, England, Ireland, The Netherlands, Scotland and the USA. He is part of Mathilde 253 with Charles Hayward and Ian Smith, and is involved in ongoing collaborations with Bruce Coates, Franziska Schroeder, Alex Fiennes and Murray Campbell. He has recently performed with Ishmael Wadada Leo Smith, Lol Coxhill, Pat Thomas, Paul Dunmall, Mark Sanders, Matana Roberts, Richard Barrett, Pauline Oliveros, Thomas Buckner and Kato Hideki. Festival appearances include Sonorities (Belfast), Sonic Acts (Amsterdam), dialogues festival (Edinburgh), and CEAIT Festival (California). His recordings have been released by labels including Slam Productions and DUNS Limited Edition.
Also by Han-earl Park and Catherine Sikora

Also by Han-earl Park and Ian Smith

Also available for download [more…]

Park+Murray (Cork, 07-29-10) [details…]

Performers: Han-earl Park (guitar) plus Marian Murray (violin).

(cc) 2012 Han-earl Park/Marian Murray.

updates
10-24-12: add recommended price and SLAMCD 528 info.
05-20-13: updated the 'also available for download' list, and add reviews.
10-07-15: add 'Anomic Aphasia' to discography.
11-01-15: add A Little Brittle Music to downloads list, and change currency from USD to EUR.