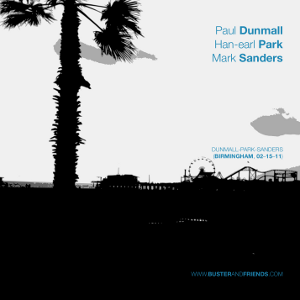 Great intensity? Baileyanos? How's your Portuguese? Fabricio Vieira of Free Form, Free Jazz reviews the download album by Paul Dunmall, Han-earl Park and Mark Sanders:
Sax, guitarra e bateria em uma sessão ao vivo de improvisação livre, com muita intensidade conduzida pelos britânicos Paul Dunmal [sic] e Mark Sanders. A eles se juntou o guitarrista Han-earl Park, com seu toque que, em muitos momentos, denuncia ecos de baileyanos. A gig foi registrada em Birmingham, dois anos atrás, e é um exemplar bem vivo e intenso da cena free impro europeia atual. [Read the rest…]

— Fabricio Vieira (Free Form, Free Jazz)
[More about this recording…] [All reviews…]
Also available for download…


Park+Murray (Cork, 07-29-10) [details…]
Performers: Han-earl Park (guitar) plus Marian Murray (violin).
(cc) 2012 Han-earl Park/Marian Murray.