In a field of experimentation and free music, Eris 136199 stands as singular.

— John Pietaro (The New York City Jazz Record)
Ein glorioser Bastard aus Noise und süßer Träumerei.

— Rigobert Dittmann (Bad Alchemy)
August 2019: Eris 136199 (Han-earl Park: guitar; Catherine Sikora: saxophones; and Nick Didkovsky: guitar) returns! bringing more harmonious discord and noisy melismata to three European capitals—London, Lisbon and Dublin (see the performance diary for up-to-date info).
London, August 8, 2019: Vortex Jazz Club (11 Gillett Square, London N16 8AZ).
[Performance diary entry…]
[Vortex page…] [Facebook event…] [Get tickets…]
Lisbon, August 11, 2019: Calouste Gulbenkian Foundation (Av. de Berna, 45 A, Lisbon).
As part of Jazz em Agosto.
[Details…]
[Performance diary…]
[Jazz em Agosto page…] [Facebook…] [Tickets…]
Dublin, August 12, 2019: The Fumbally Stables (Fumbally Lane, Dublin 8).
Presented by Improvised Music Company in association with Note Productions.
Also performing: Zeropunkt (Fergus Cullen, Jamie Davis and Damien Lennon).
[Performance diary…]
[IMC page…] [Facebook…] [Tickets…]
I am very proud of this group and the beautiful racket we make, and so very, very grateful to be making more noise for you. See you in a few weeks!
Details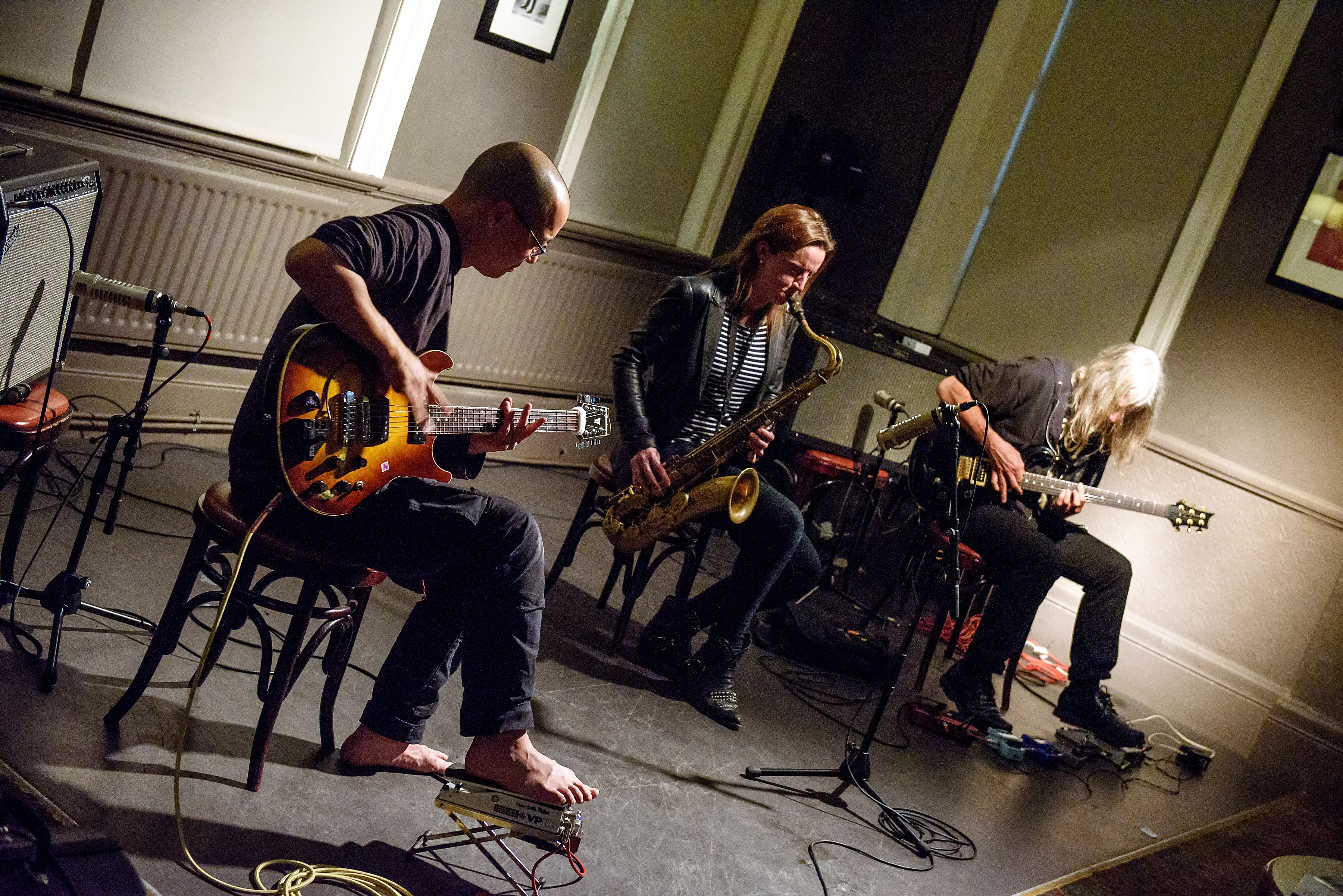 Formed in New York in 2012, Eris 136199 is the quick-reacting cyborg virtuosity of Han-earl Park (Sirene 1009), the mighty melodic imagination and big tenor sound of Catherine Sikora (Clockwork Mercury), and the diamond-cut precision and grind-meets-experimentalism of Nick Didkovsky (Doctor Nerve). Eris 136199's music has been hailed as "a beautiful noise" (KFJC 89.7 FM) and "exquisitely constructed, spontaneously messed-up, endless depth, kind of like letting an insane brain surgeon in through your ear" (a Jazz Noise).
Eris 136199 released their second album in 2018, the eponymous Eris 136199 (BAF001, 2018), funded by a successful Kickstarter campaign. The followup to their debut Anomic Aphasia (SLAMCD 559, 2015), the album captures the trio during the 2017 European tour. In August 2019, the trio will again tour Europe, performing in Jazz em Agosto (Lisbon) as well as in London and Dublin.
Han-earl Park is the instigator and mastermind behind Eris 136199, as well as groups including Sirene 1009 (with Dominic Lash, Mark Sanders and Caroline Pugh), and co-conspirator in projects with Richard Barrett and others. Park is the constructor of the machine improviser io 0.0.1 beta++, and of Metis 9, a playbook of improvisative tactics. He has performed with Wadada Leo Smith, Paul Dunmall, Evan Parker, Lol Coxhill, Josh Sinton, Louise Dam Eckardt Jensen, Gino Robair, Tim Perkis, Andrew Drury, Pat Thomas and Franziska Schroeder. His ensembles have performed at festivals including Freedom of the City (London), Brilliant Corners (Belfast), ISIM (New York), CEAIT (Los Angeles) and Sonic Acts (Amsterdam).
Saxophonist, improviser and composer Catherine Sikora works in a broad range of settings, from highly complex composed music, to folk songs, to free improvisation. She works regularly with Eric Mingus, Enrique Haneine, Brian Chase, Han-earl Park, Stanley Zappa, Christopher Culpo and Ross Hammond, as well as actively pursuing solo performance. In recent years Sikora has toured in Canada, the United States, Europe and Australia. She was a featured soloist in Eric Mingus' radical reimagining of Tommy by the Who (Adelaide Festival 2015), and was artist in residence at the Centre Culturel Irlandais in Paris in 2014, working on a project inspired by stories from her female ancestors.
Guitarist, composer, and computer music programmer Nick Didkovsky has composed music for Kathleen Supove, Ethel, Bang on a Can All-Stars, Meridian Arts Ensemble, New Century Players, ARTE Quartett, as part of the Fred Frith Guitar Quartet, and his own bands Doctor Nerve, Vomit Fist, Häßliche Luftmasken, and others. His compositions and guitar performances appear on more than 50 records. His 2015 residency at The Stone in NYC resulted in numerous premiere performances of new works. His avant- metal big band Doctor Nerve has, over its 30 year history, released nine albums, and performed at numerous festivals including FI- MAV, Moers Festival, Musique Action, Creative Time, MIMI Festival, and 'Whitney Live' at the Whitney Museum of American Art.
By Eris 136199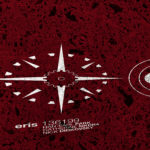 Eris 136199 (BAF001) [details…]
Personnel: Han-earl Park (guitar), Catherine Sikora (saxophone) and Nick Didkovsky (guitar).
Track listing: Therianthropy I (≥ 3:43), Therianthropy II (8:56), Therianthropy III (3:55), Therianthropy IV (6:30), Adaptive Radiation I (6:44), Adaptive Radiation II (8:48), Adaptive Radiation III (5:54), Universal Greebly (10:58), Hypnagogia I (8:03), Hypnagogia II (4:45). Total duration ≥ 68:25.
© + ℗ 2018 Han-earl Park.