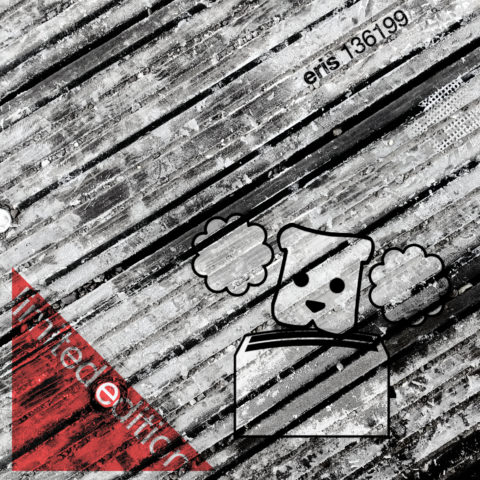 Exclusive album ONLY AVAILABLE to backers of the Eris 136199 Kickstarter campaign.
Out now: previously unreleased live recording by Eris 136199 specially prepared, and only available as part of, the 2017 Kickstarter campaign. Eris 136199 is Han-earl Park's trio featuring Nick Didkovsky's meditations in glitch, and Catherine Sikora's melodic inventions. Recorded with energy and precision by the amazing Chris Trent, this recording captures the trio during their 2017 European tour.
This album, when promised to our backers, was previously known as the 'Official Bootleg.' It is, however, no longer of bootleg quality!
For those who didn't catch our Kickstarter, sign up to my newsletter to be notified of when Eris 136199's new album is released!
personnel
track listing
Problematica: Prolog (11:17), Problematica I (9:00), Problematica II (10:15), Problematica III (5:23), Problematica: Epilog (10:05). Total duration: 46:00.
recording details
Music by Han-earl Park, Catherine Sikora and Nick Didkovsky.
Recorded live November 4, 2017, The Bless, Derby.
Recorded by Chris Trent.
Mixed and mastered by Han-earl Park.
Artwork by Han-earl Park.
Thanks to Corey Mwamba. Performance presented by OUT FRONT!, and with the awesome support of our Kickstarter backers.
Recording during the 2017 European tour made possible through the support from Jazz North East, Jvtlandt, Jazz Club Loco, OUT FRONT!, Xposed Club, Verband für aktuelle Musik Hamburg, and MS Stubnitz, and the awe-inspiring generosity of the backers of our Kickstarter project: Cath Roberts, Franziska Schroeder, Owen Green, Han-Ter Park, Richard Hollis, Tom Duff, Jan Langedijk, Thomas Buckner, Liam Nagle, Andrew Raffo Dewar, Randy McKean, Anton Hunter, Marte van der Loop, Ian Boswell, Nancy Meli Walker, David M. Morris, Nicholas Croft, Eva Zelig, Bart Mallio, Jeremy Clarke, Martin Pyne, Josh Sinton, Moon Soon Han, Eun-He Moon, Yoon-Mi Cho, 고항심, Katie O'Looney, Jamie Smith, Phil Burk, Andrea Wolper, Kyoko Kitamura, DIDI, Caroline Pugh, Edozie Edoga, Yu Seon Hee, Danny McCarthy, Richard Barrett, Leejiyoung, Ed Bennett, Young-Shin Park, Ga Hyun Noh, Inkyung Kim, Keith Stonell, Peter O'Doherty, Viv Corringham, Korhan Erel, Tony O'Connor, Vikram Kapur and Maneesha Chawala, and our anonymous backers.
© + ℗ 2018 Han-earl Park.
also by Eris 136199

updates
08-25-22: Rerelease!
11-27-22: No longer available for download.