November 2017: Eris 136199 (Han-earl Park: guitar; Catherine Sikora: saxophones; and Nick Didkovsky: guitar) will perform in Hamburg, Copenhagen, Cheltenham, Derby and Newcastle (see the performance diary for up-to-date info).
As I've said: "Eris 136199 may be the closest to how I think music should sound like, or how I would like to imagine a music. Musicality and interactivity are tightly knotted together as we improvise, create, and explore. Making improvised music is a uniquely rewarding artistic struggle that brings exceptional joy to musicians and audience alike, who join in making and watching unpredictable events unfold…!
"Interaction with, and within, Eris is an always awesome experience; unique in bringing so many strands of the musically possible together. I'm very excited to be playing again with two of my favorite musicians, avant-rock legend Nick Didkovsky and the powerfully creative improviser Catherine Sikora, and finally bringing this trio to European audiences." Hope to see y'all at these events!
Details
Forged in the avant-what of Downtown New York City, Eris 136199 is coming to Europe this fall, performing in Hamburg (1 November), Copenhagen (2), Cheltenham (3), Derby (4) and Newcastle (5).
A meeting between intrepid guitarists and cyborg interactionist Han-earl Park, legendary avant-metal composer-guitarist Nick Didkovsky, and the muscular, impeccably melodic saxophonist Catherine Sikora, Eris 136199 has been described as "a beautiful noise" (KFJC 89.7 FM), and "ein glorioser Bastard aus Noise und süßer Träumerei" (Bad Alchemy).
This tour has been made possible through the support from Jazz North East, Jvtlandt, Jazz Club Loco, OUT FRONT!, Xposed Club, Verband für aktuelle Musik Hamburg, and MS Stubnitz, and the awe-inspiring generosity of the backers of our Kickstarter project:
Cath Roberts, Franziska Schroeder, Owen Green, Han-Ter Park, Richard Hollis, Tom Duff, Jan Langedijk, Thomas Buckner, Liam Nagle, Andrew Raffo Dewar, Randy McKean, Anton Hunter, Marte van der Loop, Ian Boswell, Nancy Meli Walker, David M. Morris, Nicholas Croft, Eva Zelig, Bart Mallio, Jeremy Clarke, Martin Pyne, Josh Sinton, Moon Soon Han, Eun-He Moon, Yoon-Mi Cho, 고항심, Katie O'Looney, Jamie Smith, Phil Burk, Andrea Wolper, Kyoko Kitamura, DIDI, Caroline Pugh, Edozie Edoga, Yu Seon Hee, Danny McCarthy, Richard Barrett, Leejiyoung, Ed Bennett, Young-Shin Park, Ga Hyun Noh, Inkyung Kim, Keith Stonell, Peter O'Doherty, Viv Corringham, Korhan Erel, Tony O'Connor, Vikram Kapur and Maneesha Chawala, and our anonymous backers.
About Eris 136199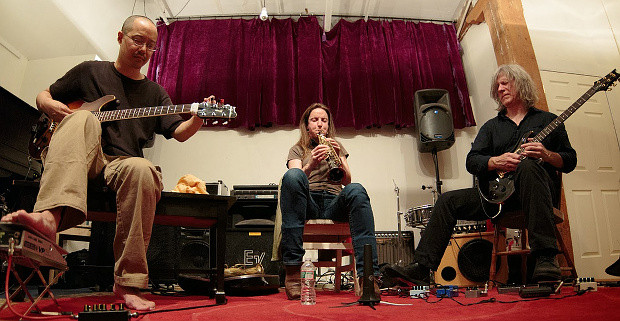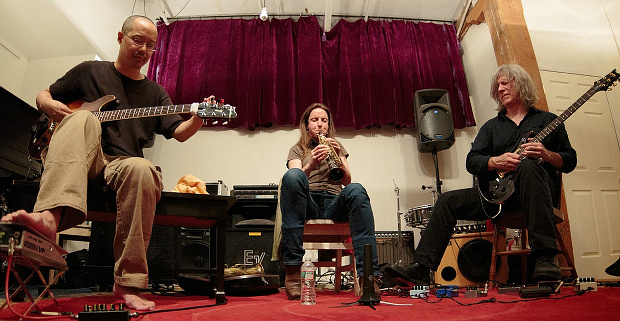 Impressive in scale, overwhelming in execution, it's a cyclic frenzy of fragmented sounds without an ounce of entropy, yet somehow with a sense of clear movement and progression.

— Dave Foxall (a Jazz Noise)
'Free' is a barely sufficient to describe this approach, as the trios explore various angular constructs and effects. The vocabulary of sounds here is as broad as it is unconventional.

— Mike Borella (Avant Music News)
Atmospheric as to become almost frightening.

— Ken Waxman (The New York City Jazz Record)
Eris 136199 plays on the crossroads of noise, melody, rhythm, space, density, contrast, synchronicity, asymmetry, serendipity and contradiction. Eris 136199 is the corporeal, cyborg virtuosity of constructor and guitarist Han-earl Park; the noisy, unruly complexity of composer, computer artist and guitarist Nick Didkovsky; and the no-nonsense melodic logic of composer and saxophonist Catherine Sikora.
Described by Brian Morton as "a musical philosopher… a delightful shape-shifter", Han-earl Park is drawn to real-time cyborg configurations in which artifacts and bodies collide. He has performed with some of the finest practitioners of improvised music, leads Sirene 1009 with Dominic Lash, Mark Sanders and Caroline Pugh, and is part of Numbers with Richard Barrett.
A composer who enjoys blurry boundaries, Nick Didkovsky founded the avant-rock big band Doctor Nerve, and is a member of Swim This with Gerry Hemingway and Michael Lytle. He is a pioneer of small-systems computer music, and has composed music for ensembles including Bang On A Can All Stars, ETHEL, and the Meridian Arts Ensemble.
Catherine Sikora is "a free-blowing player's player with a spectacular harmonic imagination and an evolved understanding of the tonal palette of the saxophone" (Chris Elliot, Seacoast Online). She has a long-standing duo project with Eric Mingus, and has performed as part of ensembles led by Elliott Sharp, François Grillot, Ross Hammond, and Ursel Schlicht.
Together, Park, Didkovsky and Sikora forge an improvisative space where melody can be melody, noise can be noise, meter can be meter, metal becomes metal, bluegrass turns to bluegrass, jazz transforms into jazz, all there, all necessary without imploding under idiomatic pressures.
about the performers
Improviser, guitarist and constructor Han-earl Park has been crossing borders and performing fuzzily idiomatic, on occasion experimental, always traditional, open improvised musics for twenty years. He has performed in clubs, theaters, art galleries, concert halls, and (ad-hoc) alternative spaces across Europe and the USA.
Ensembles include Mathilde 253 with Charles Hayward and Ian Smith, Eris 136199 with Nick Didkovsky and Catherine Sikora, and Numbers with Richard Barrett. Park is the constructor of the machine improviser io 0.0.1 beta++, and instigator of Metis 9, a playbook of improvisative tactics. He has performed with Wadada Leo Smith, Paul Dunmall, Evan Parker, Lol Coxhill, Mark Sanders, Josh Sinton, Louise Dam Eckardt Jensen, Gino Robair, Tim Perkis, Andrew Drury, Pat Thomas and Franziska Schroeder. His recordings have been released by labels including Slam Productions, Creative Sources and DUNS Limited Edition.
"Guitarist Han-earl Park is a musical philosopher…. Expect unexpected things from Park, who is a delightful shape-shifter…."
— Brian Morton (Point of Departure)
"Though short, percussive, hard-to-notate sounds dominate Han-earl Park's sound, he does utilize the totality of the guitar's sonorities—just not in the proportions demanded by the nostalgic (retrospective, reactionary, etc.) owners of major media…."
— Stanley Zappa (The New York City Jazz Record)
Nick Didkovsky is a guitarist, composer, and computer music programmer. His non-didactic approach to combining human and machine creativity is a unique musical fingerprint. Didkovsky has composed new music for Kathleen Supove, Ethel, Bang on a Can All-Stars, Meridian Arts Ensemble, New Century Players, ARTE Quartett, his own bands Doctor Nerve, Vomit Fist, Häßliche Luftmasken, and others. His compositions and guitar performances appear on more than 50 records.
For over 30 years, Doctor Nerve has fueled Didkovsky's intricate compositions with the energy of rock, often challenging the boundaries between heavy metal, contemporary music, and improvisation. Doctor Nerve has released nine albums of more than 50 of his compositions. The band has performed at numerous festivals including FIMAV, the Moers Festival, Musique Action, Creative Time, MIMI Festival, and 'Whitney Live' at the Whitney Museum of American Art.
As a guitarist and composer, Didkovsky was a member of the Fred Frith Guitar Quartet, contributing twelve compositions to its repertoire. Didkovsky's electric guitar compositions continue to be performed by newer ensembles such as Dither Quartet, E-Werk, and Fracture Guitar Quartet, and by soloists such as Kevin Gallagher, Marco Cappelli, and Wiek Hijmans. As a soloist, he has performed at numerous events such as Bang On A Can festival, Guitarévolutions in Montreal, New Ballet festival at the Miller Theatre, and John Zorn's East Asian Bar Bands. His 2015 Residency at The Stone in NYC resulted in numerous premiere performances of new works.
Collaborating with computer music pioneer Phil Burk, Didkovsky began developing Java Music Specification Language in 1997.
"Musicians (and listeners) who approach Didkovsky's work find that part of the challenge derives from his mastery of unpredictability."
— Linda Leseman (The Village Voice)
Saxophonist, improviser and composer Catherine Sikora was born and raised in West Cork, Ireland. Self taught to begin with, she moved to New York City to study and play with great improvisers.
Sikora works in a broad range of settings, from highly complex composed music, to folk songs, to free improvisation. She works regularly with Eric Mingus, Enrique Haneine, Brian Chase, Han-earl Park, Stanley Zappa, Christopher Culpo and Ross Hammond, as well as actively pursuing solo performance.
In the past few years Sikora has toured in Canada, the United States, Europe and Australia. She was a featured soloist in Eric Mingus' radical reimagining of Tommy by the Who (Adelaide Festival 2015), and was artist in residence at the Centre Culturel Irlandais in Paris for the fall of 2014, working on a project inspired by stories from her female ancestors. Catherine's first solo album 'Jersey' was released on Relative Pitch Records in July 2016.
Current working projects include Clockwork Mercury (duo with Eric Mingus) and an improvising duo with drummer Brian Chase; Sikora's first solo recording will be released in fall 2015.
"Sikora has invited us into her musical world, and like the neighbor from Queens, it is our good fortune to be in its midsts."
— Paul Acquaro (Free Jazz)
"There is almost always one enigmatic person at every gathering…. Inevitably, there is an expert storyteller there as well. With any luck, it happens to be the same person. These rare folk have the ability to spin a tale you have possibly heard before but can retell it with such clarity that you are captivated or better yet hypnotized. They can give you a new understanding of something you thought you already knew. This is a beautiful power and an ability that is rare to possess. Catherine Sikora is such a person/player."
— Philip Coombs (Free Jazz)
by Han-earl Park, Nick Didkovsky and Catherine Sikora