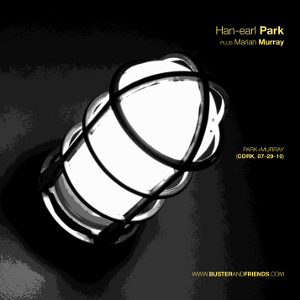 The complete recording of the July 29, 2010 performance by guitarist, improviser and constructor Han-earl Park plus violinist and improviser Marian Murray, is now available for download via Bandcamp. [Bandcamp page…] [Download now…]
Originally released in December 2010, it was the second of a series of download releases hosted at busterandfriends.com. This bandcamp-hosted edition offers the option to download the recording in multiple formats including lossless.
Recommended price: $5+
Unlike some of the past download releases from busterandfriends.com, this one, like the newer series of downloads (Jin-Park-Weeter (Cork, 01-24-11), Park-Schroeder (Cork, 03-26-09) and Sikora-Smith-Park (Cork, 04–04–11)), is hosted at Bandcamp, and available as a 'name your price' album. Although you can download the recording for free (name $0 as your price) with certain restrictions, please consider paying at least the recommended price. Your generosity will help support the performers and their work.
description
personnel
track listing
recording details
about the performers
Also available for download…
Jin Sangtae, Han-earl Park and Jeffrey Weeter (Cork, 01–24–11)
Han-earl Park and Franziska Schroeder (Cork, 03–26–09)
Catherine Sikora, Ian Smith and Han-earl Park (Cork, 04–04–11)
Paul Dunmall, Han-earl Park and Mark Sanders (Birmingham, 02–15–11)
Han-earl Park and Richard Scott (Berlin, 10–23–10)
updates
10–24–12: add recommended price.