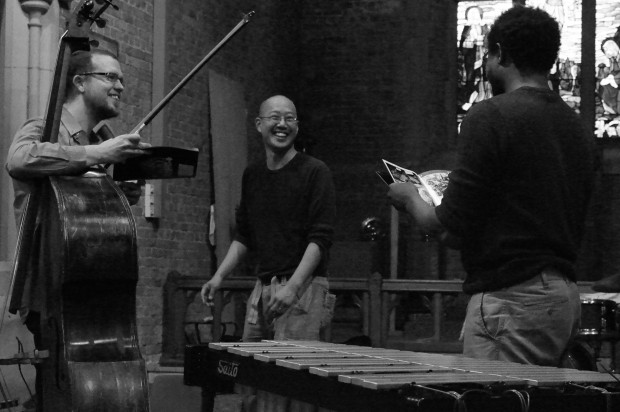 Note of thanks for the performances in Manchester, Cambridge and London. Thanks in particular to our hosts (their partners and cats) and organizers: David Birchall and everyone at Tubers; David Grundy; and Alex Ward at Boat-ting (and hope you feel better soon, Sibyl Madrigal). Kudos to all the performers who shares the stage, and to Peter Fay for the documentation [more images…]. And, as always, thanks to all those who came to hear real-time music!
As for The Uncanny Dom Lash and The Astonishing Corey Mwamba, I'll take off my hat, and bow down, to your formidable and generous musicality (a diabolical combination). I think we made music sometimes brittle, always unexpected, with no gesture lost in play.
Some things to take away from this micro-tour: talking 'scene' (creative communities and geographies) with David Birchall, Rex Casswell, Corey and Cathy Heyden; paying The Racially Diverse Trio of Nerdy Guys in comics (thanks to Free Comic Book Day); revisiting my take on soundart and music; finding, with Dom and Rex, unexpected musical possibilities in the imagined names of the royal baby; watching Bark! in motion—off and on-stage—an ensemble that plays like a joke where the punchline never arrives (and it's awesome); Dom saying that "the details need to work harder"; Steve Beresford telling tales of improvised music past and present; being reminded what an imaginative, crafty and resourceful drummer Steve Noble is (he gives so much for his partners to work with); witnessing the joy of someone coax the musical from unmusical resources (Sonic Pleasure sounding masonry); performing our last gig while Dom's bass gained a buzz and my guitar's bridge pickup cr*pped out….
…Talking of which, if you'll excuse me, I have a guitar to open-up and examine (and hopefully repair before Belfast).